The MarriageEnvy.com #ChalkBus
PEACE, LOVE & HAPPINESS, BABY!
The #ChalkBus is a community-based, interactive, evolving mobile art project.
Since the iconic VW hippie Bus is synonymous with peace and love, it's fitting that the majority of what people draw on the #ChalkBus is a lot of hearts, smiley faces and "I love _____." Some warned me that people would draw boobs, penises and swear words on it, and while that happens, it is very rare. The vast majority of people are actually quite cool and that was what I was betting on when I did the project. I knew people would recognize it for what it was: Something cool for people to enjoy just for coolness' sake. I knew they would interact with it accordingly.
And it's nice to be right: People rock. The proof is in all their artwork below.
And, of course, that's what my GREAT Relationship™ Work has always been about: Peace, love and happiness... and coolness. Peace through reducing conflict; love through restoring marriages and families; happiness with self and others as the result. Ain't nothing cooler that that, baby. Ain't nothing cooler.
Ya diggin' my vibe?
The #ChalkBus Sessions
The #ChalkBus Sessions feature local bands playing in the smallest, most mobile, and coolest of venues: The #ChalkBus.
The #ChalkBus in the Media / News
Events & Galleries: Come See the #ChalkBus
These are many of the common annual events where you can find the #ChalkBus. See the actual Google calendar here for specific dates. Many of these events are associated with charitable and/or social causes, such as:
Suicide prevention at American Fork Junior High's Red Ribbon Week

The Out of Darkness Suicide Prevention Walk

CUE Santa and Elf Visit

Bussin' for Santa
March
The Krishna Temple's Festival of Colors
A perfect setting for the ChalkBus: Chalk galore, peaceful, fun and festive people all having a good time... and they all swarm the ChalkBus. Here is it's first visit in 2014 where it was an instant hit. Krishna Temple's Festival of Colors festival goers raved, "Cool!" "This is SO sick!" "Really, we can draw on it?!" "I love this bus!" "This is awesome." The bus has always been an instant friend-maker. :-)
July:
American Fork Steel Days Car Show & Main Street Cruise

Annual Wasatch VW Classic
Vintage VW car show at The Riverwoods, Provo, UT
August
The #ChalkBus at the Out of Darkness Suicide Prevention Walk
The #ChalkBus at #AFSP Out of Darkness suicide prevention and awareness walk that our VW chums Jeremy Schooley and Julie Schooley are involved with and invited me to. A cause near and dear to my heart both personally and professionally. A lot of amazing, positive, resilient people here today!
Here's the KSL-TV news story about the Out of the Darkness suicide prevention walk...and the #ChalkBus got in briefly at the end! Yay :-)
#AFSP #outofthedarkness #suicidepreventuon #ksl #ksltv

Facebook Photo Album of all the ChalkBus art everyone did!
Facebook photo album of all the cool art everyone did.
September:
Utah VW Classic
Largest annual vintage VW car show in Utah. All proceeds go to fund Bussin' for Santa (see below).
Utah VW Classic NEWS! #ChalkBus Makes UK Mag
Yeah, okay, it's a bit in the background, but I'm still counting it considering it's only a couple of pages with a handful of Buses shown. Yeah! This issue ran an article on the 2016 Utah VW Classic car show with over 300 Buses, Bugs and other vintage VW vehicles.... including the #ChalkBus peeking in from behind :-) This show is what funds the awesome Bussin' for Santa event that provides Christmas for a family in need. Click the picture to open PDF and see if you can spot the ChalkBus in two pics...
Alpine Loop Fall Cruise
Each year the gang from the Wasatch Vintage Volkswagen Group, Utah VW Classic, and Utah Transporter Association get together for a beautiful drive around the Alpine Loop to enjoy the fall colors. All VW's are welcome, members of these group or not.
Interview with Sage Sagers about the creative process, the #ChalkBus mural, and mental health:
Chalk the Block 2017--Sage's Mural
Chalk the Block 2016 Hannah
October
Red Ribbon Week: Suicide Prevention
The #ChalkBus at American Fork Junior High (AFJH)'s LIVE Suicide Prevention Week
Bussin' for Santa
Every year the Utah Transporter Association sponsors a needy family for Christmas and delivers their gifts via a convoy of vintage VW's to the families home. A real thrill for the kids and parents. Molly the Elf and I joined this in 2014.
Santa & Em the Elf at Central Utah Enterprises
For the last few years my daughter Emily and I have been playing Santa and Elf driving up in our ChalkBus sleigh to visit the developmentally disabled adults at Central Utah Enterprises, which is a training school and part of the Provo School District.
Additional Galleries
#ChalkBus Main Facebook Album

#ChalkBus on Instagram

At the Hospital

January 2014 to March 2014
Facebook ChalkBus Main Album
#ChalkBus on Instagram...
The #ChalkBus at the Hospital
#ChalkBus Gallery: January 2014 to March 2014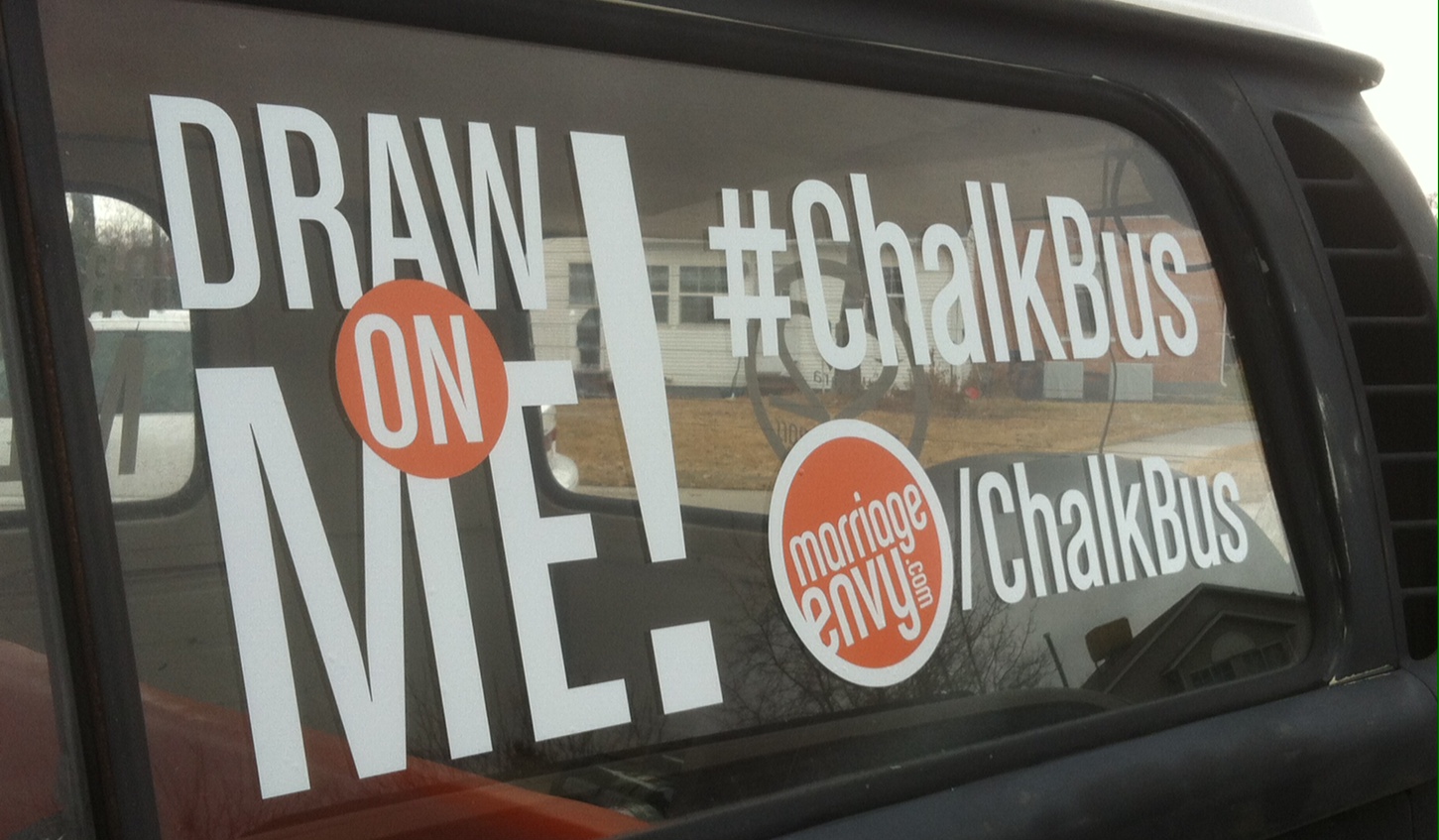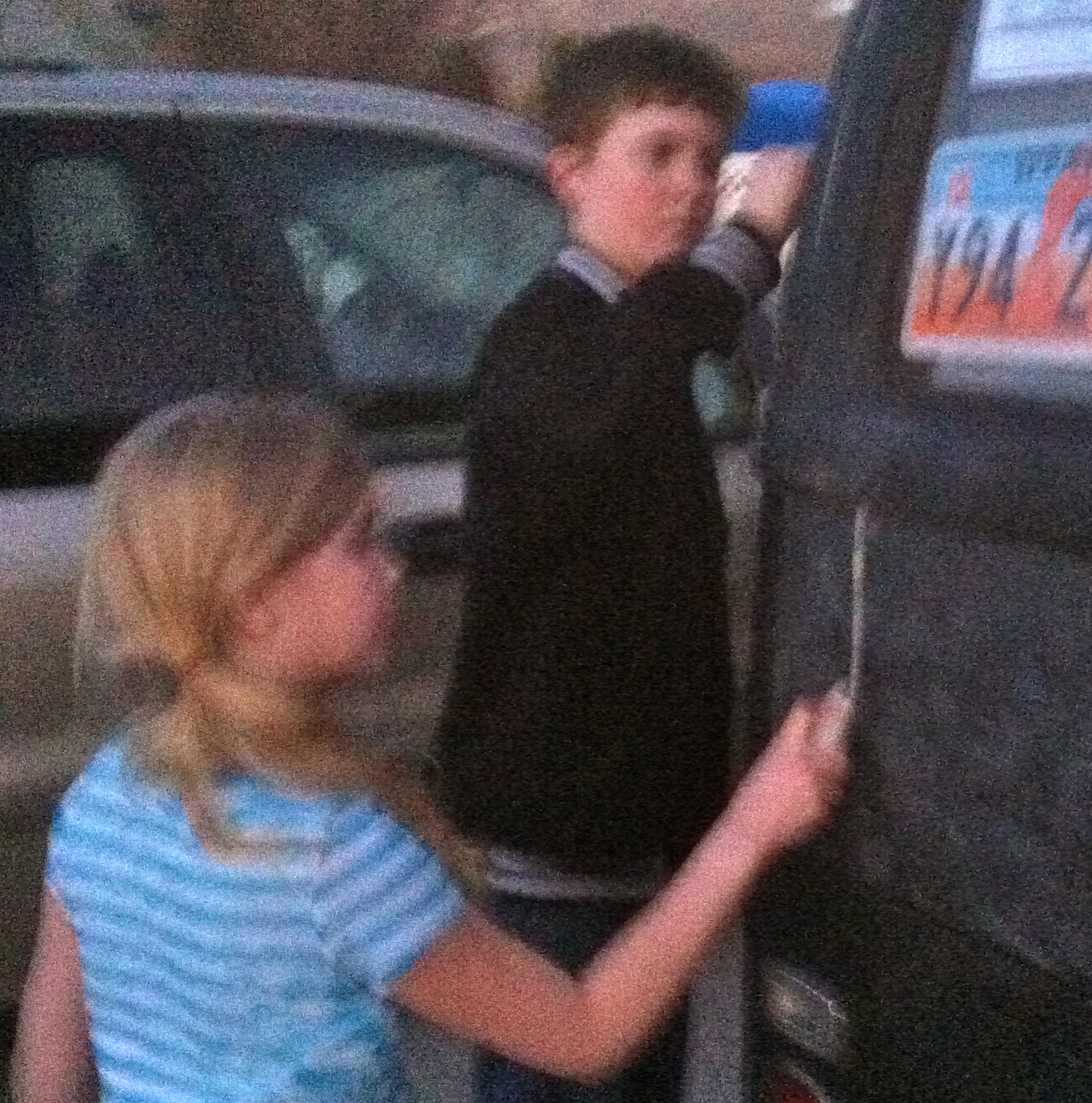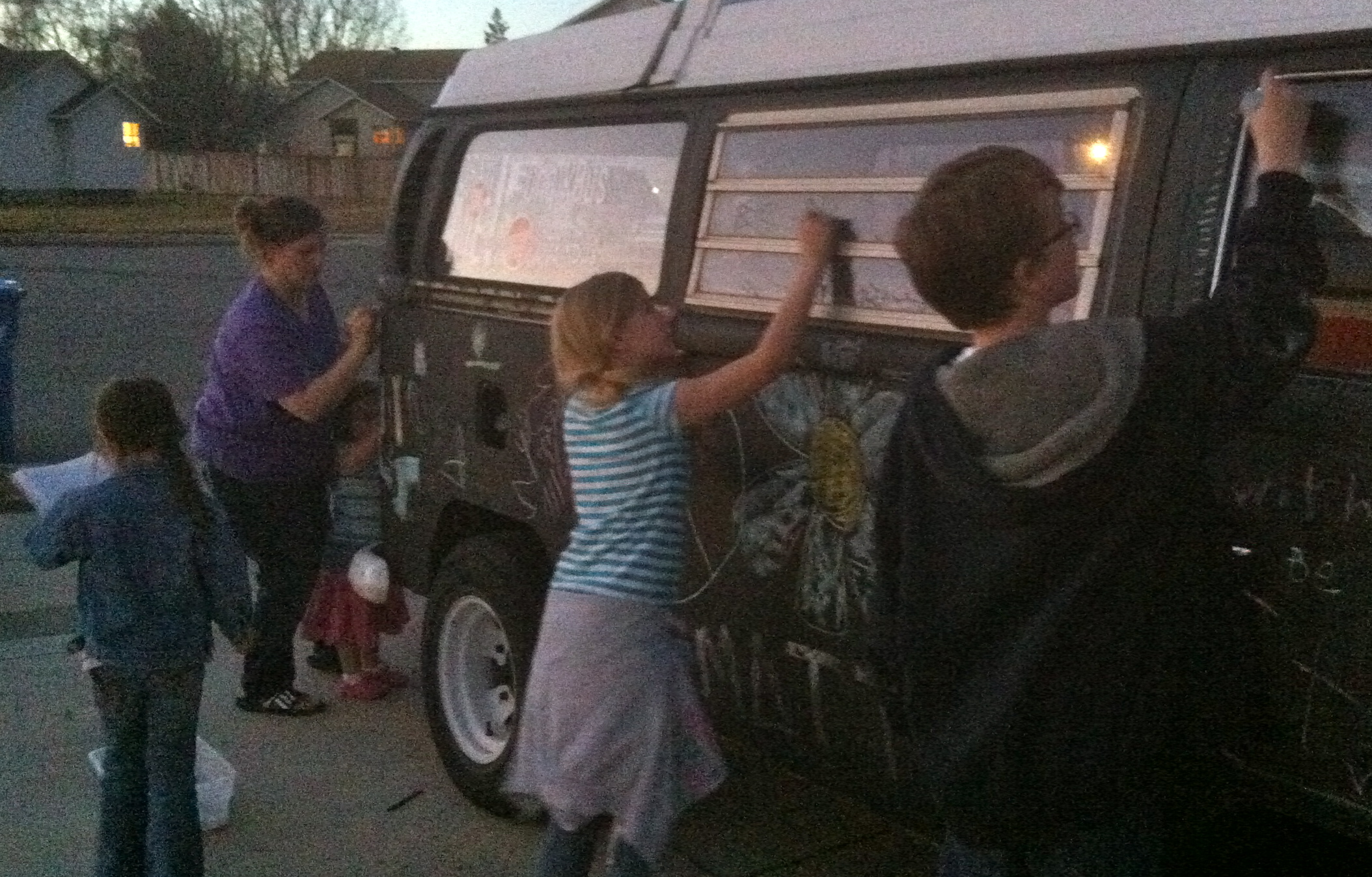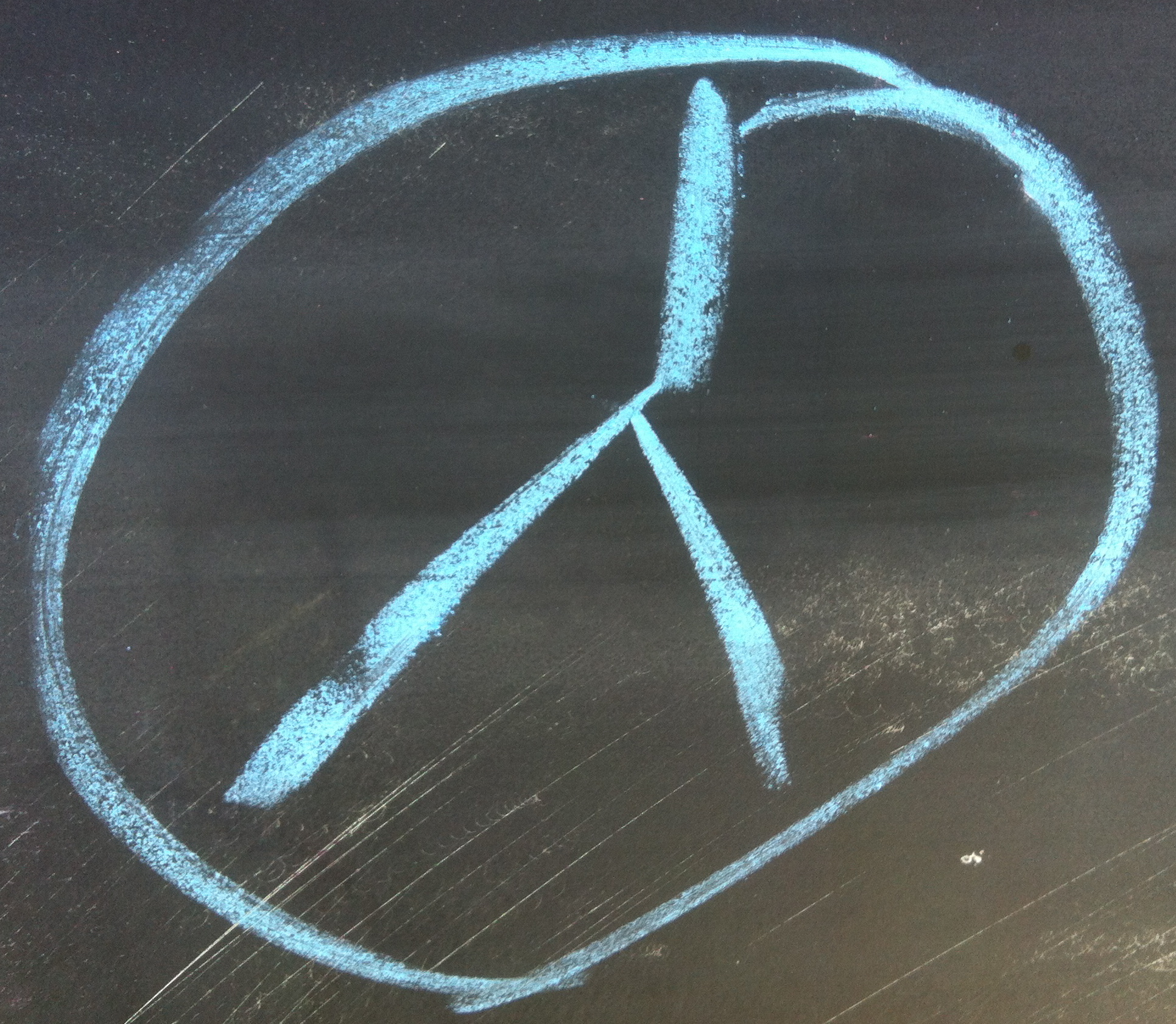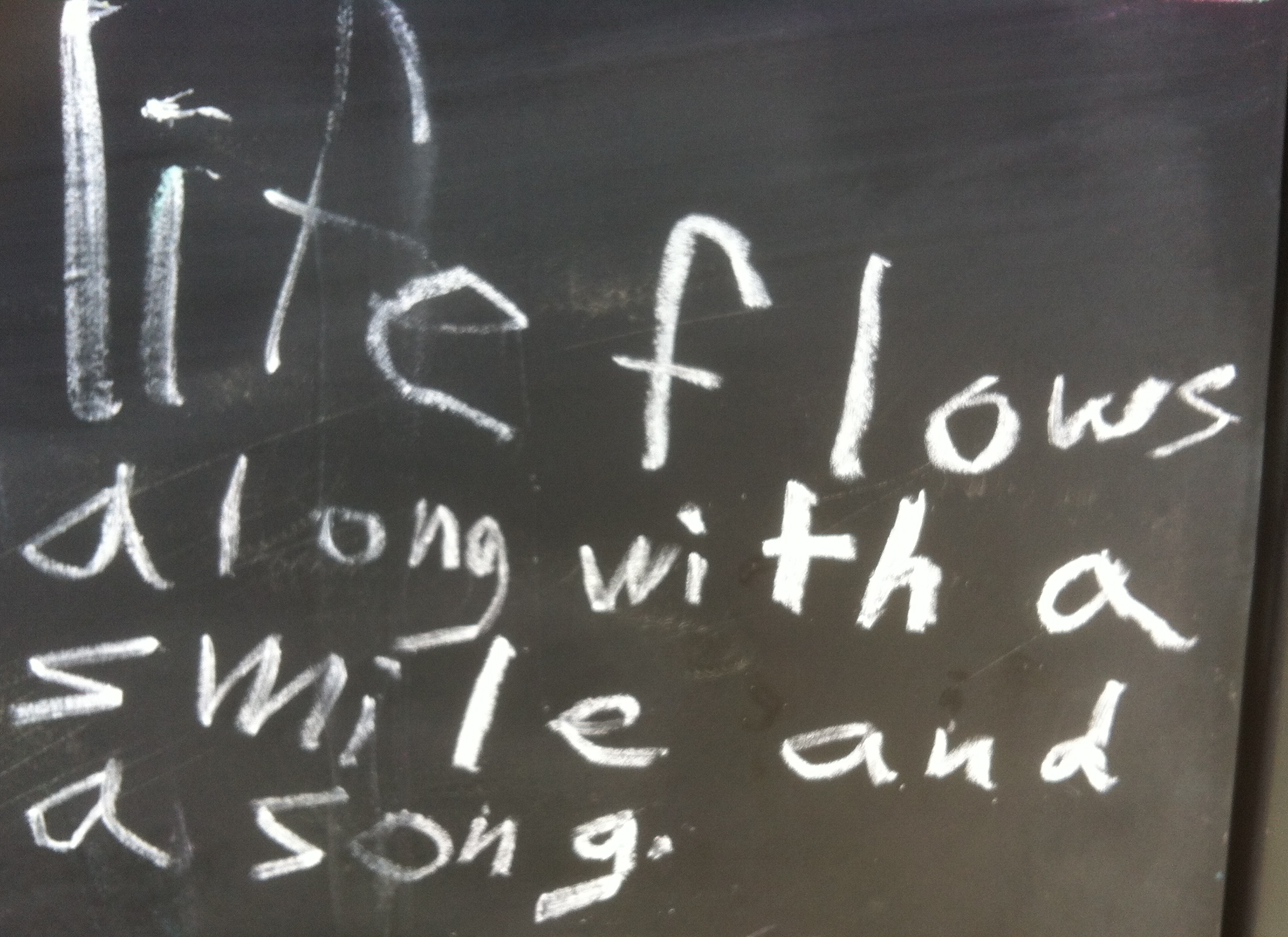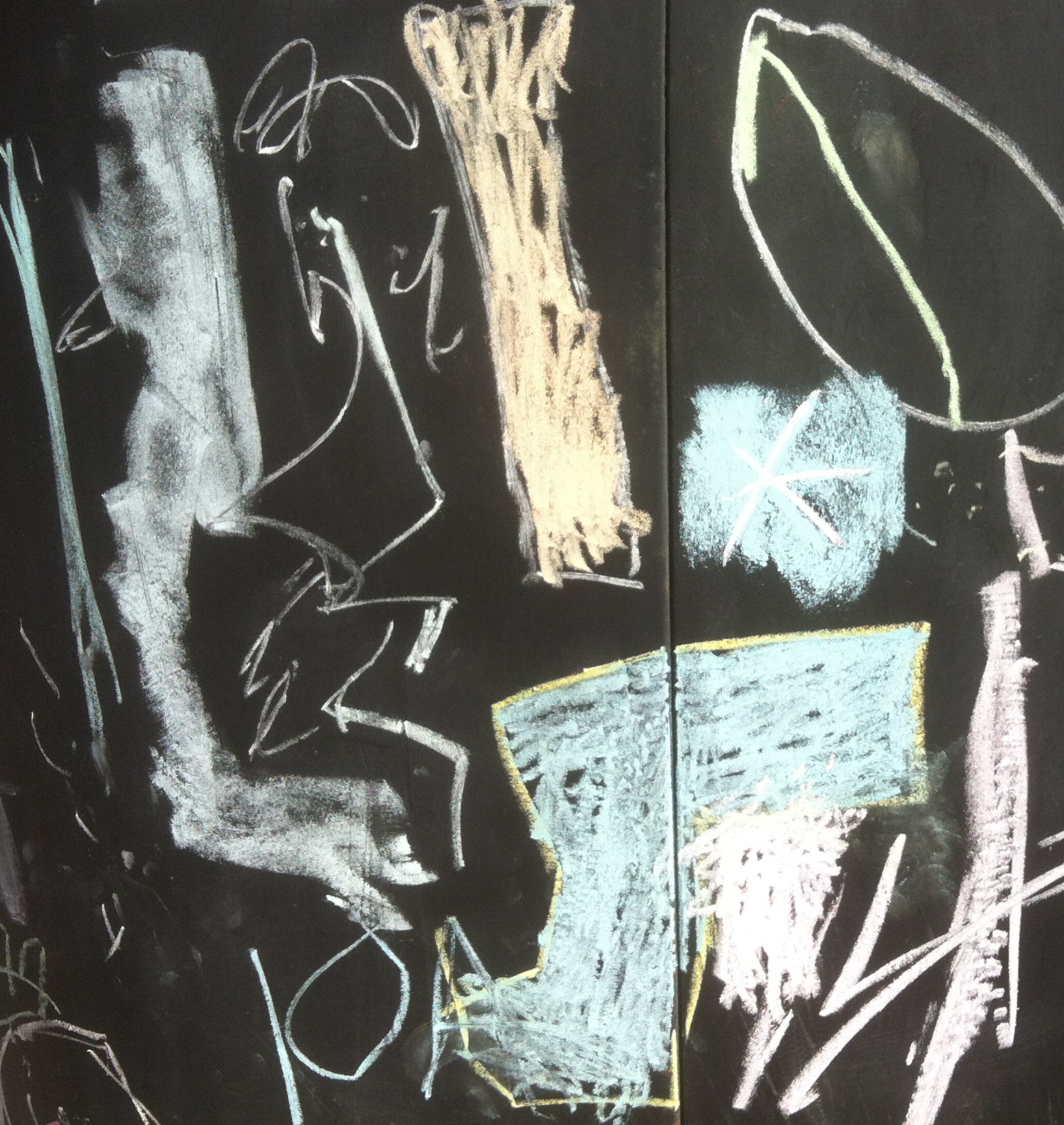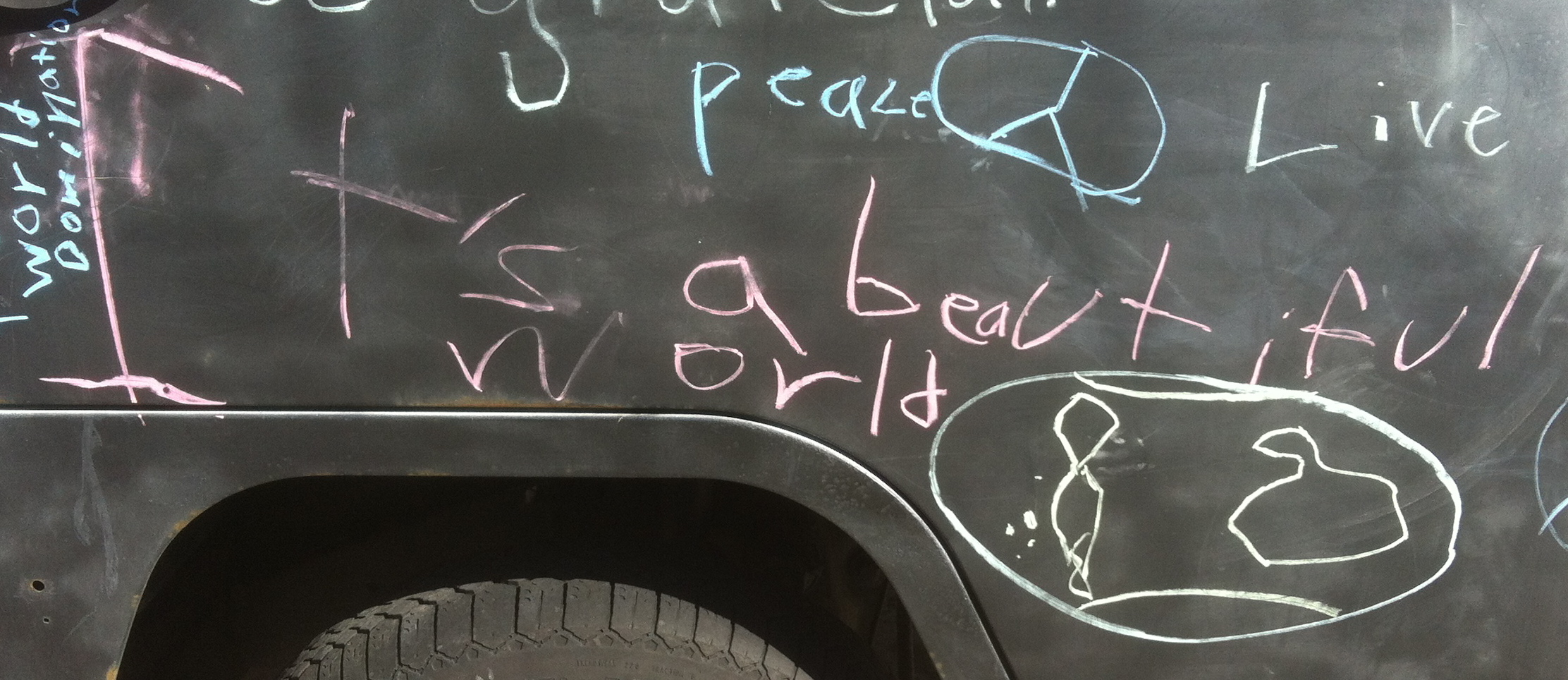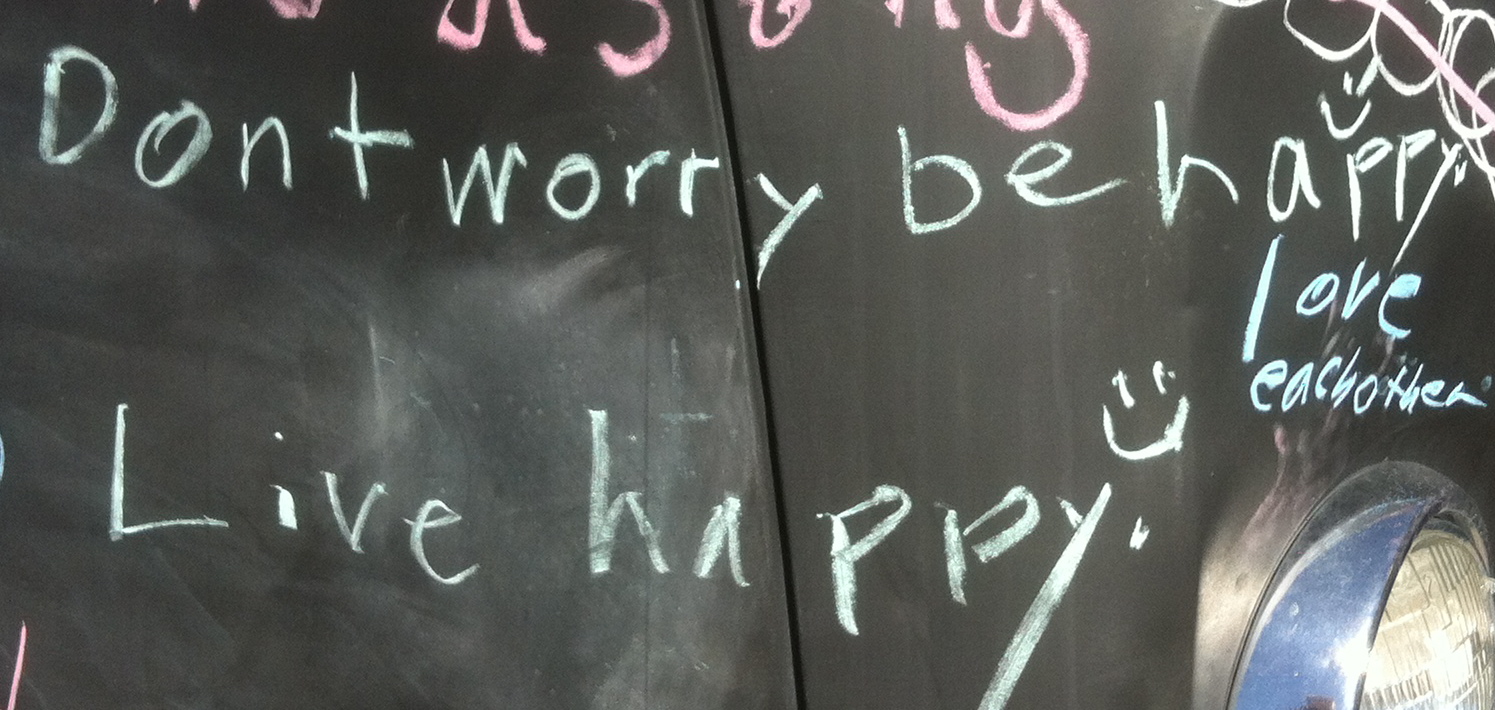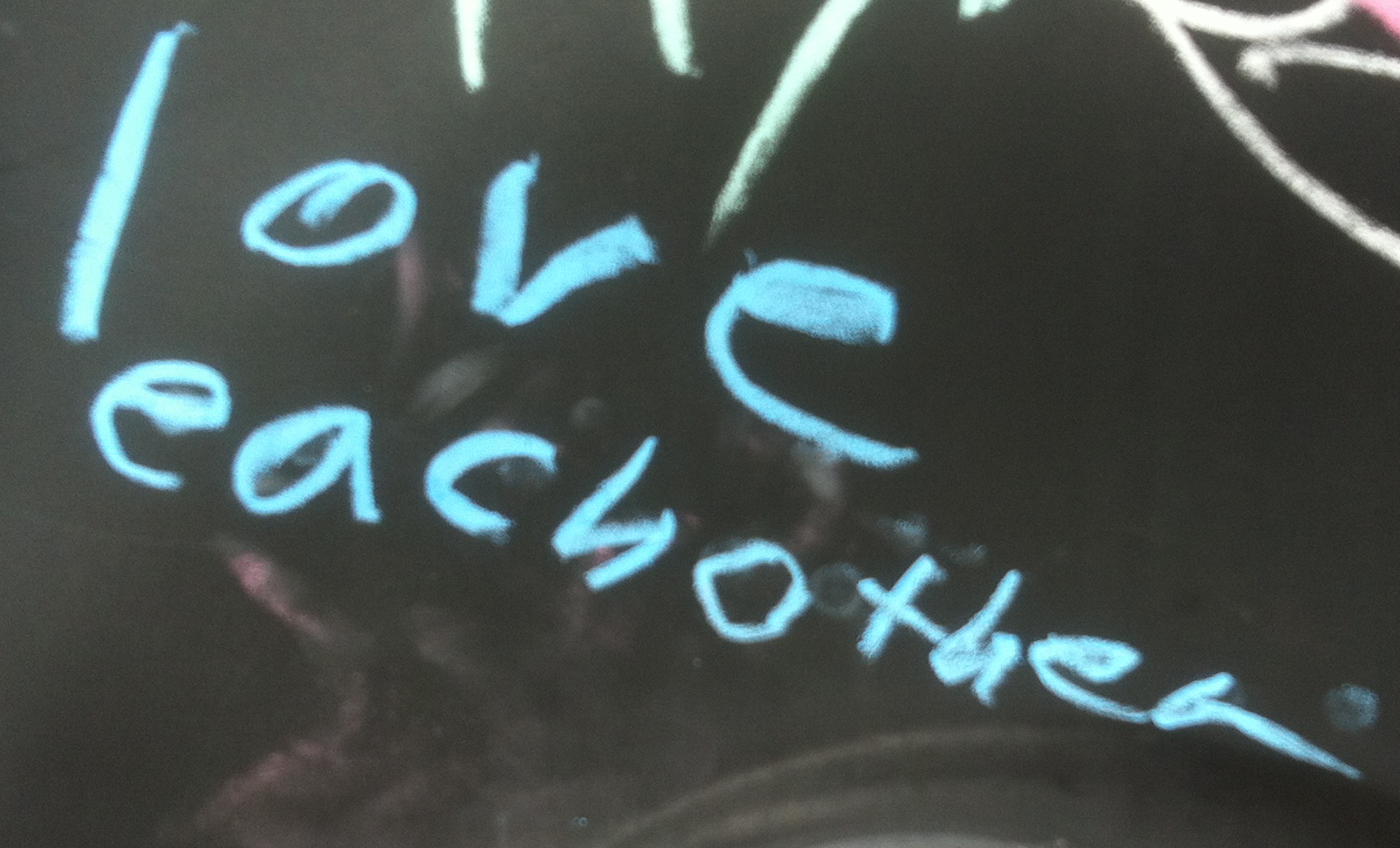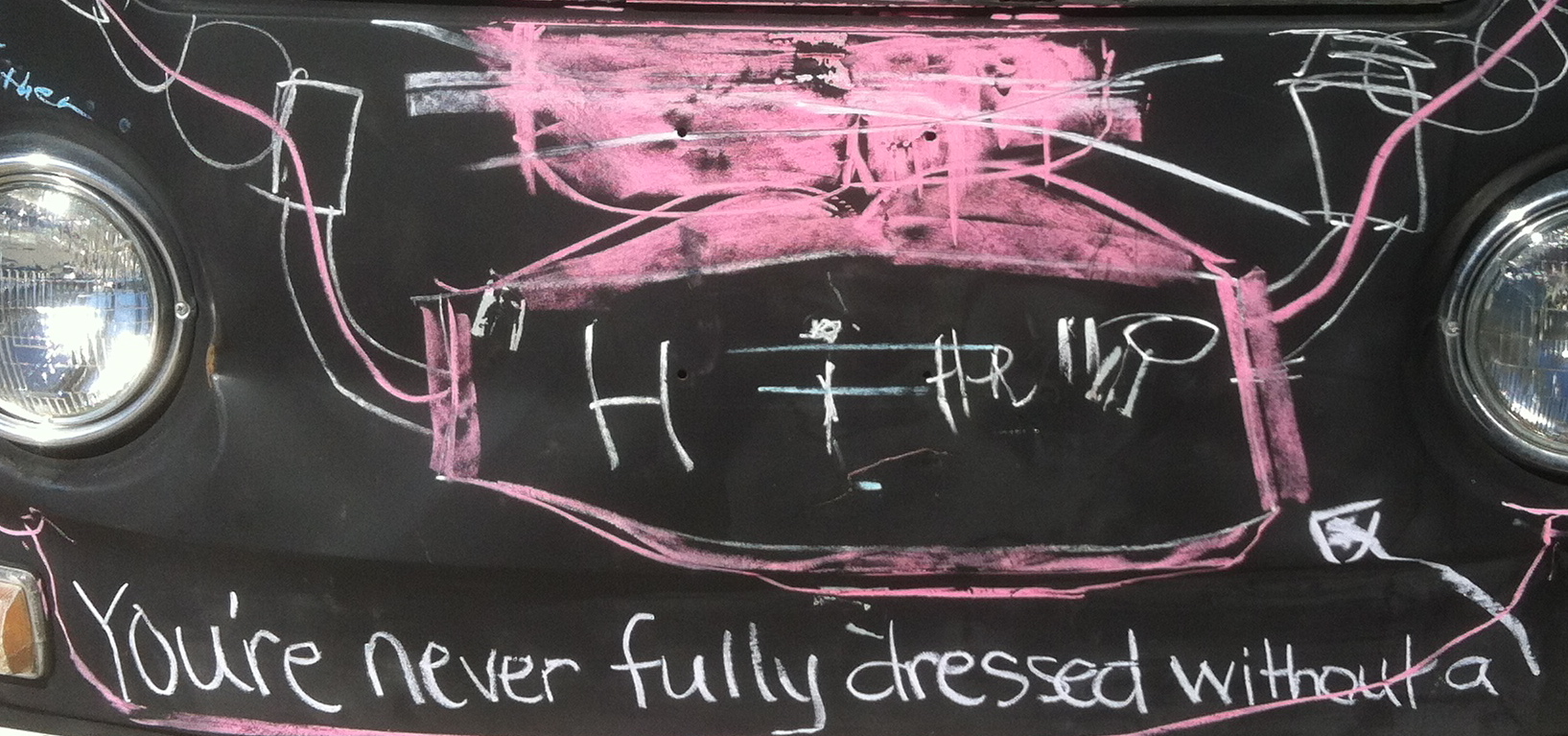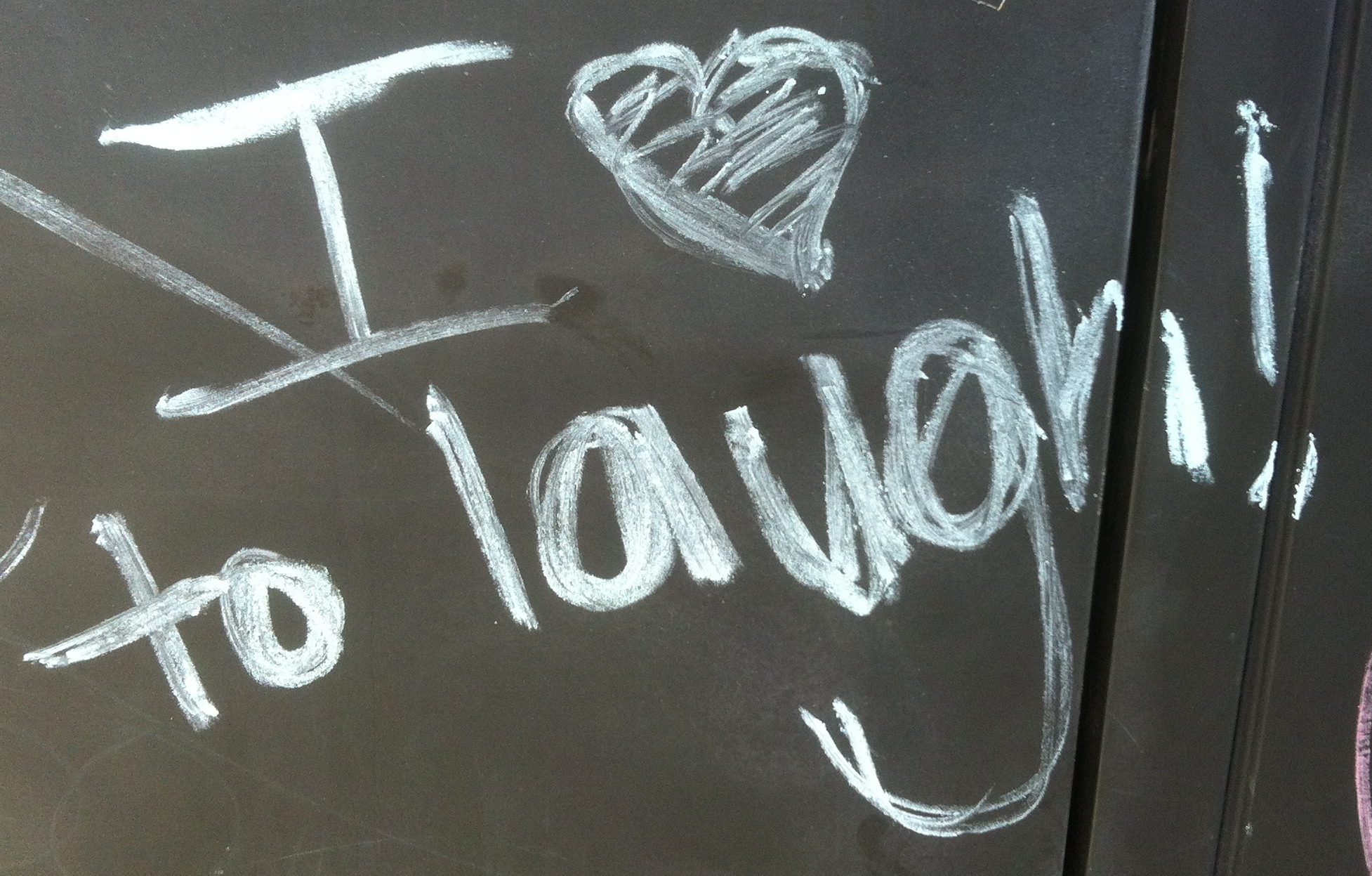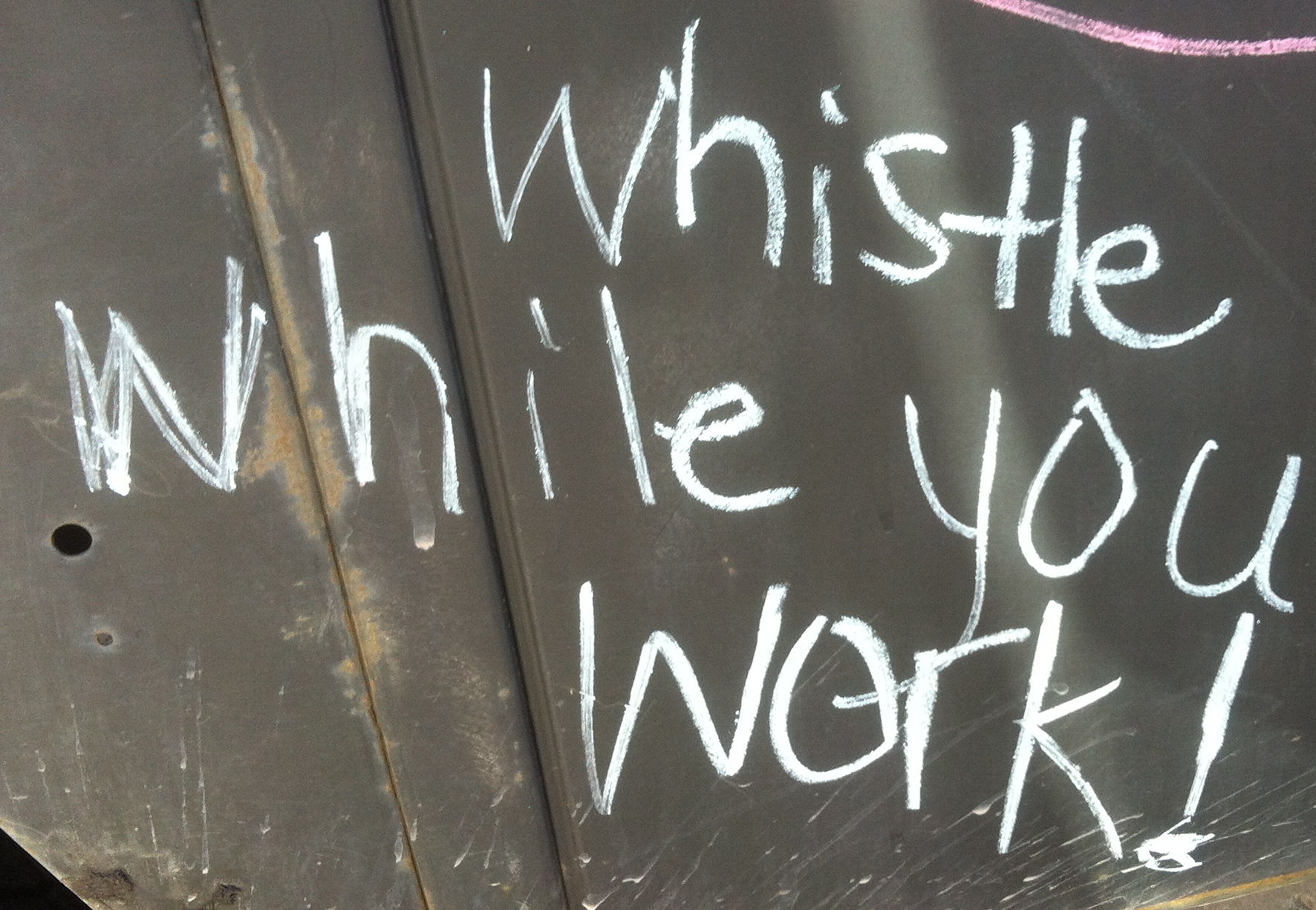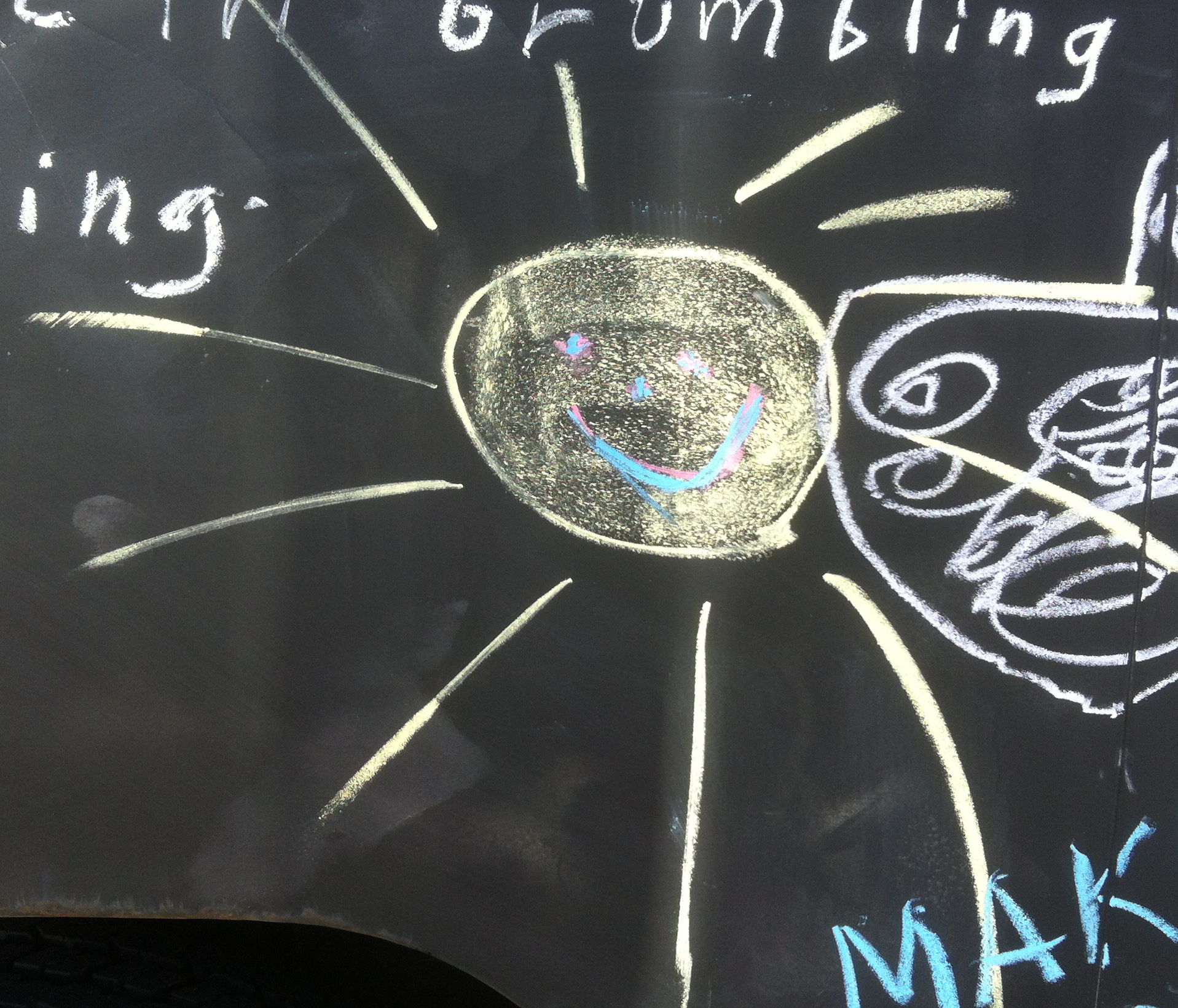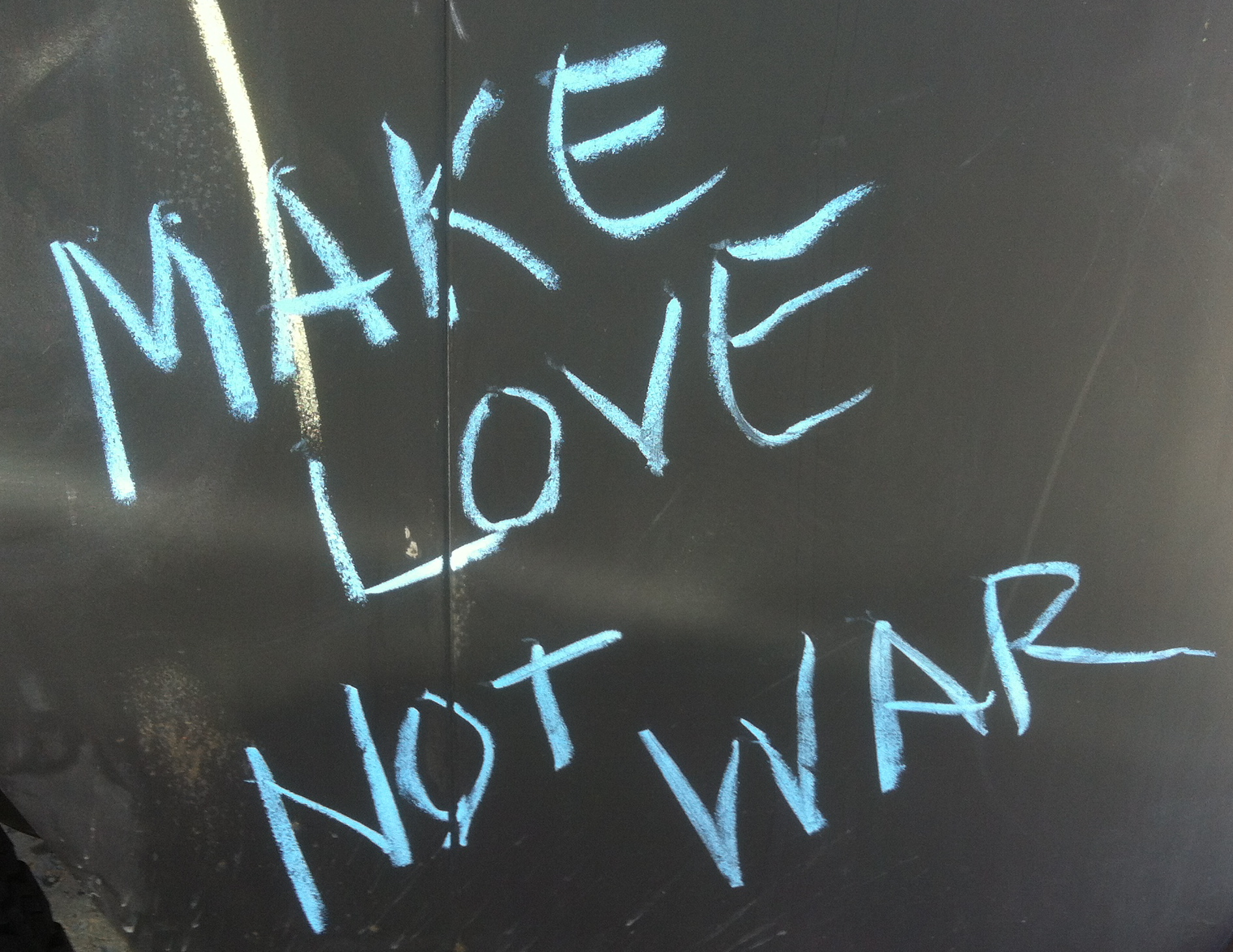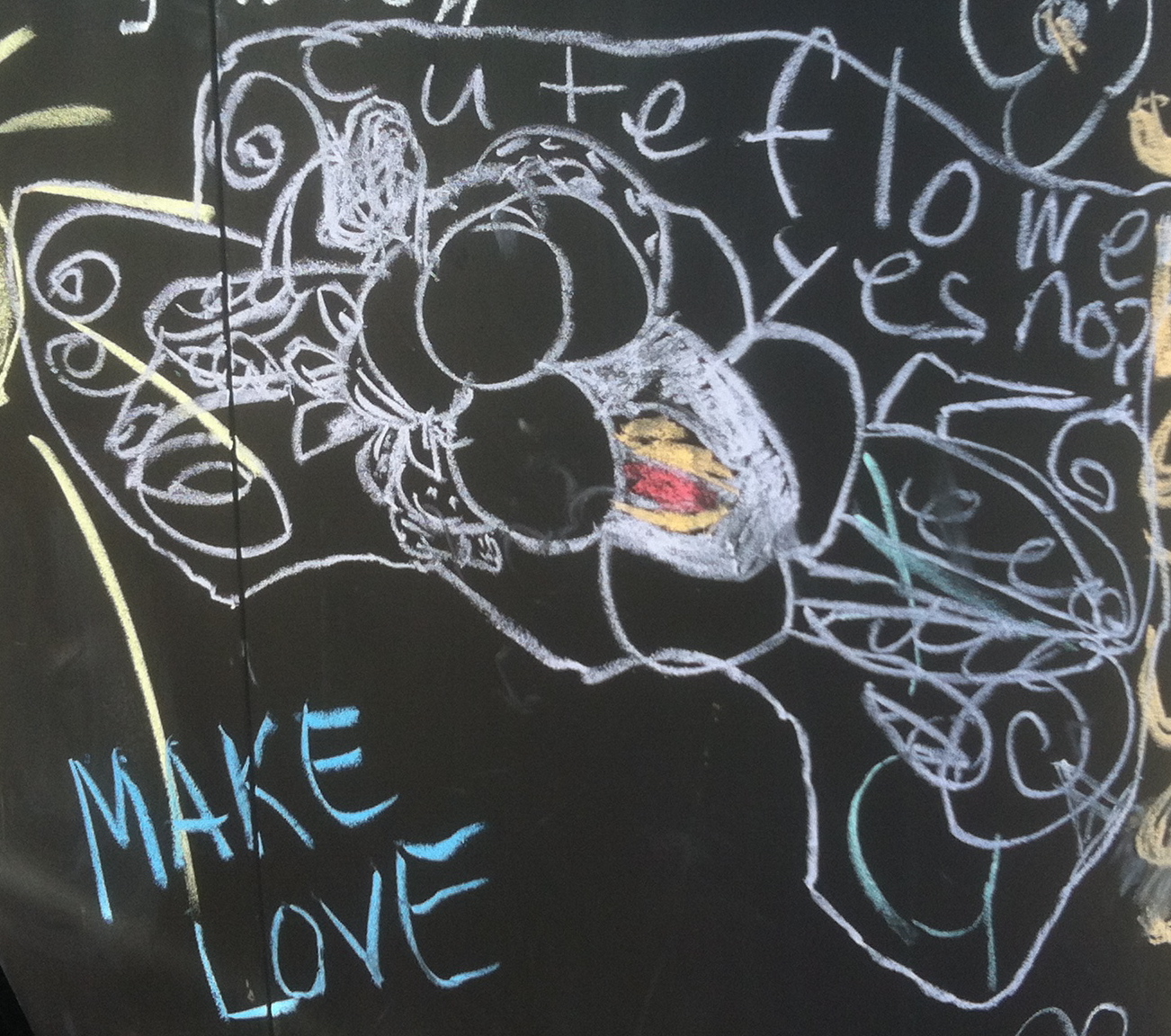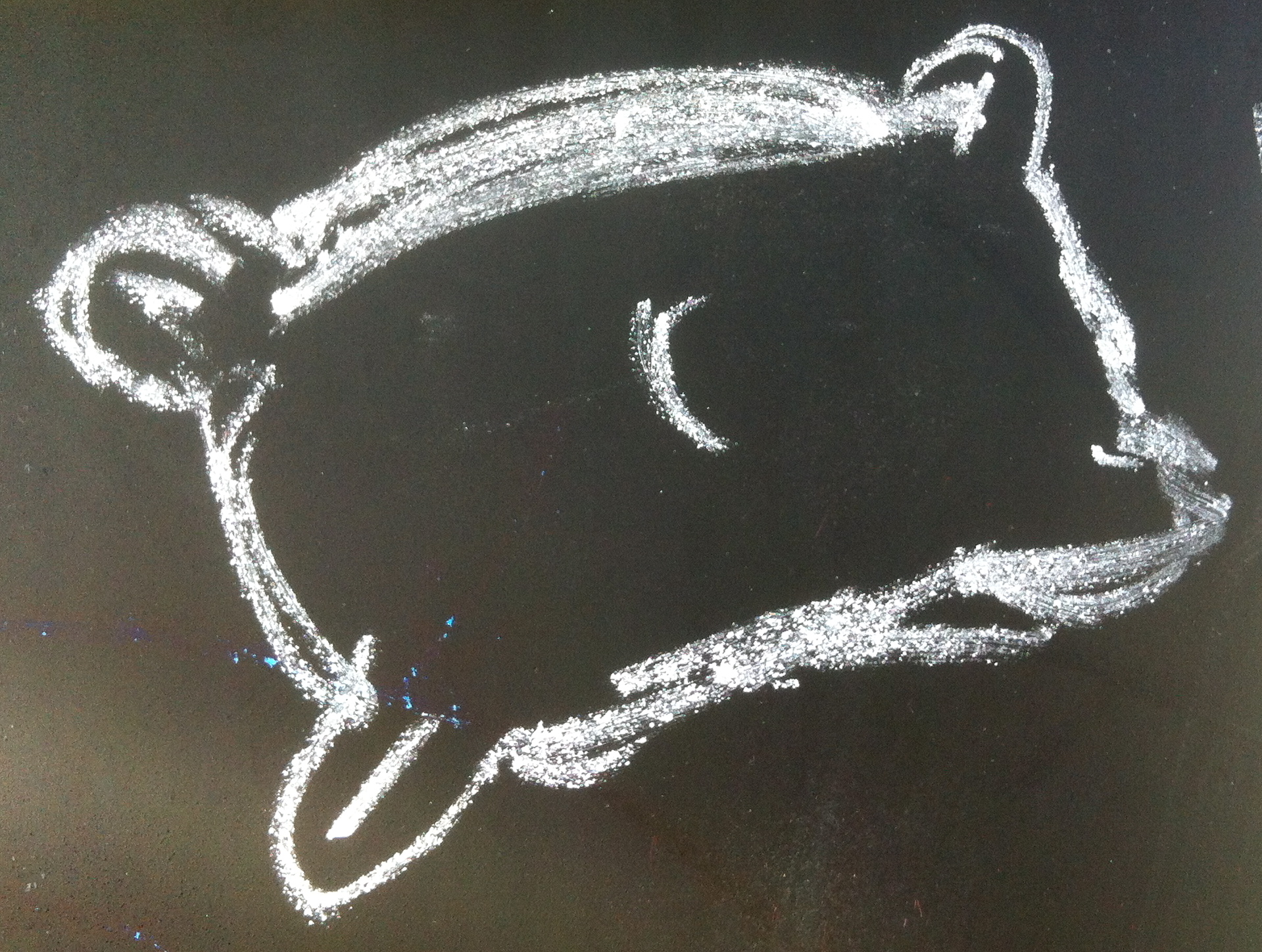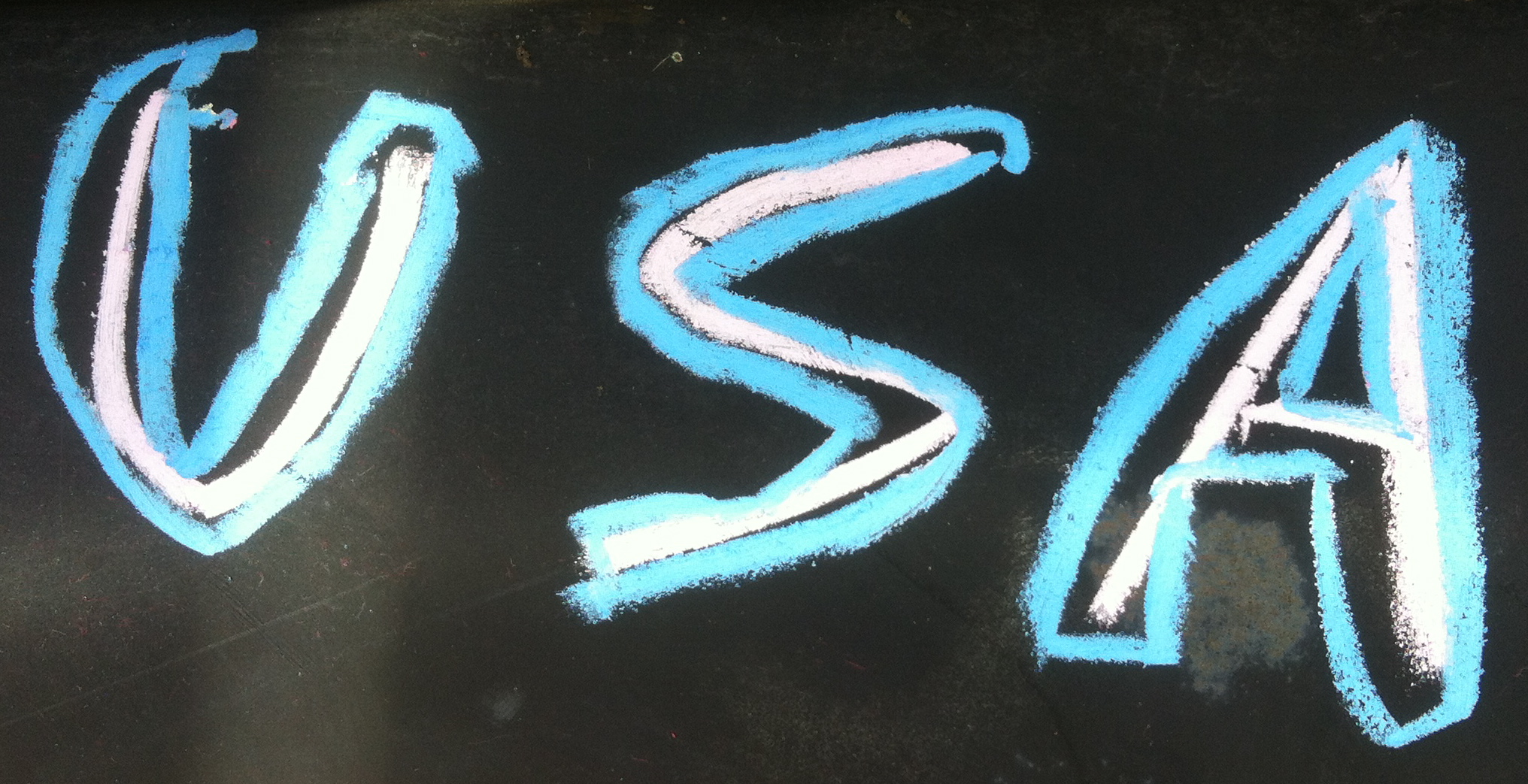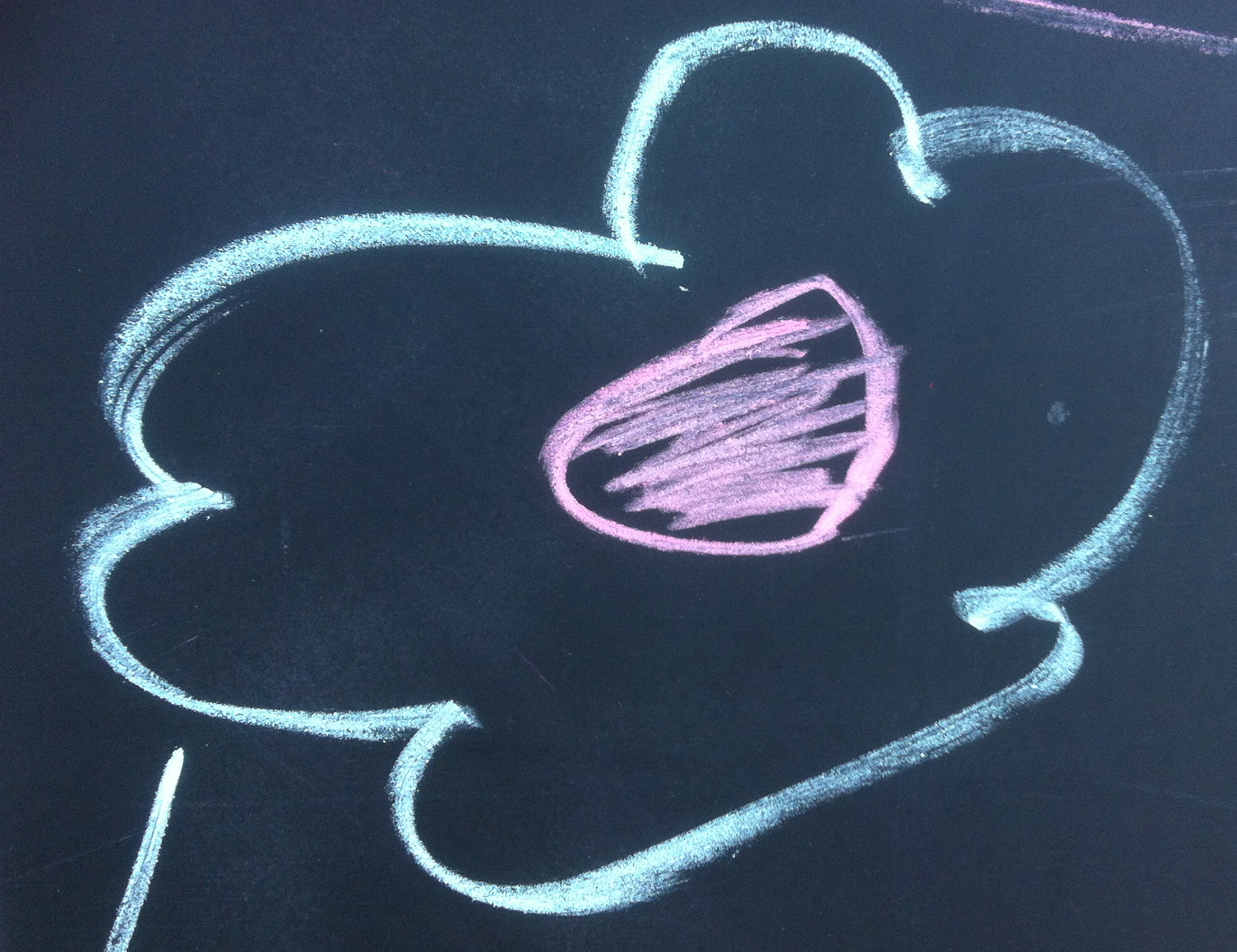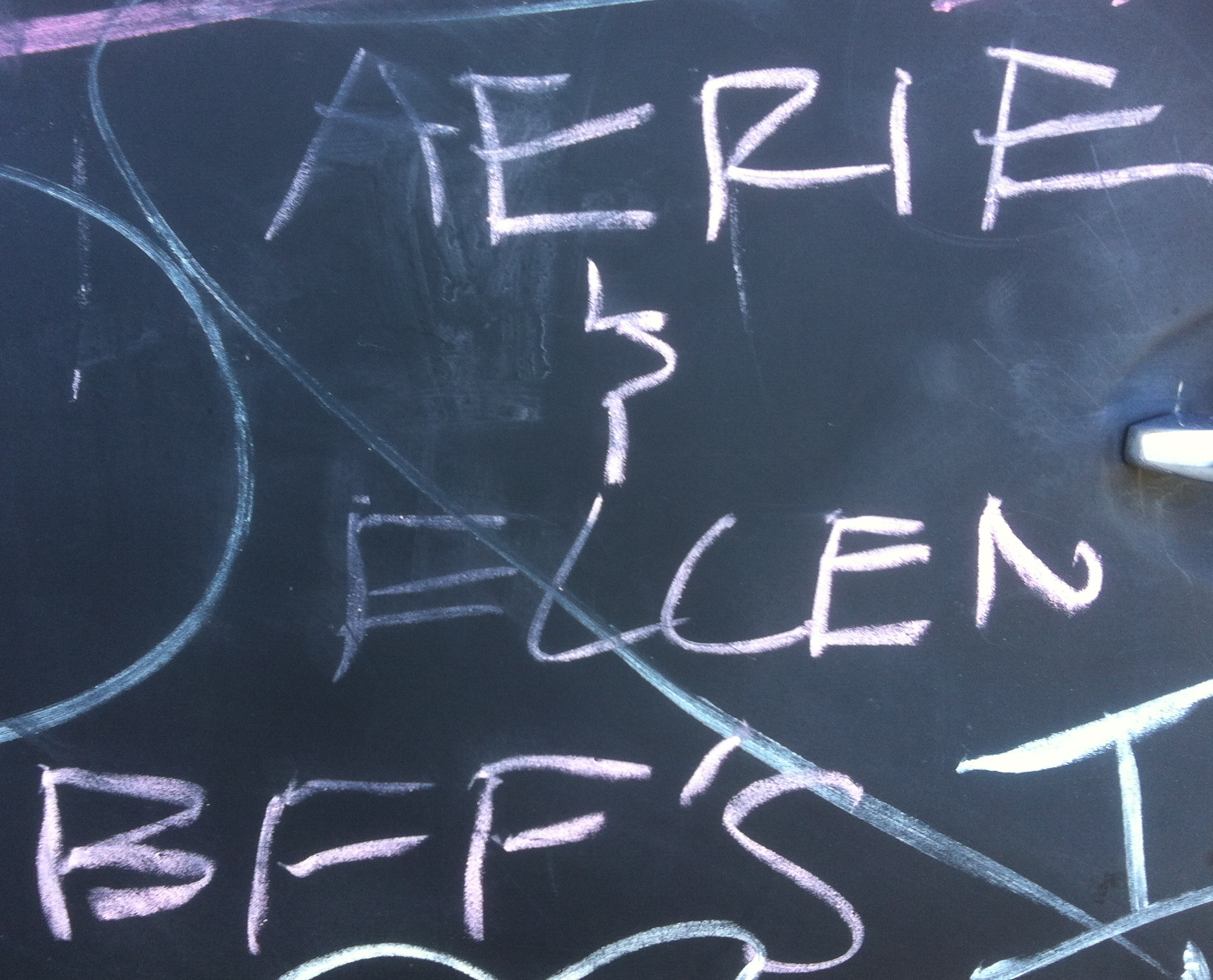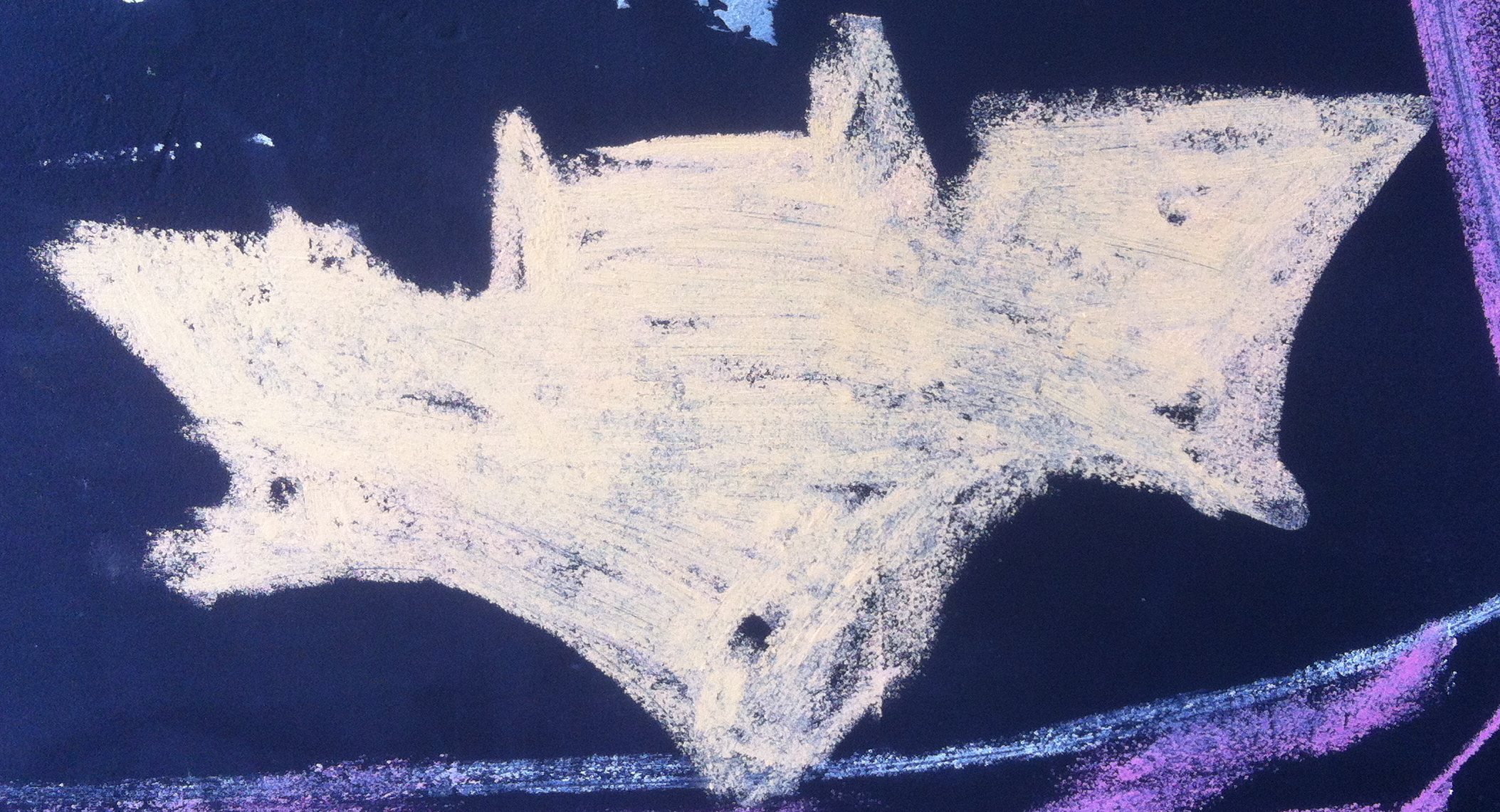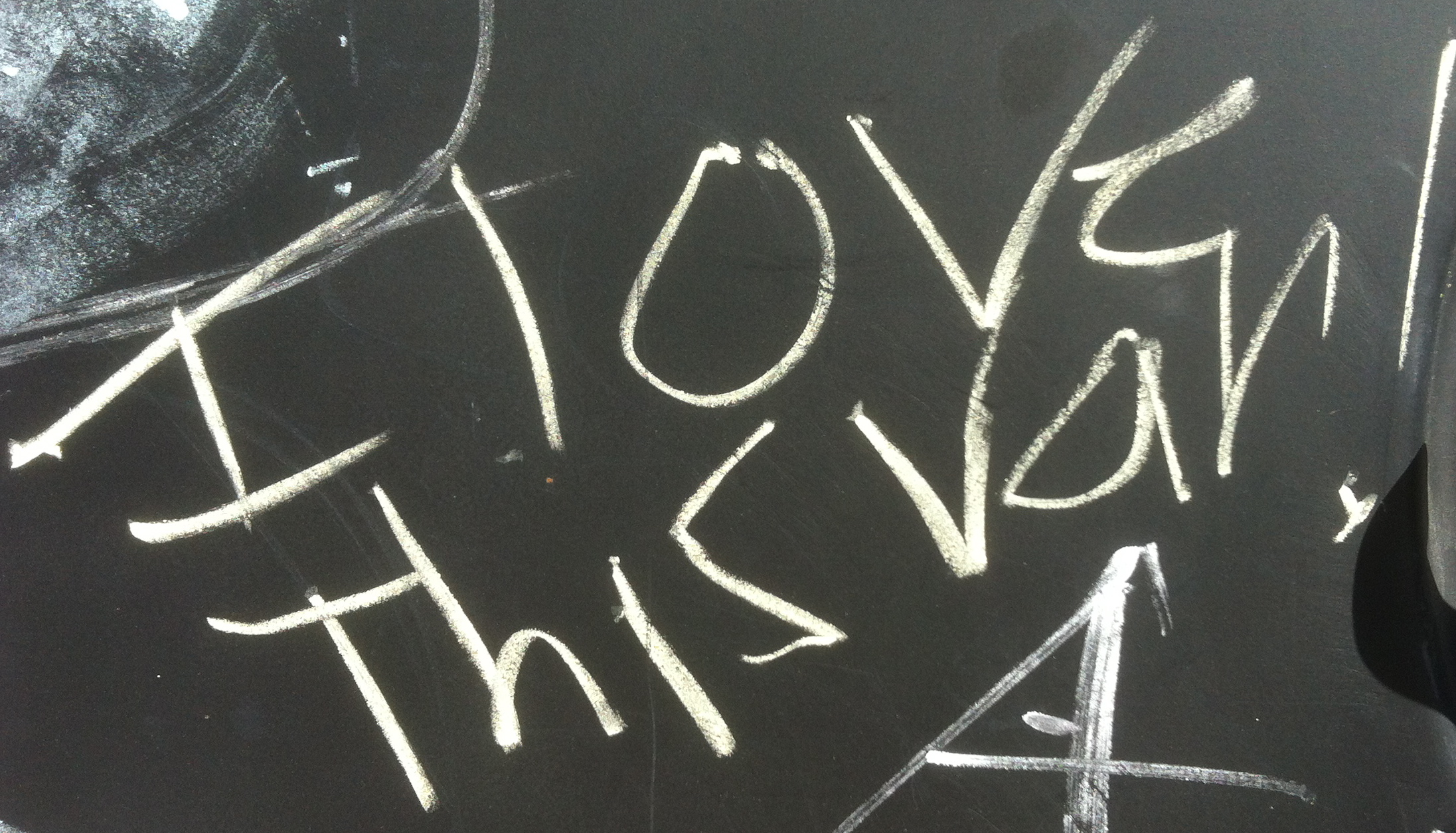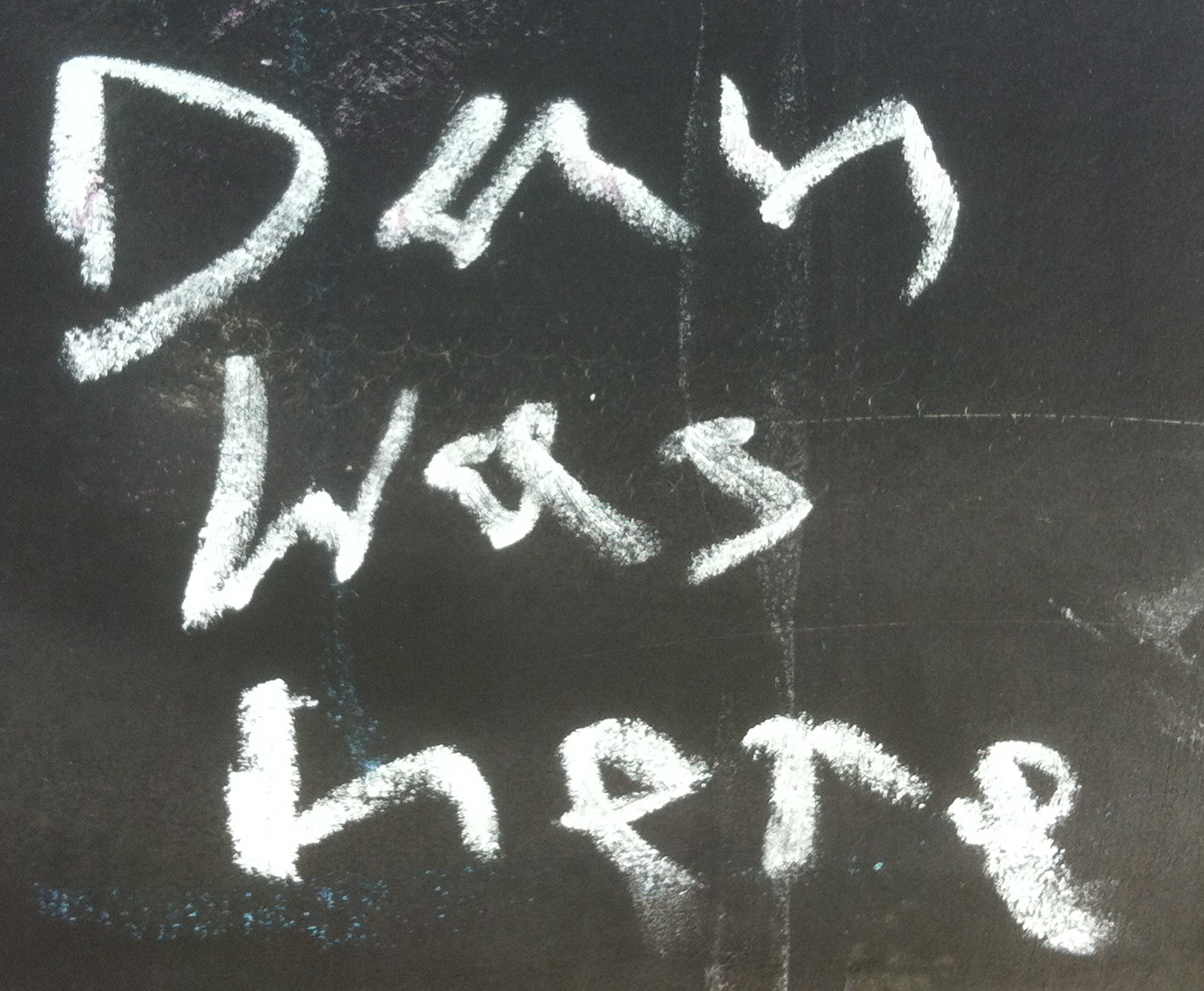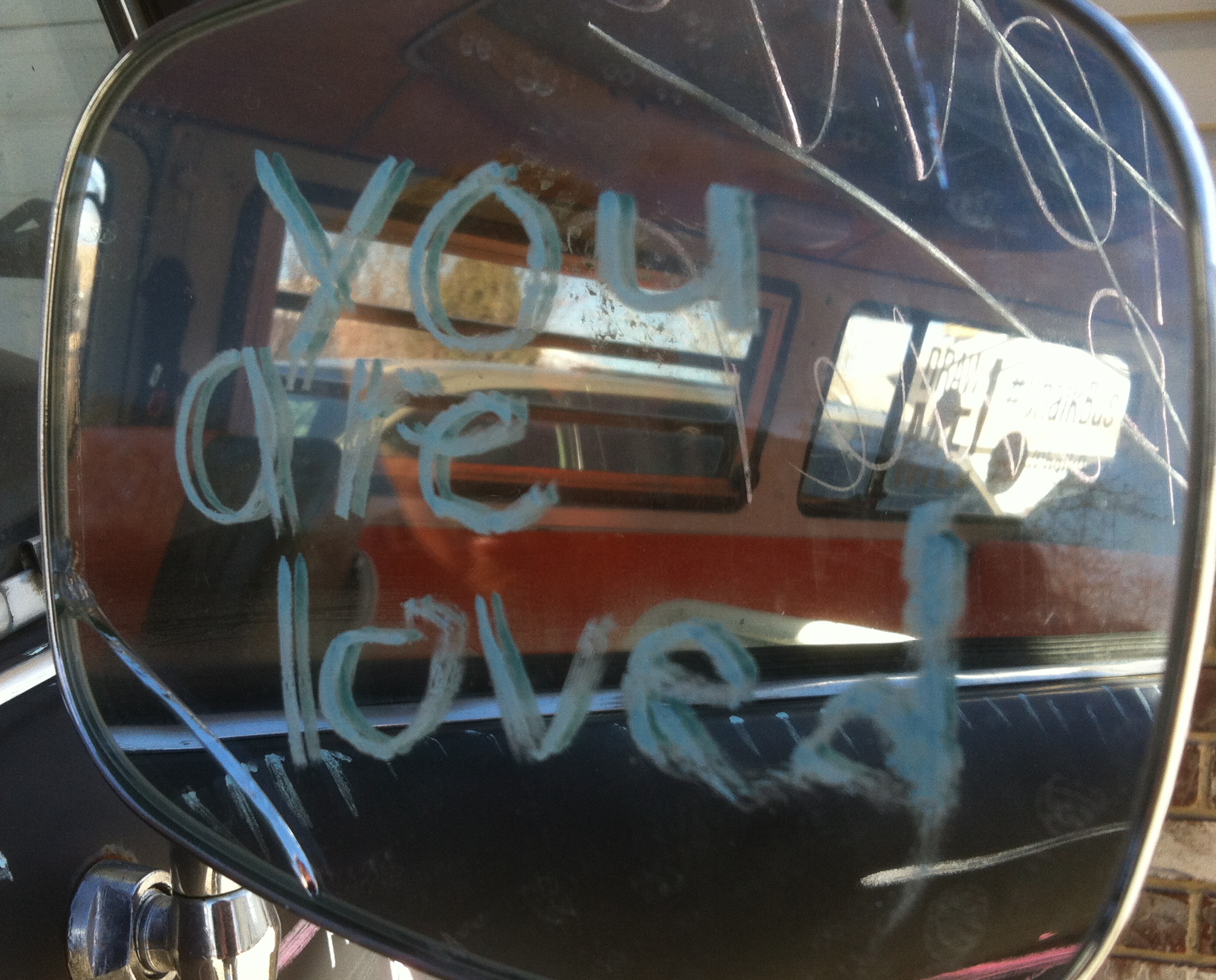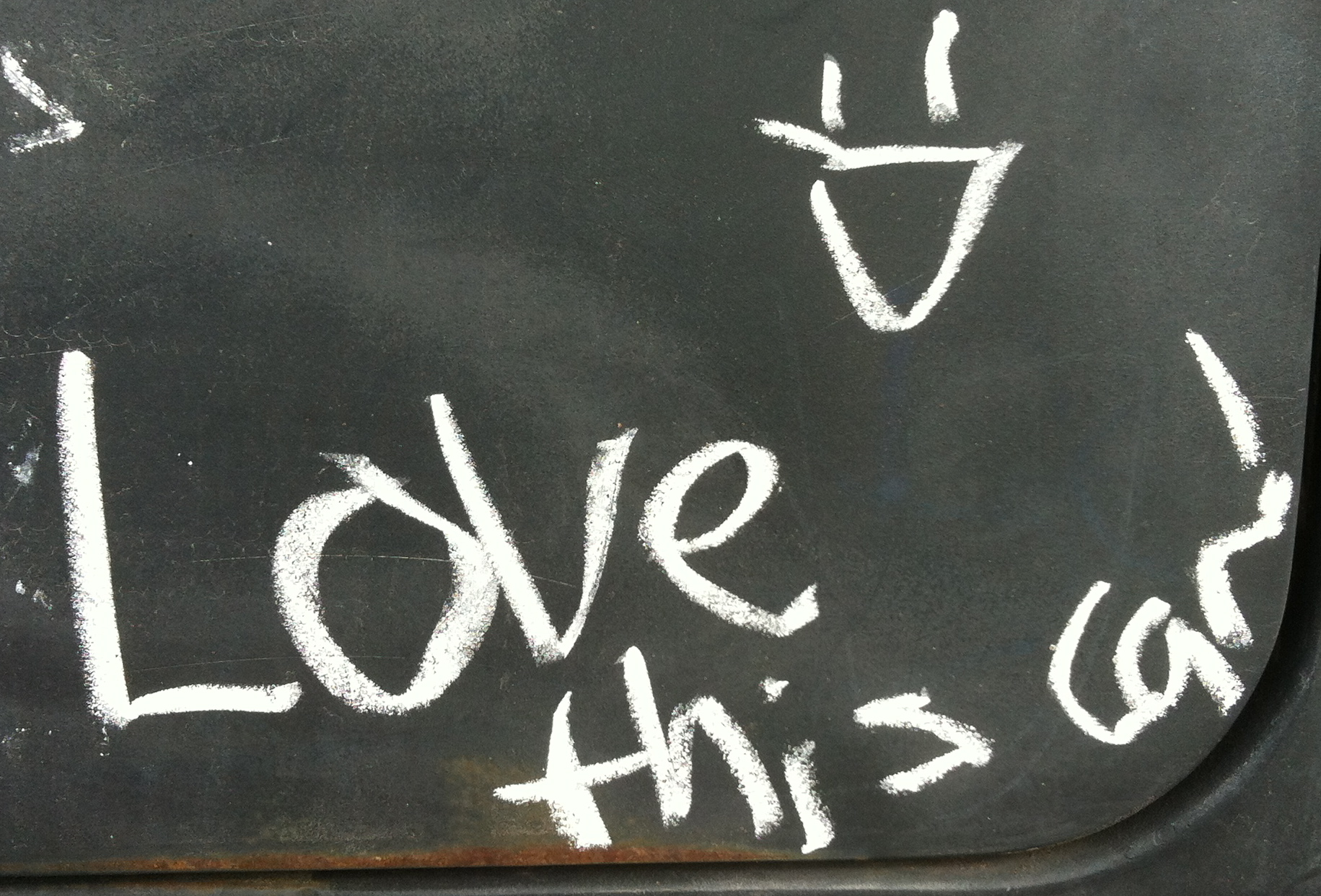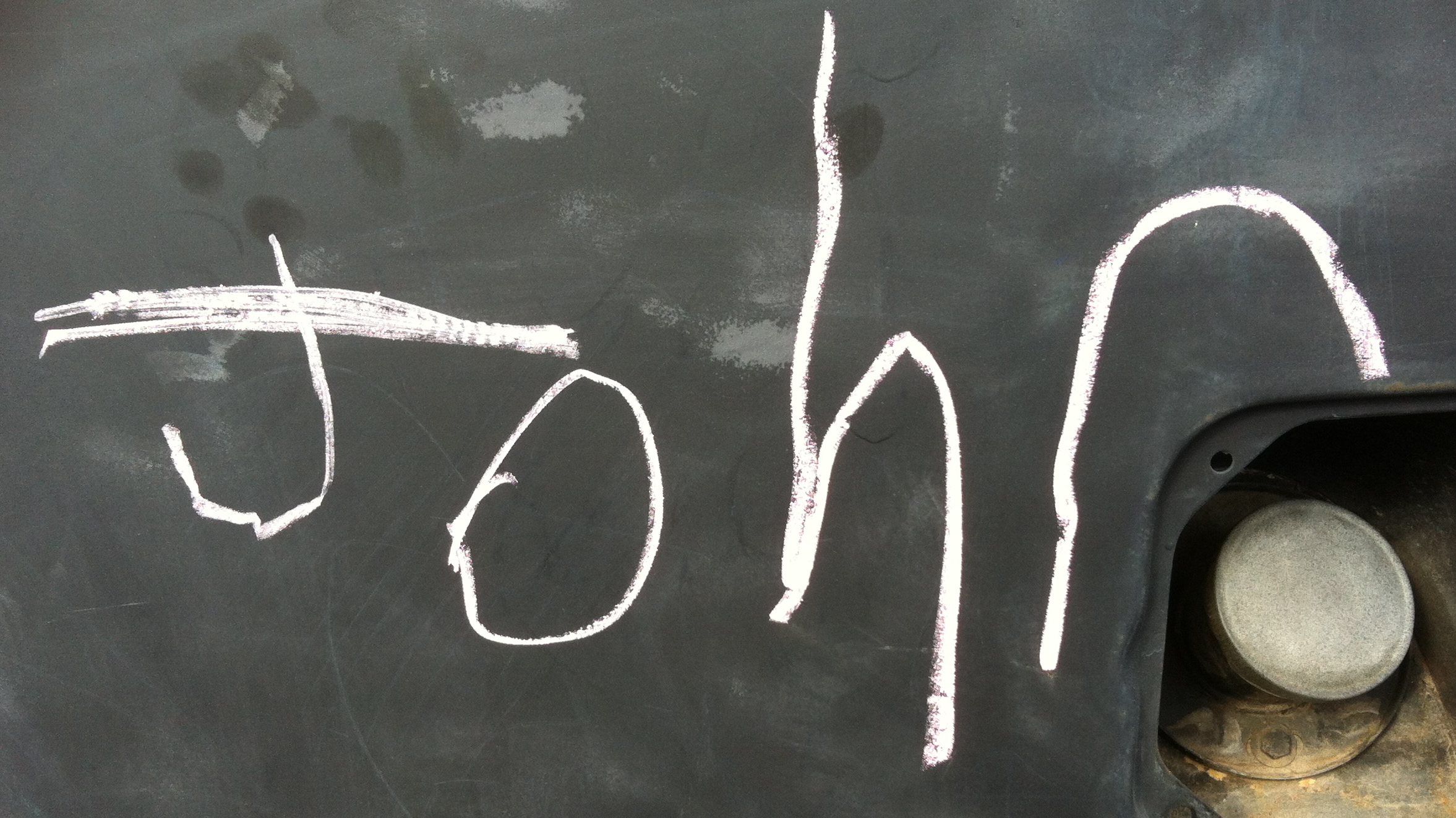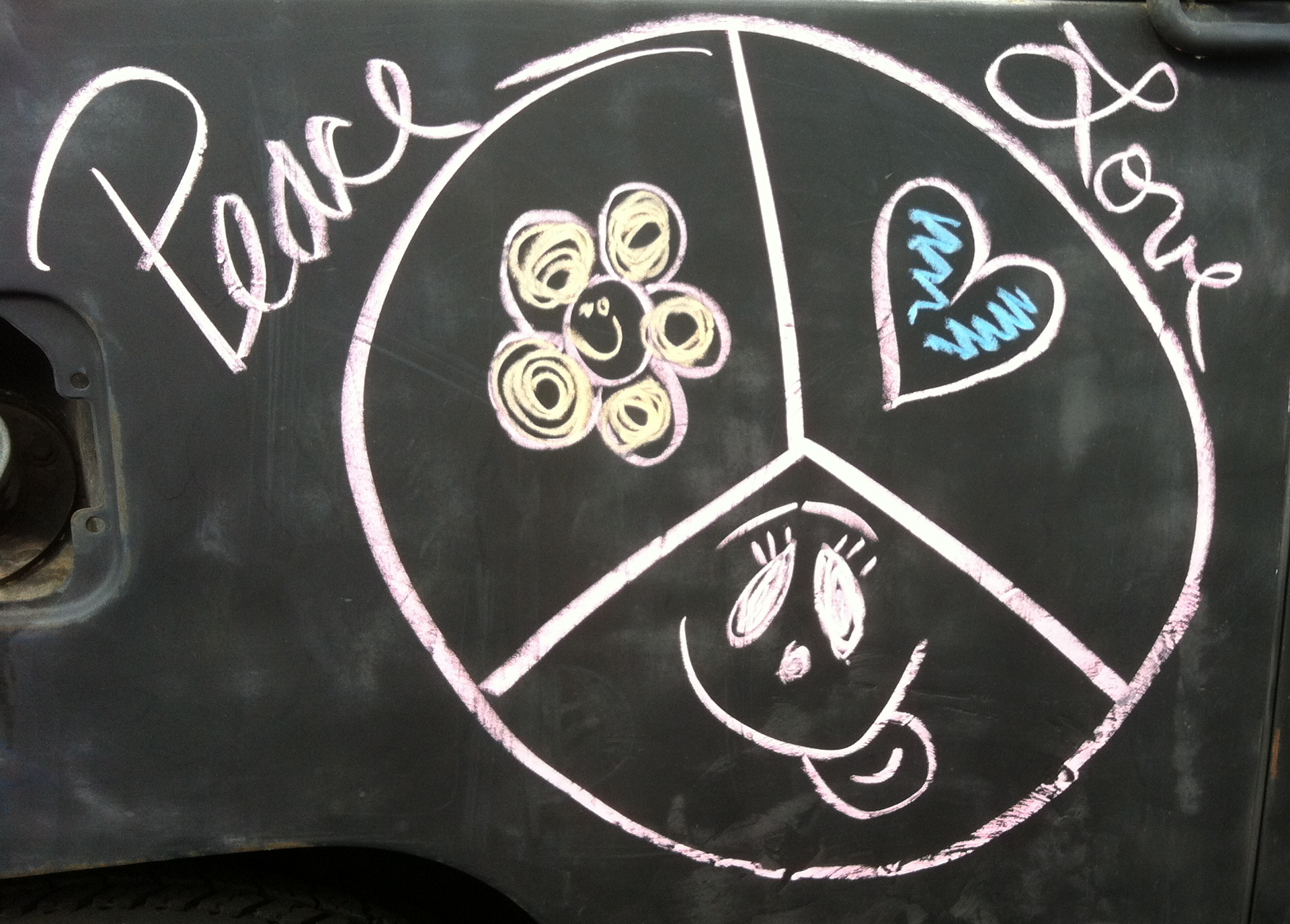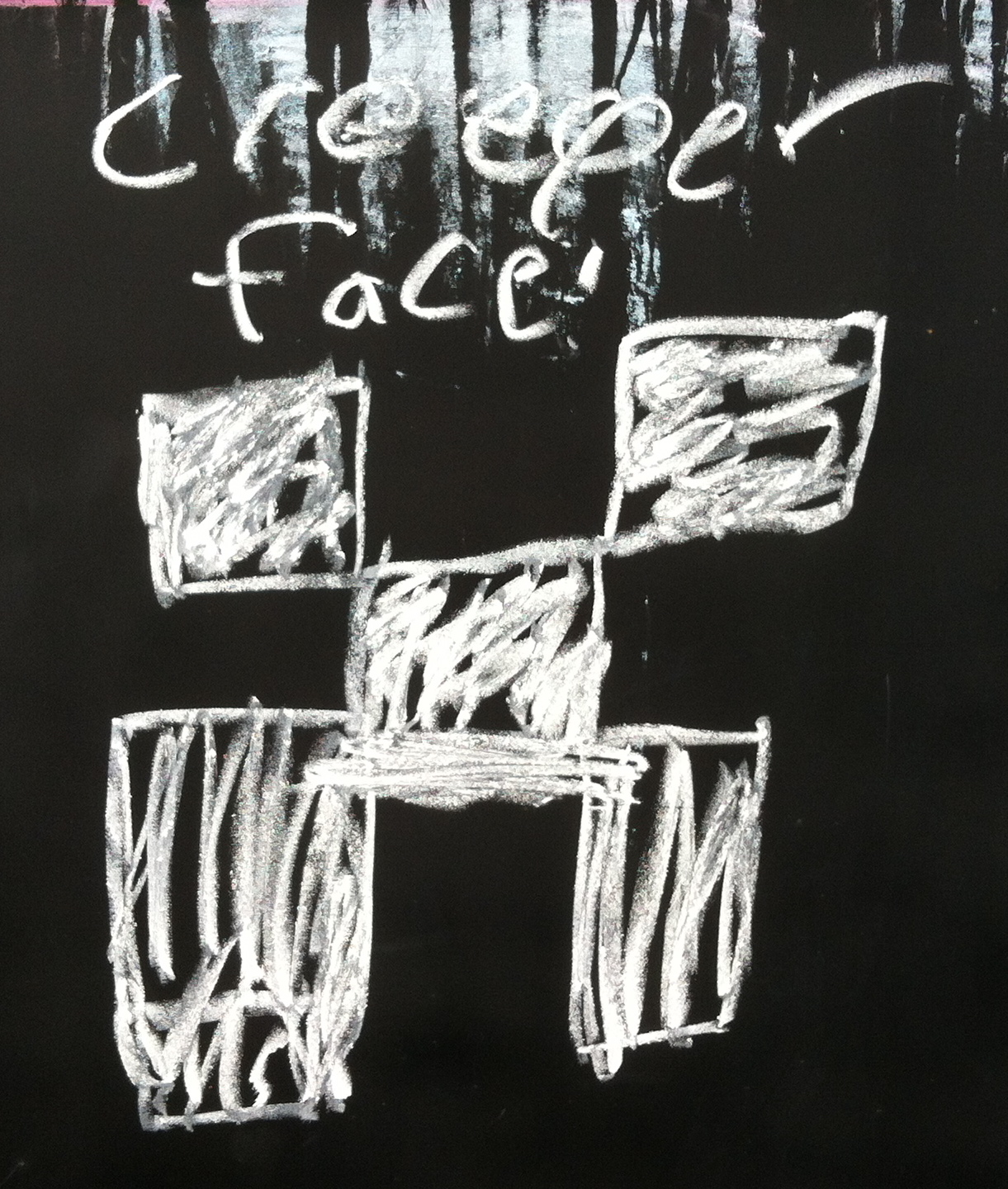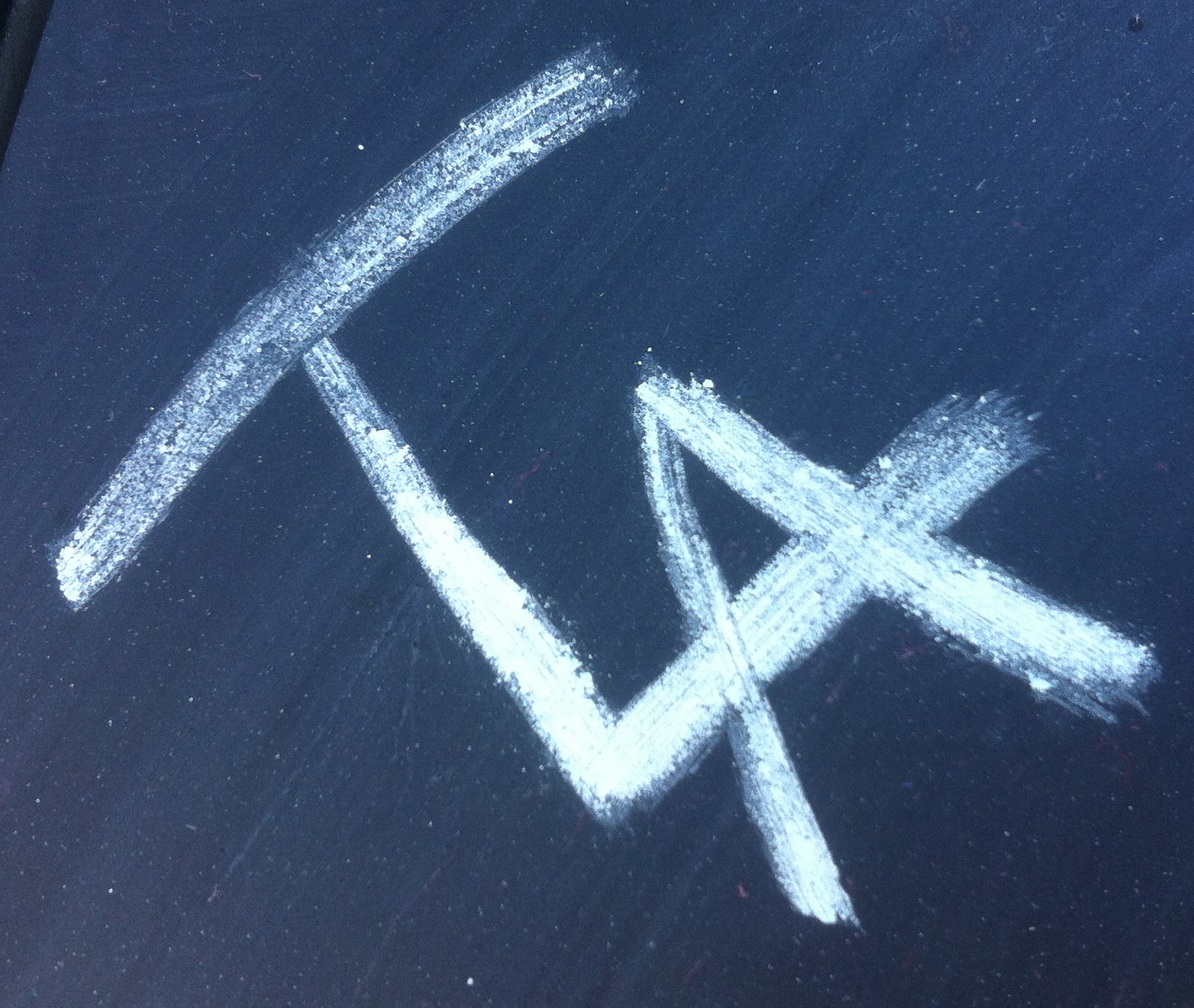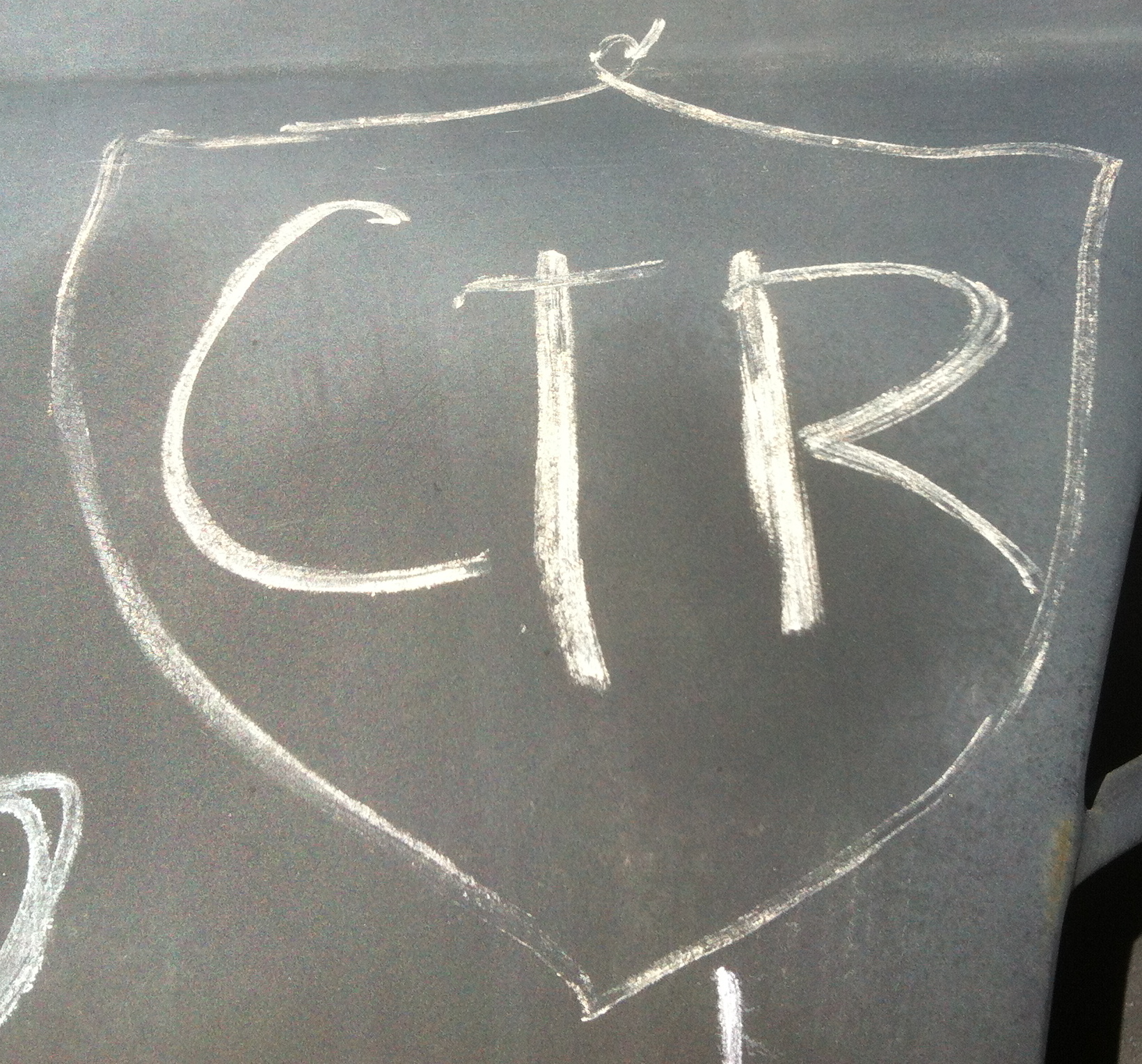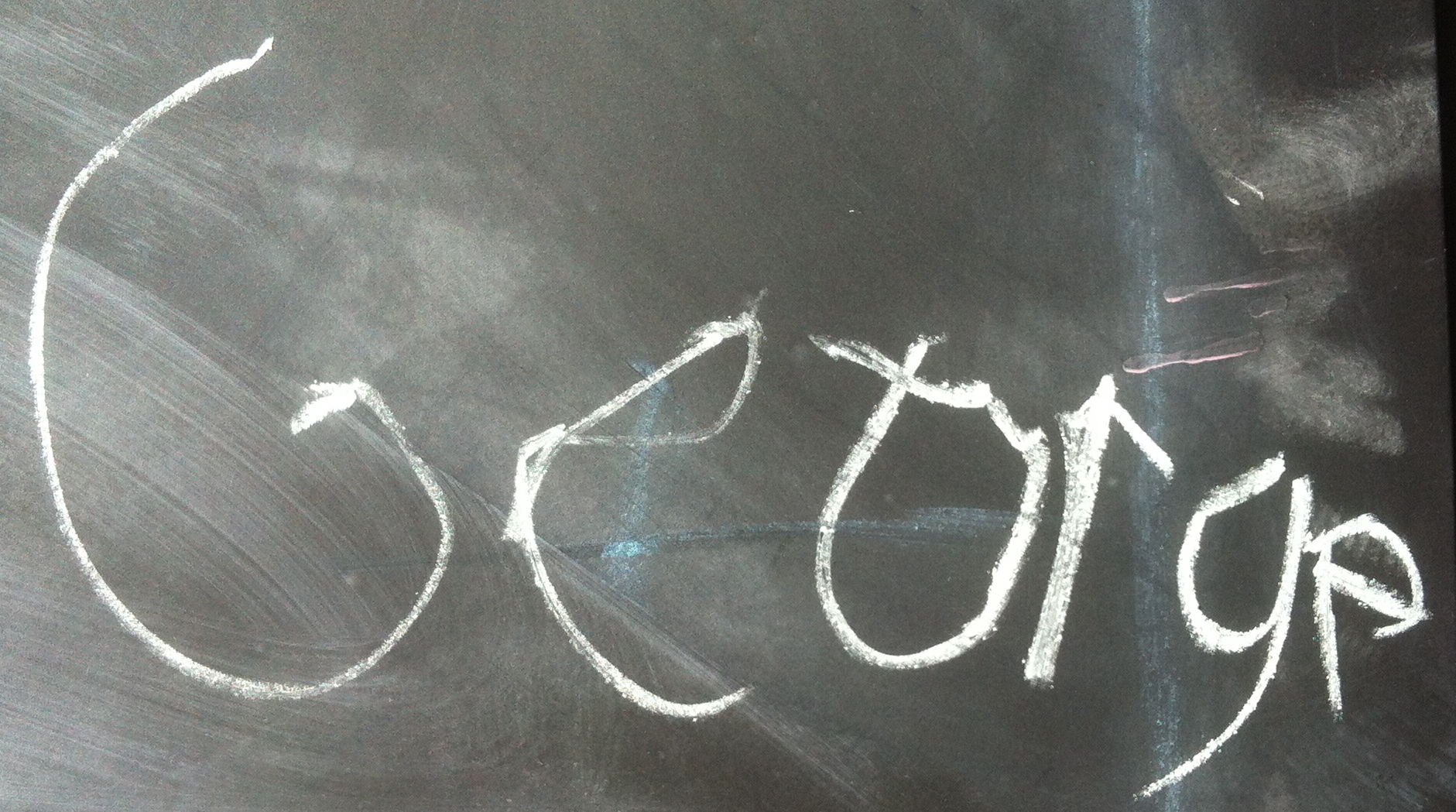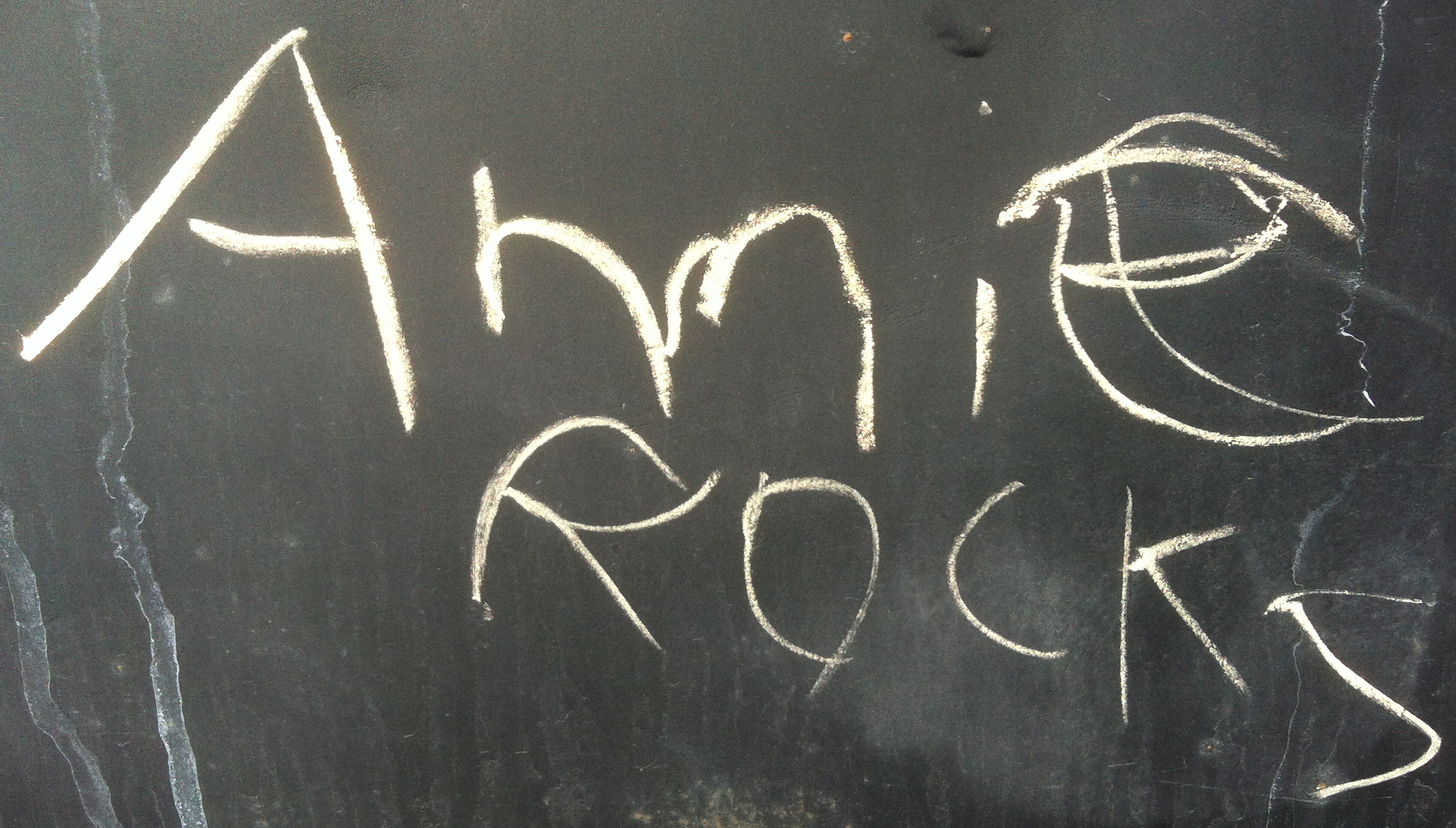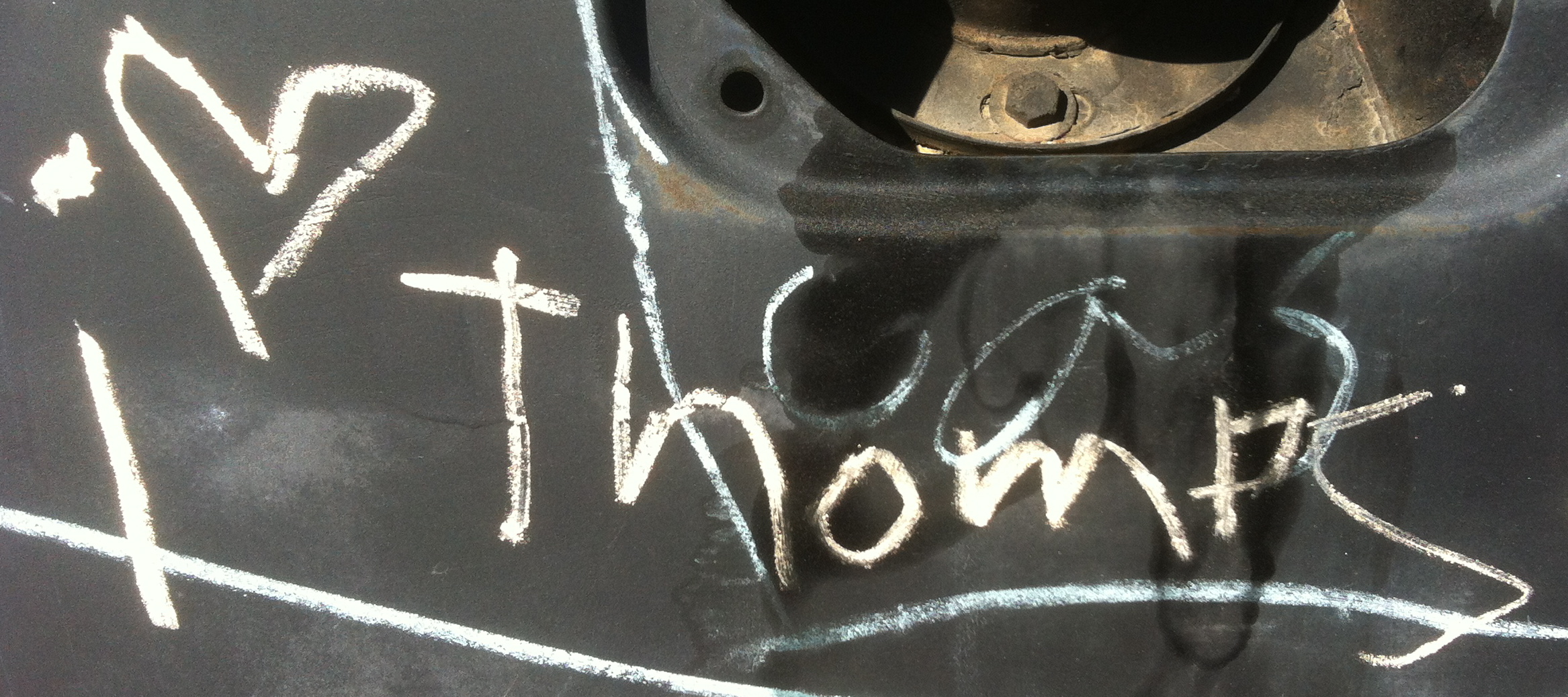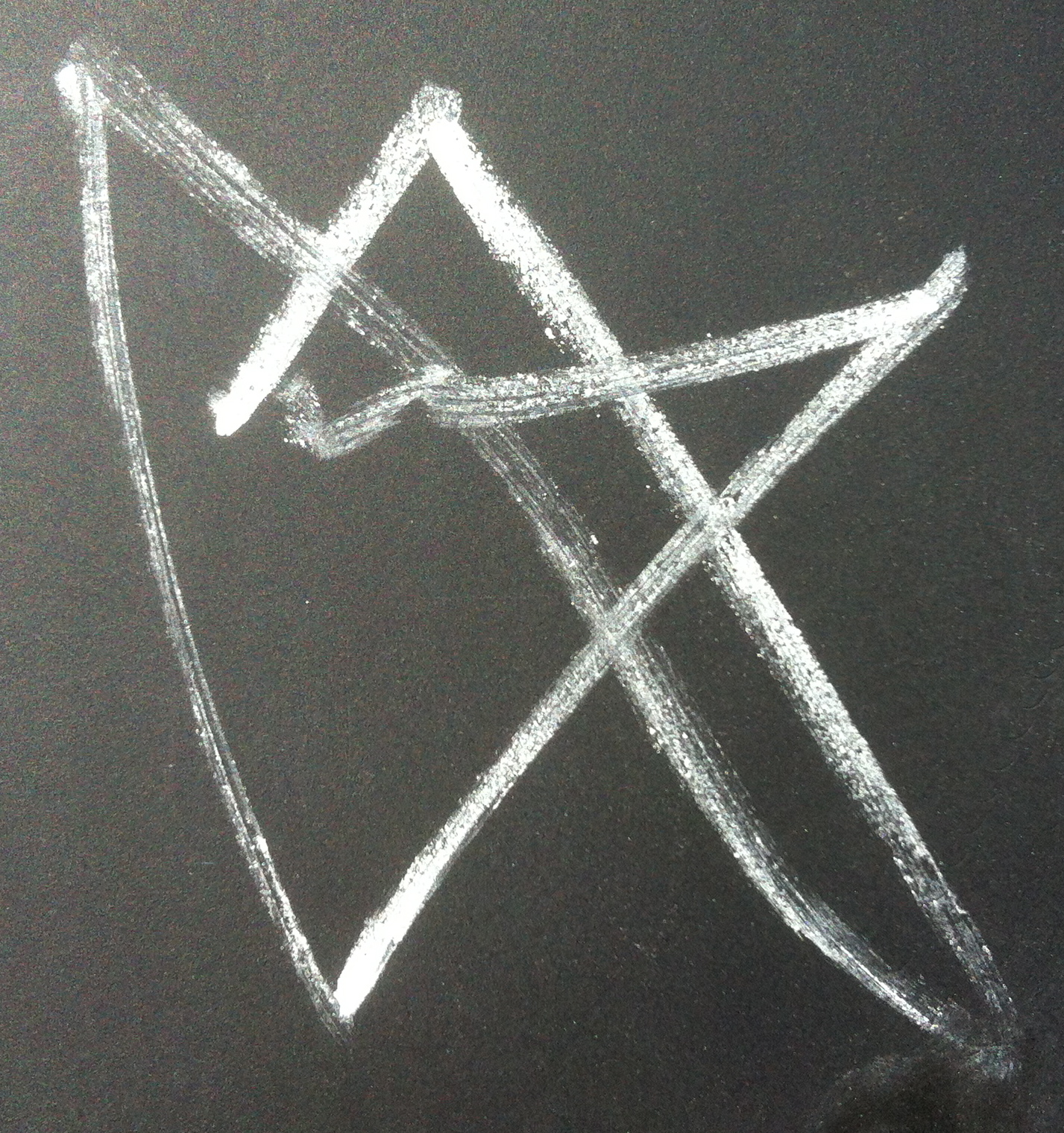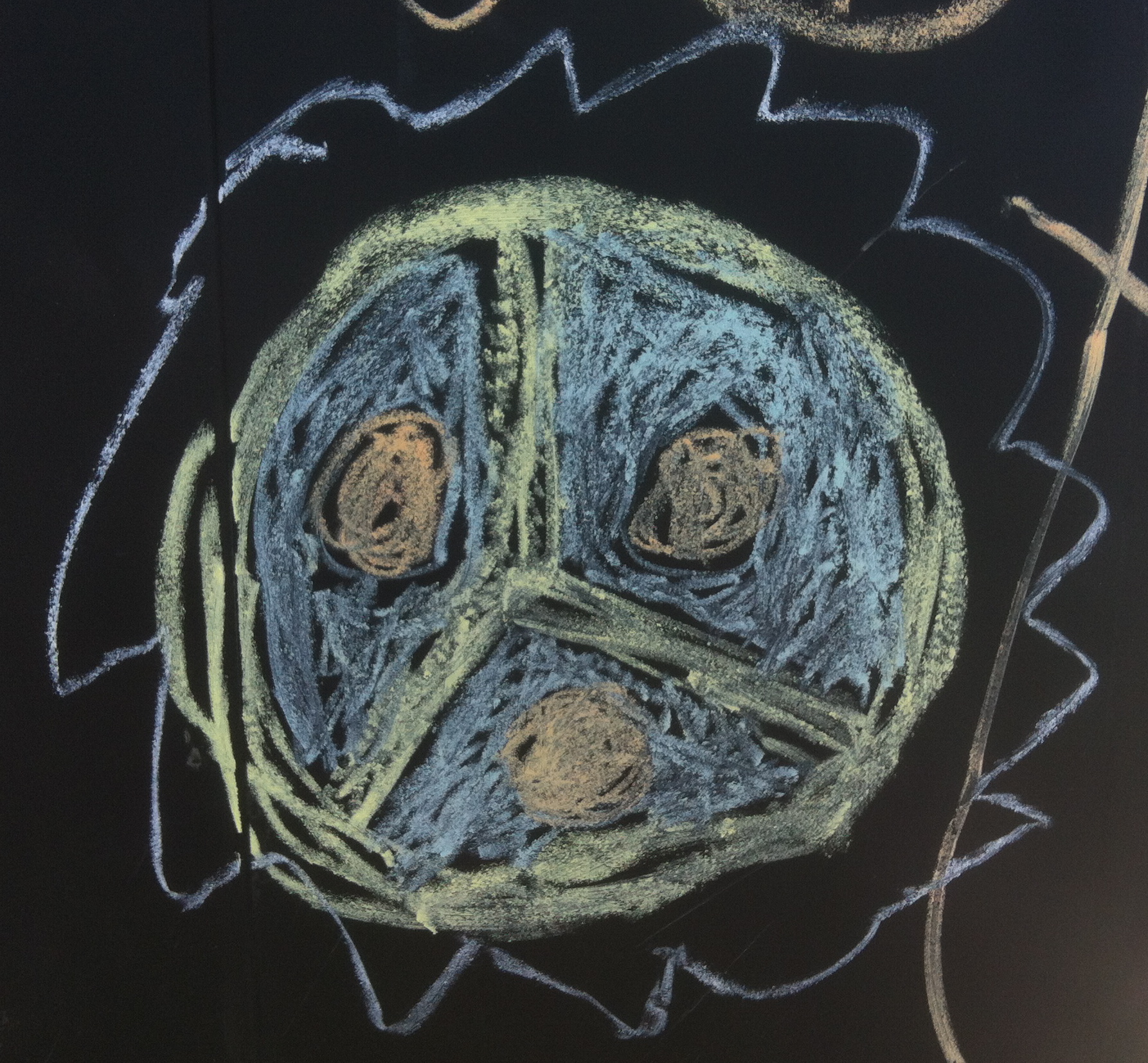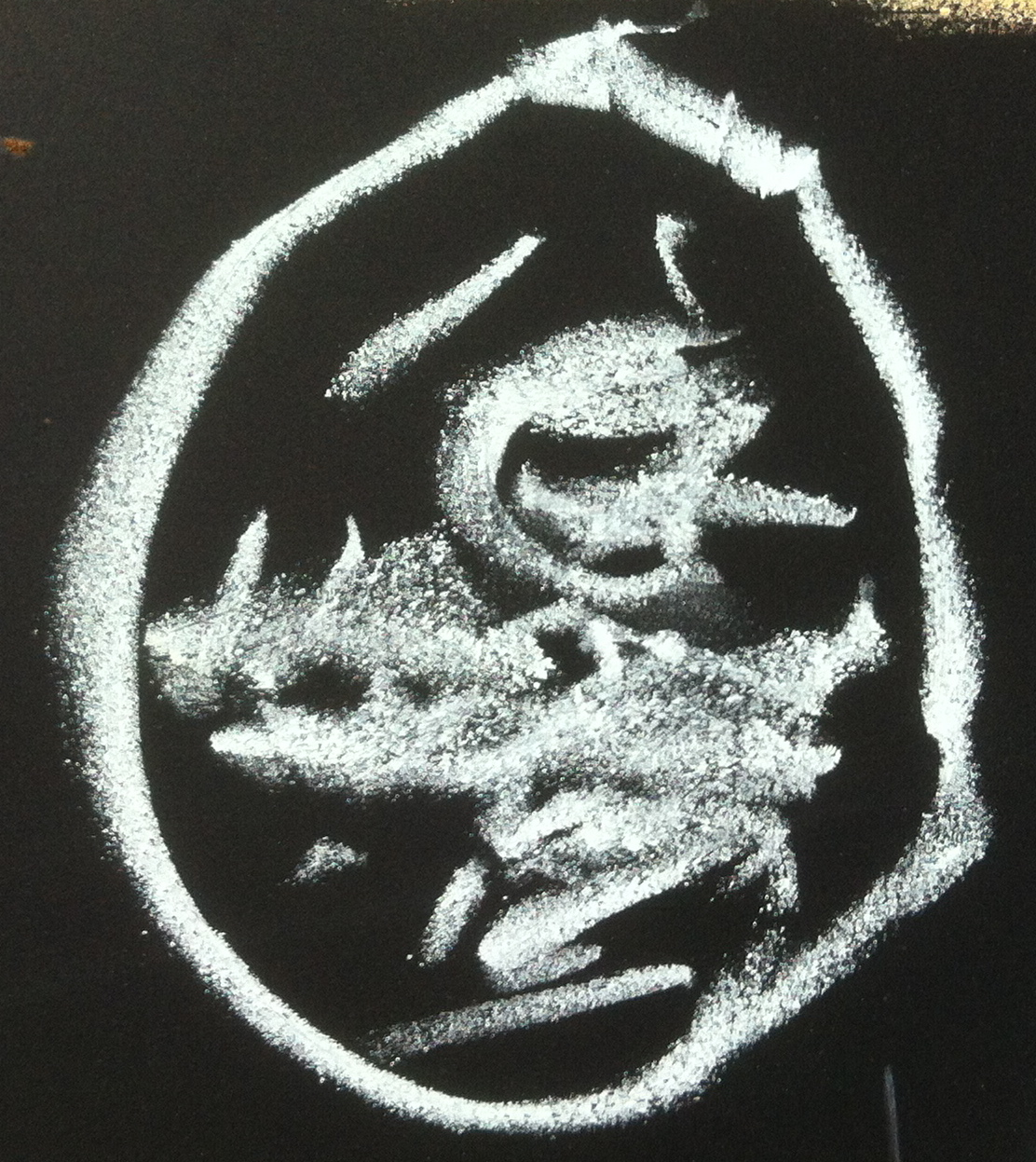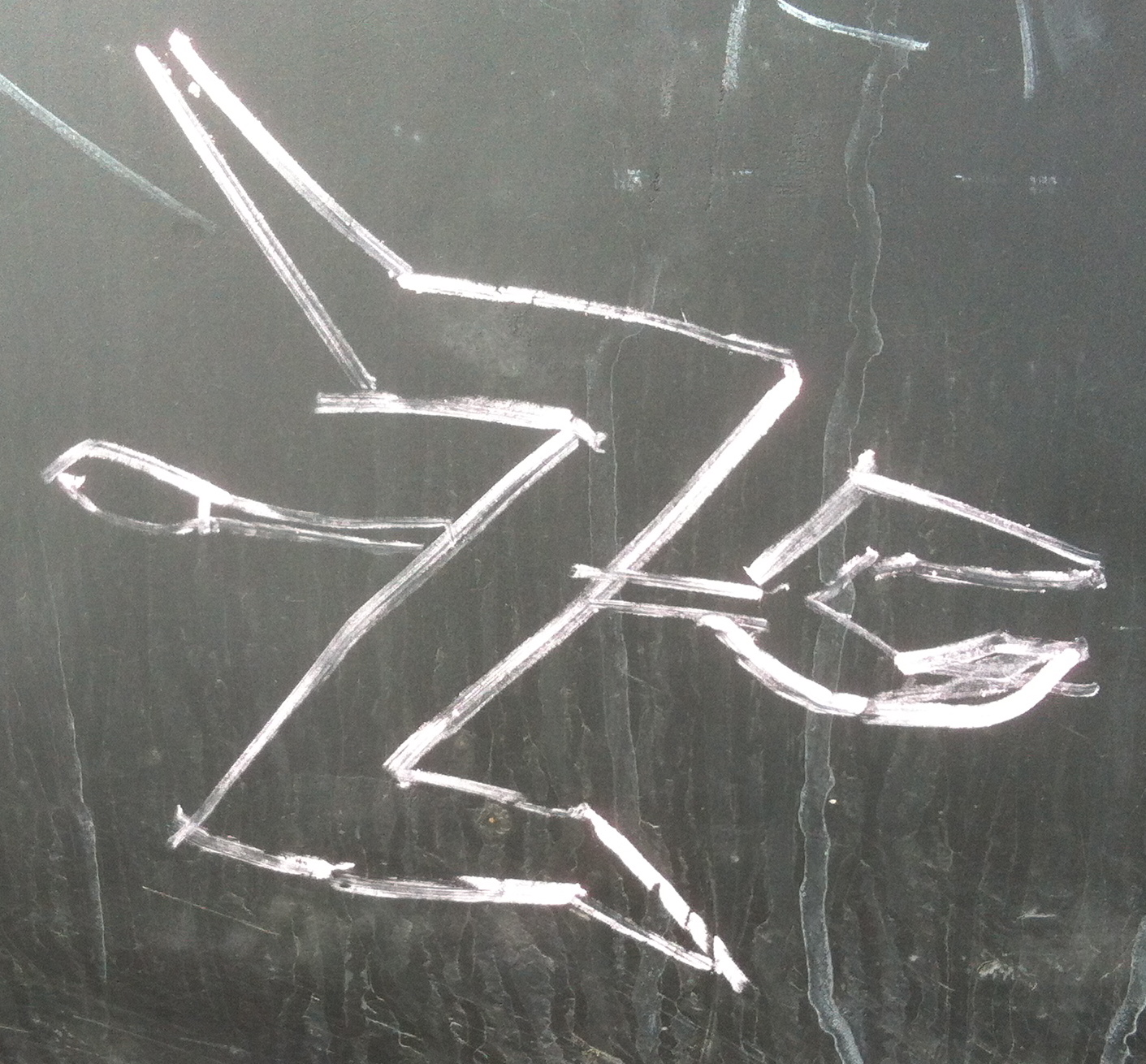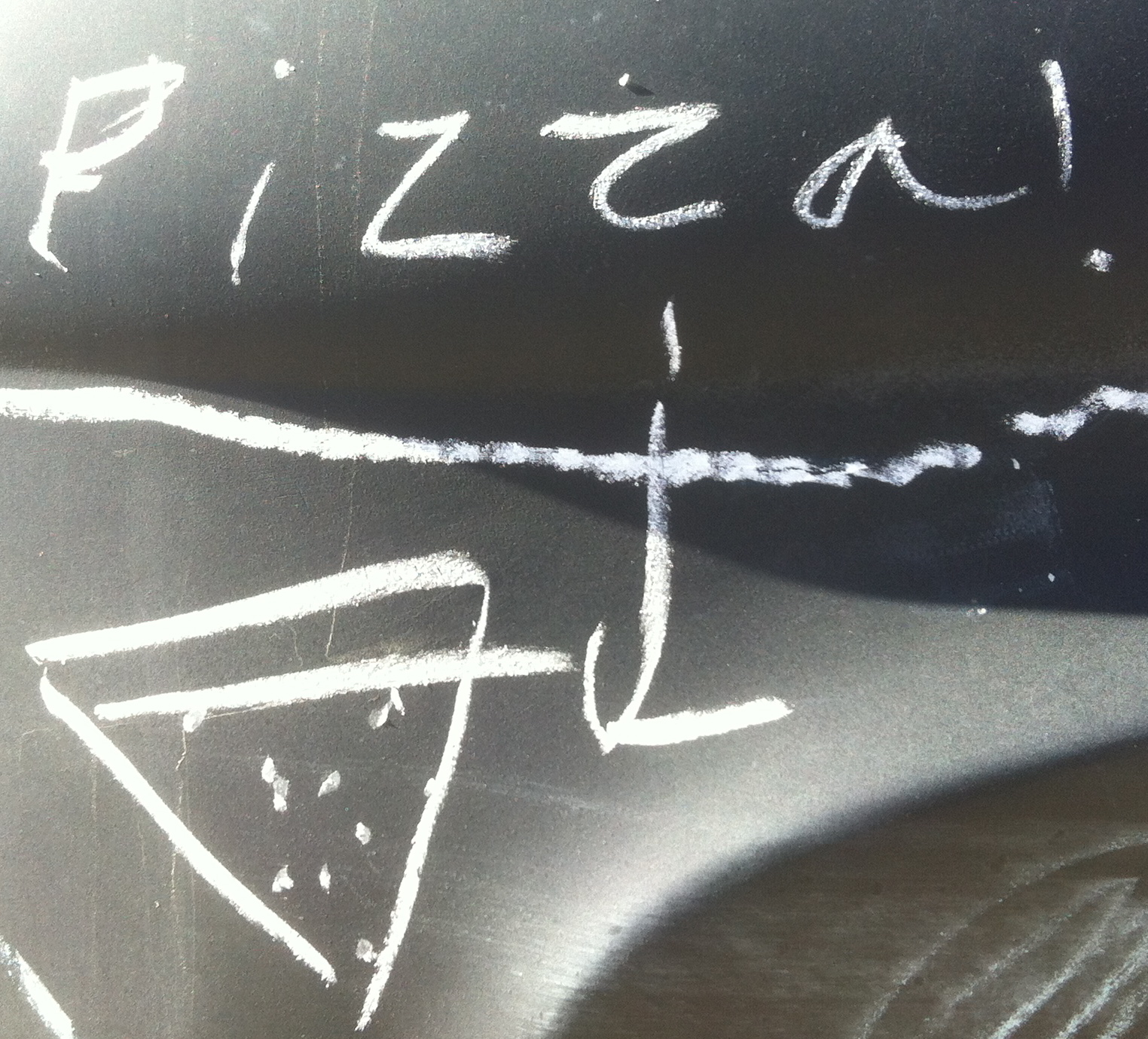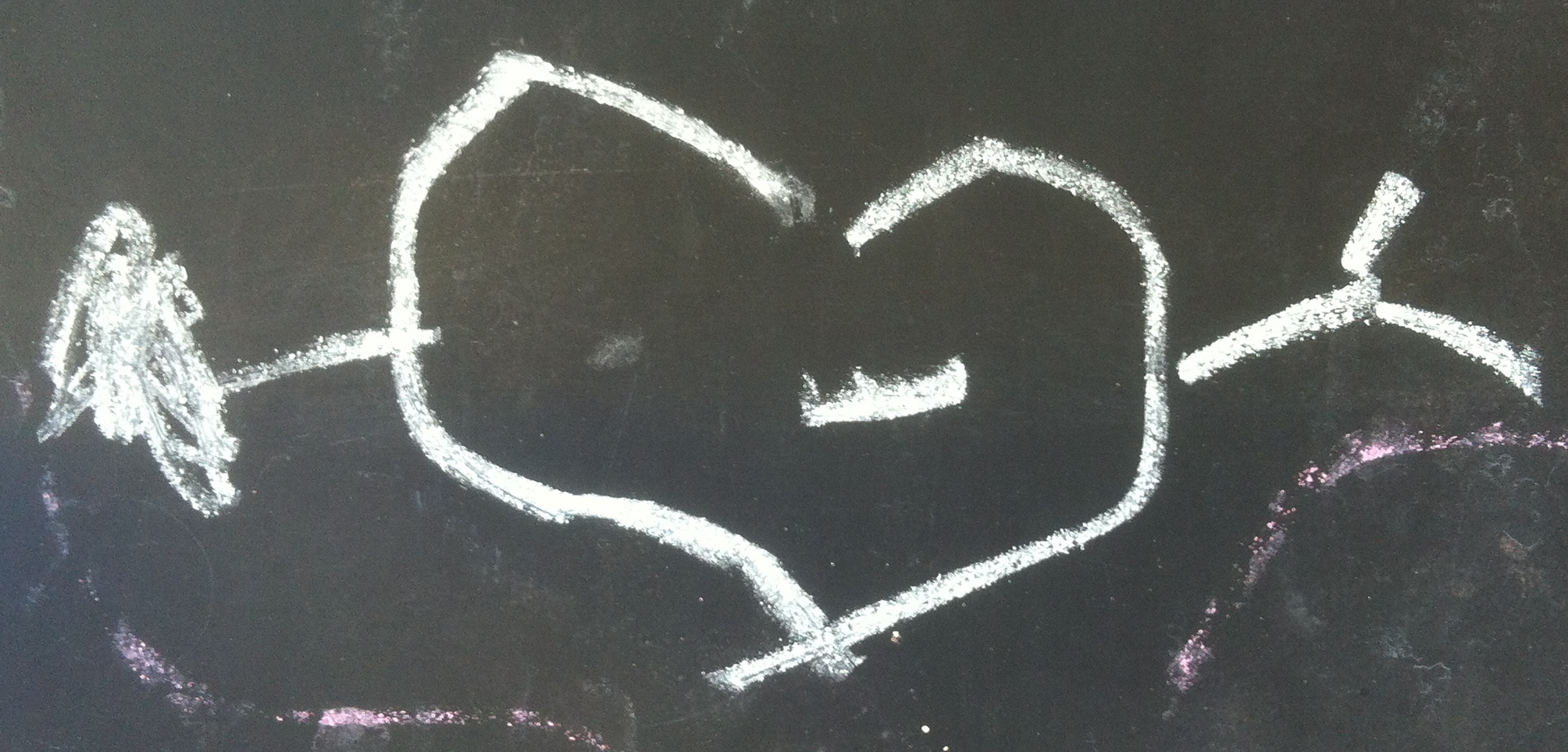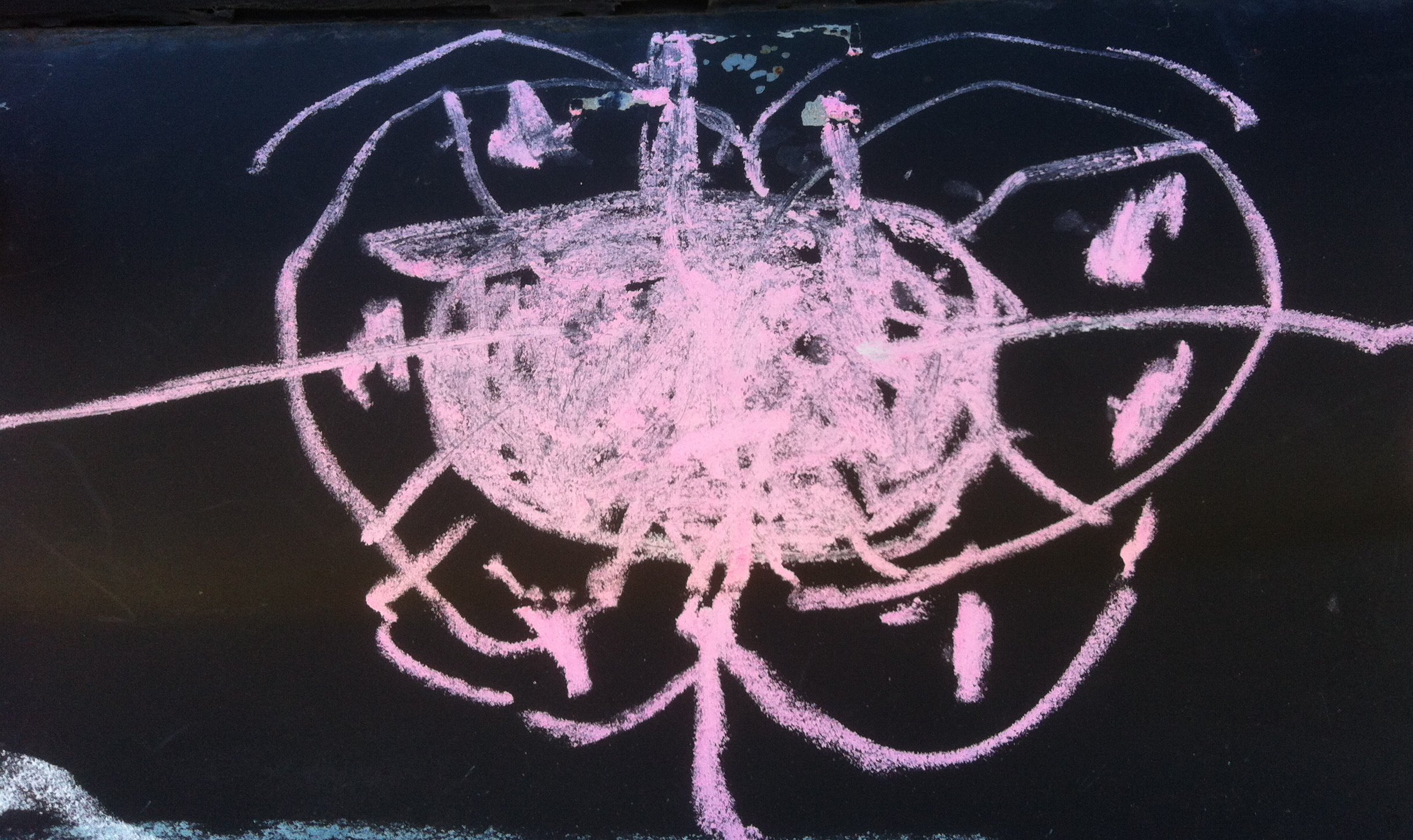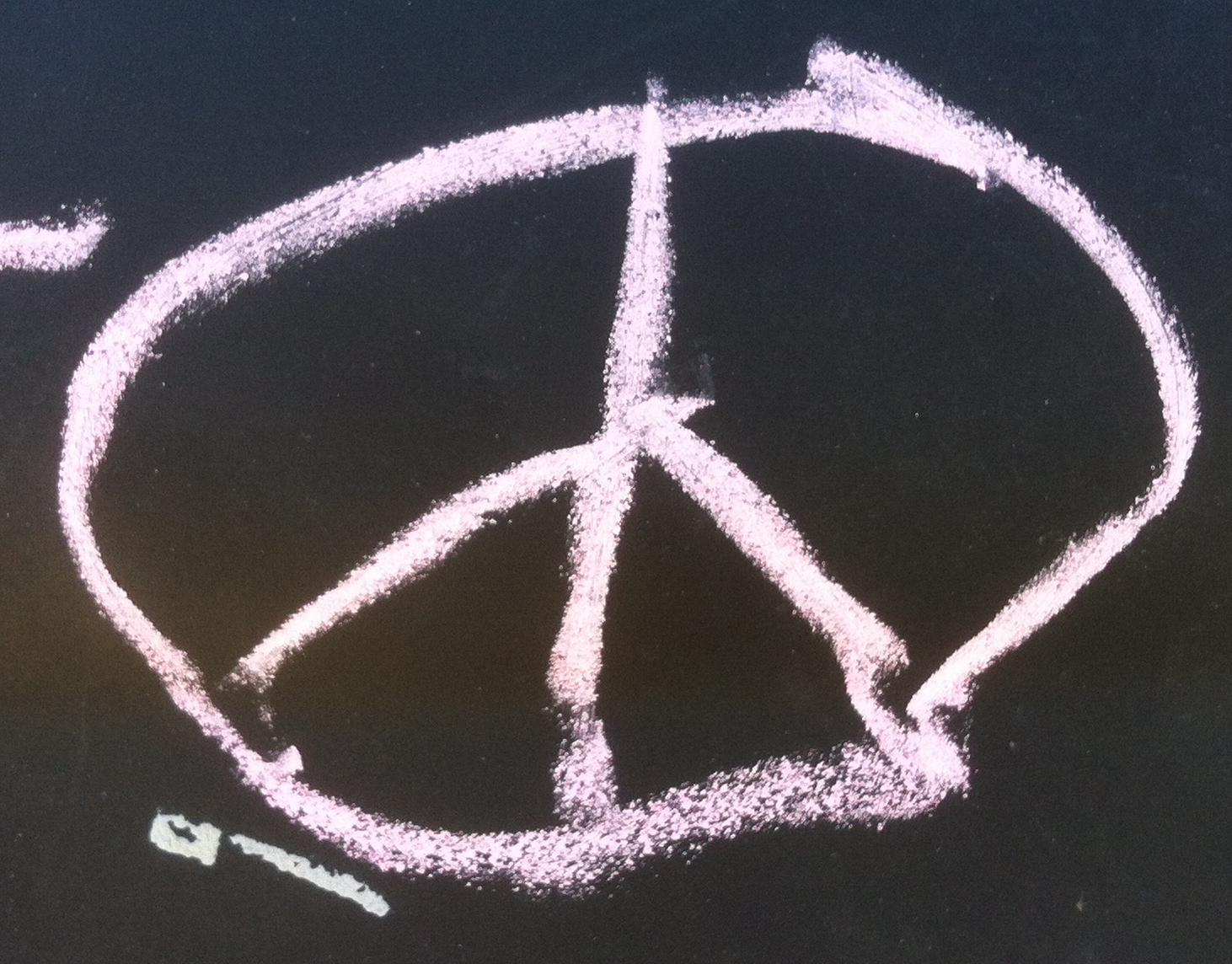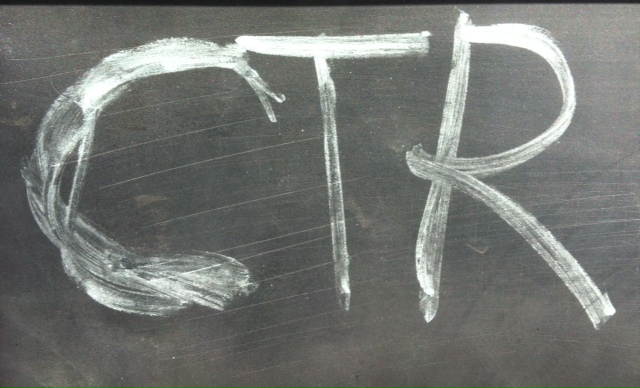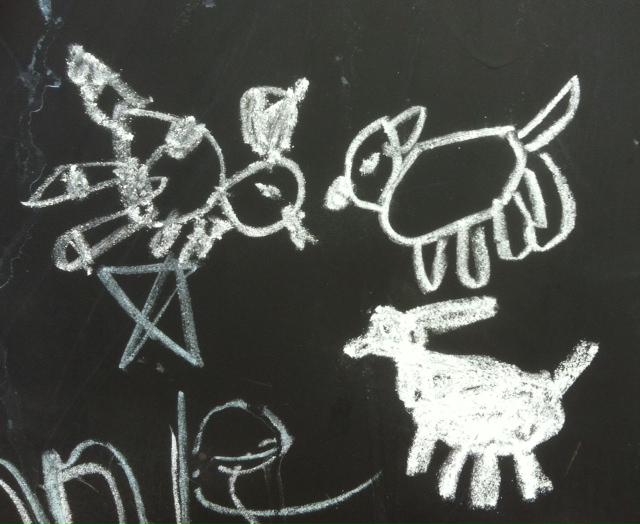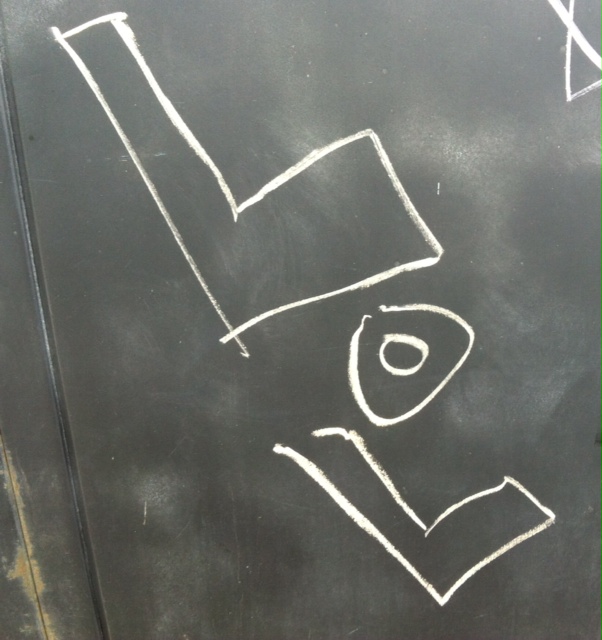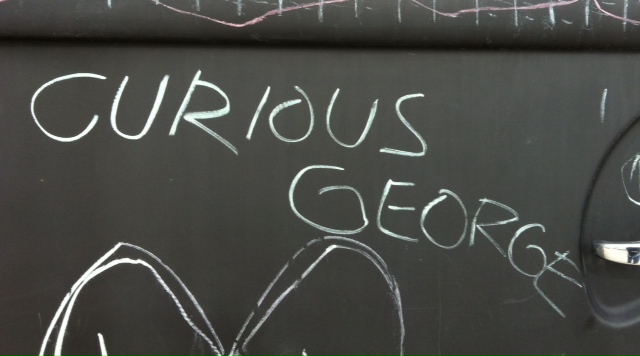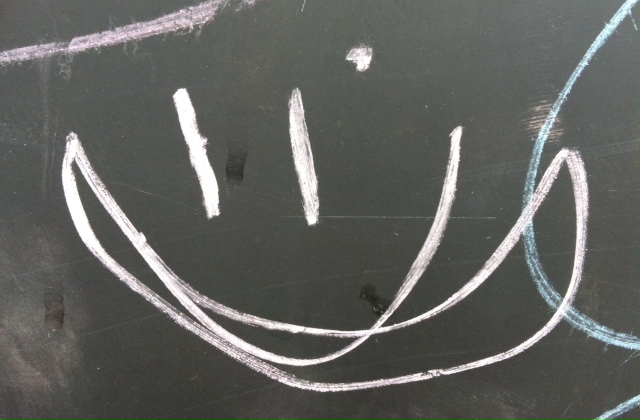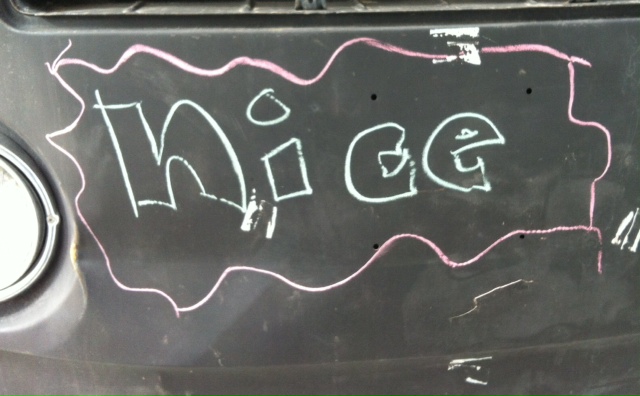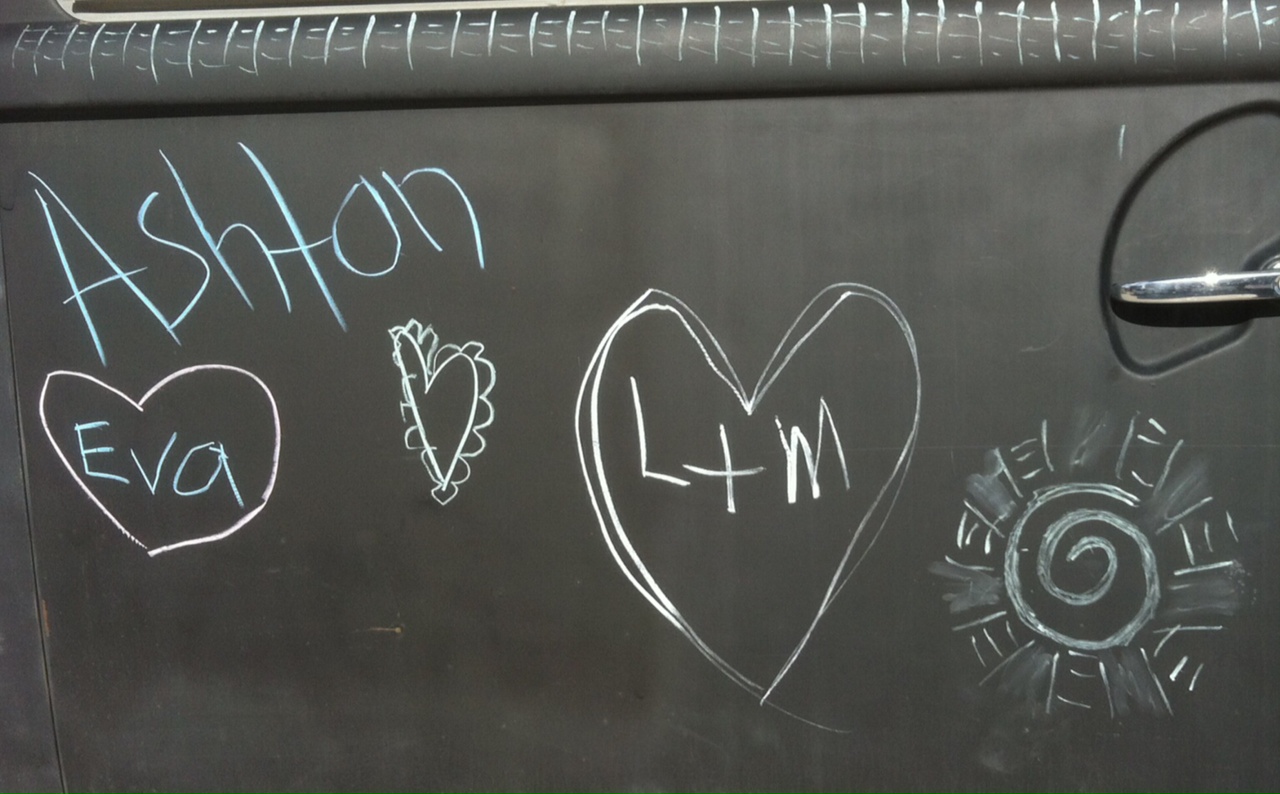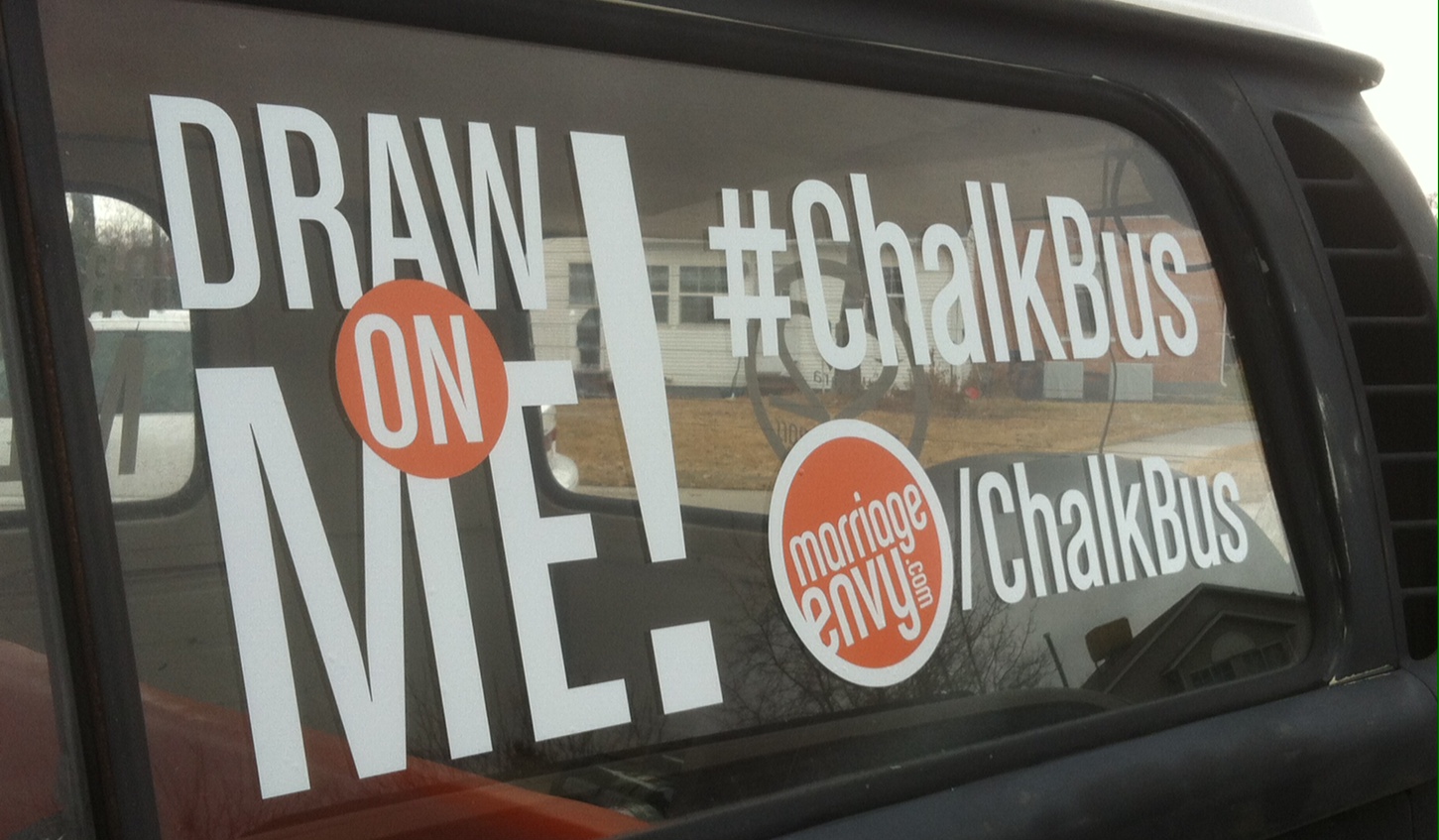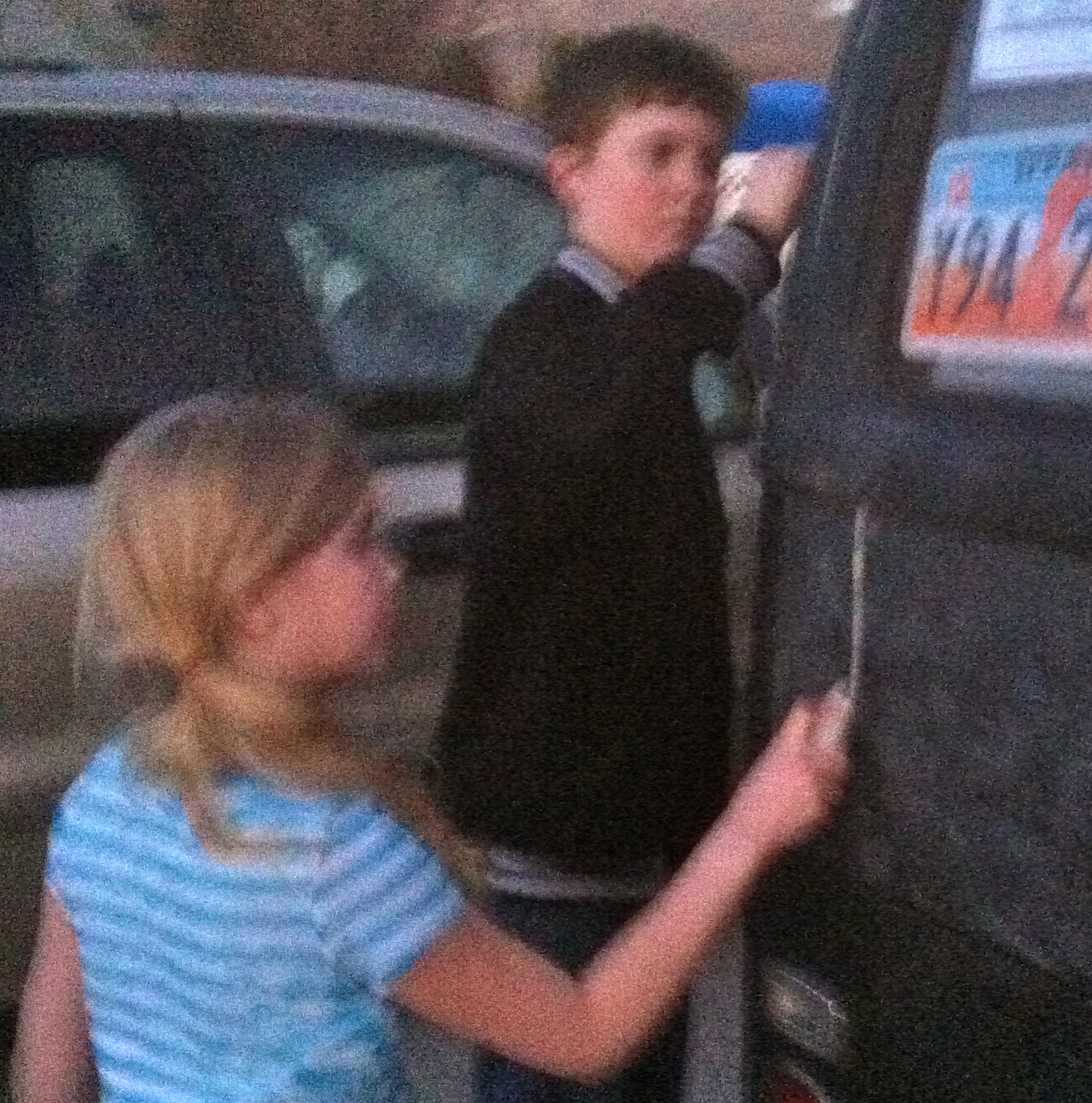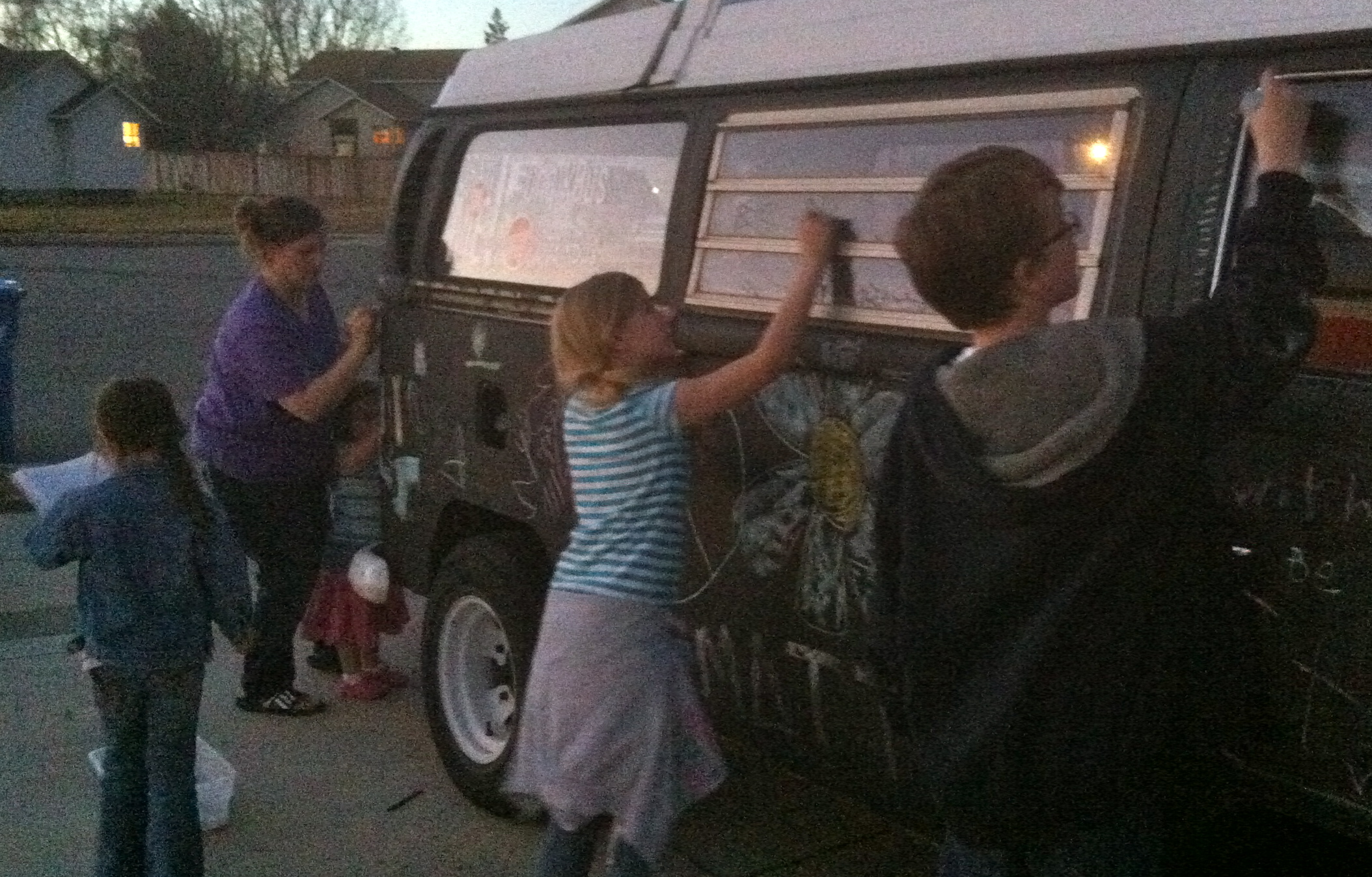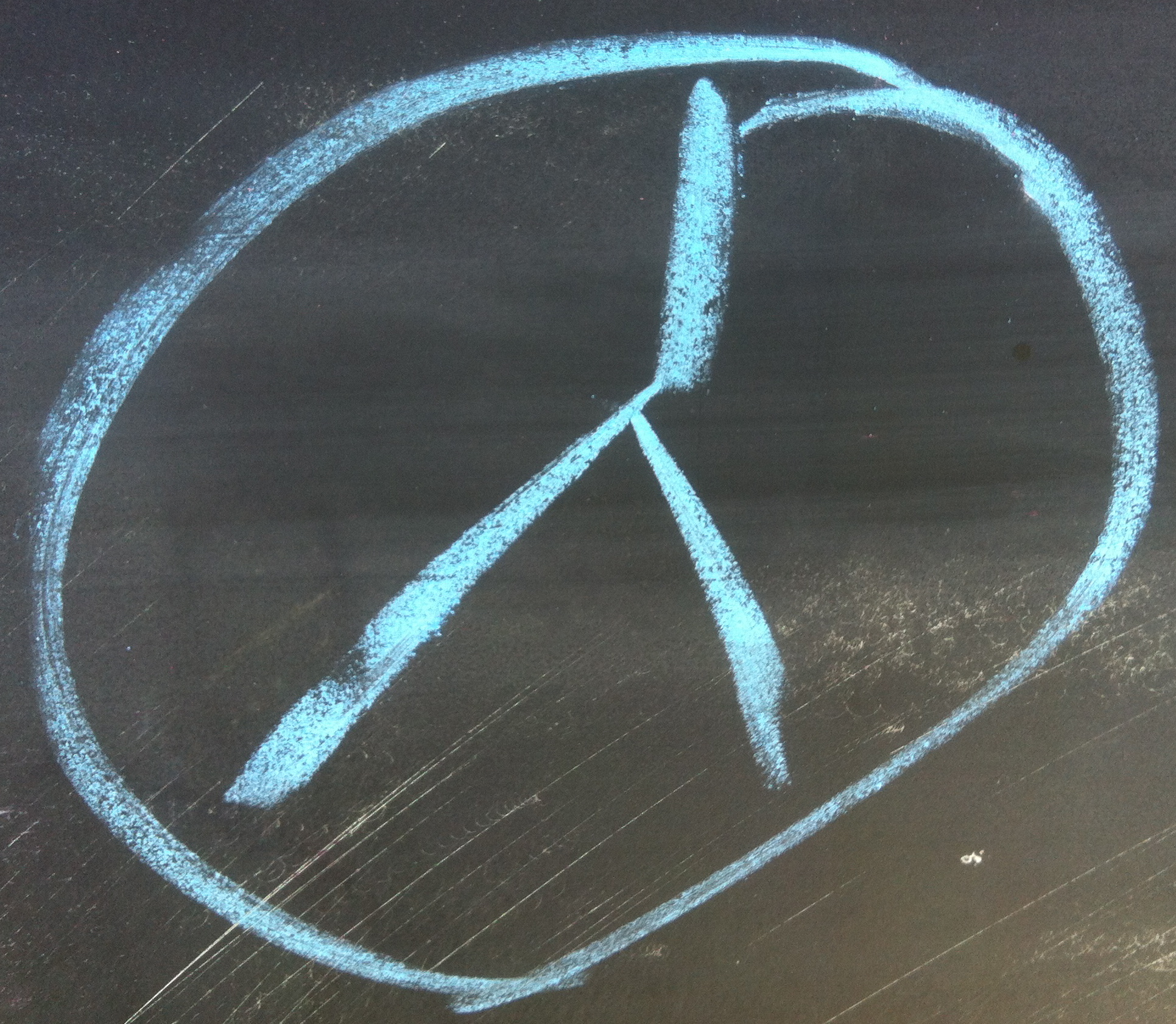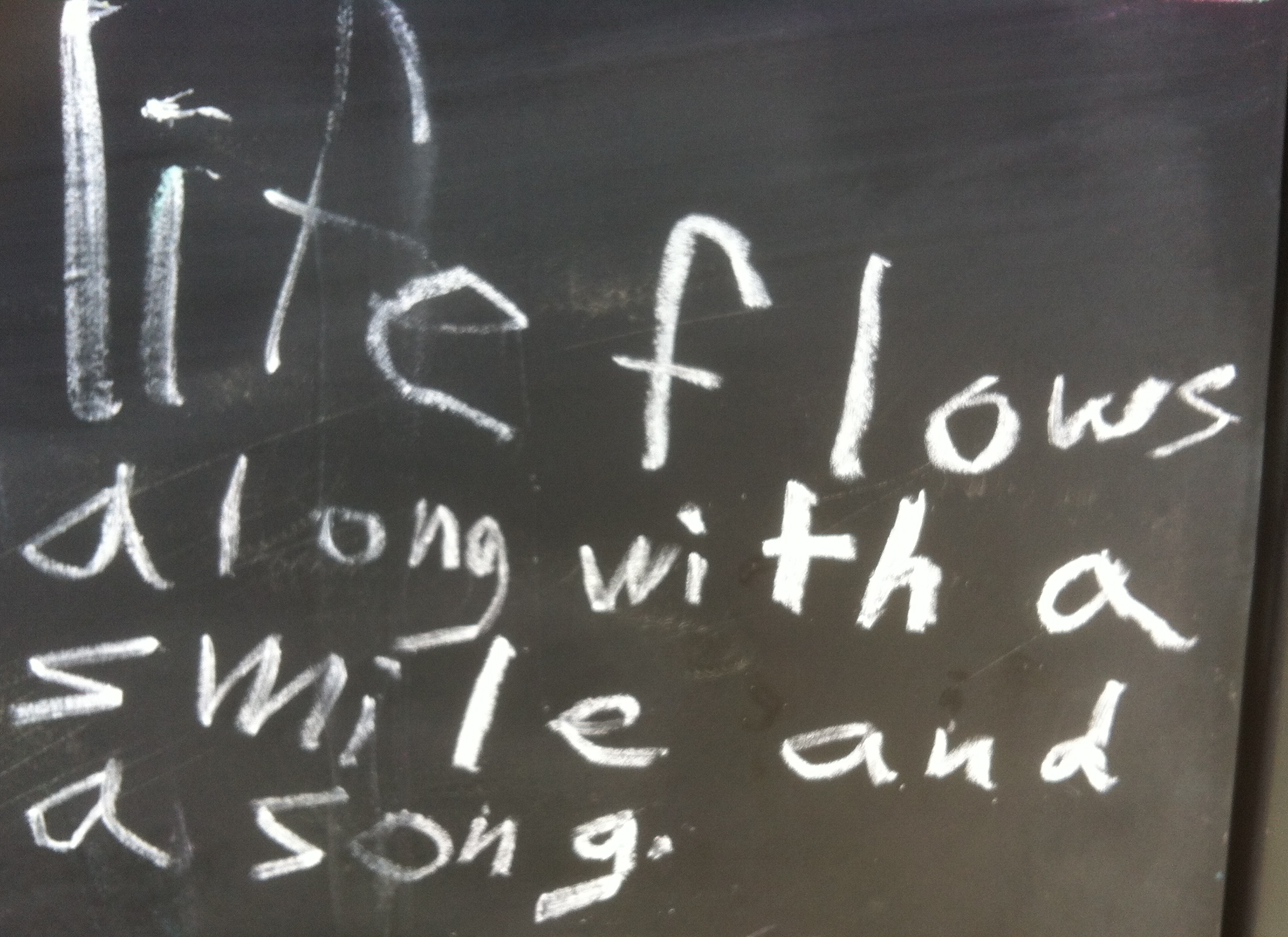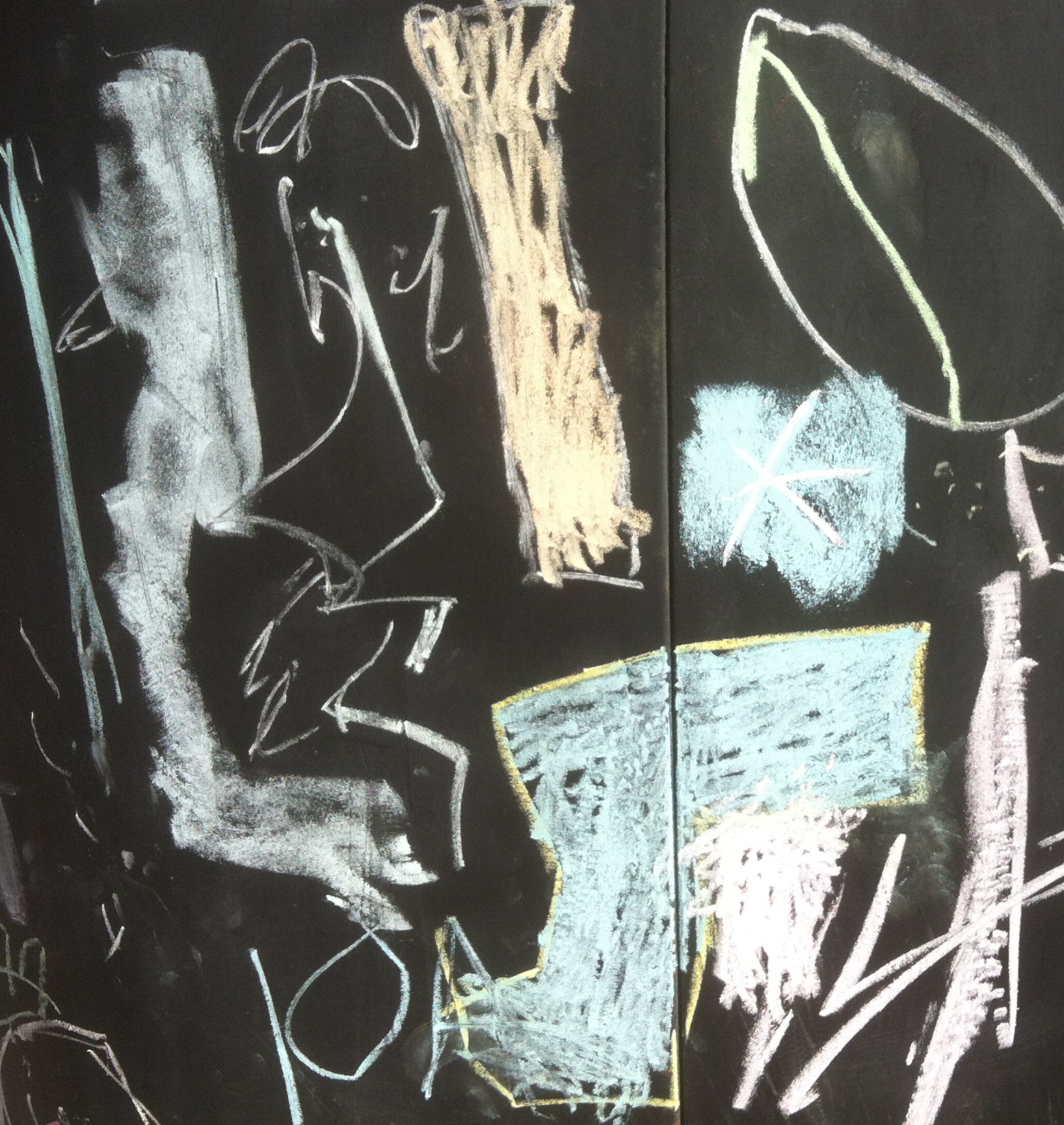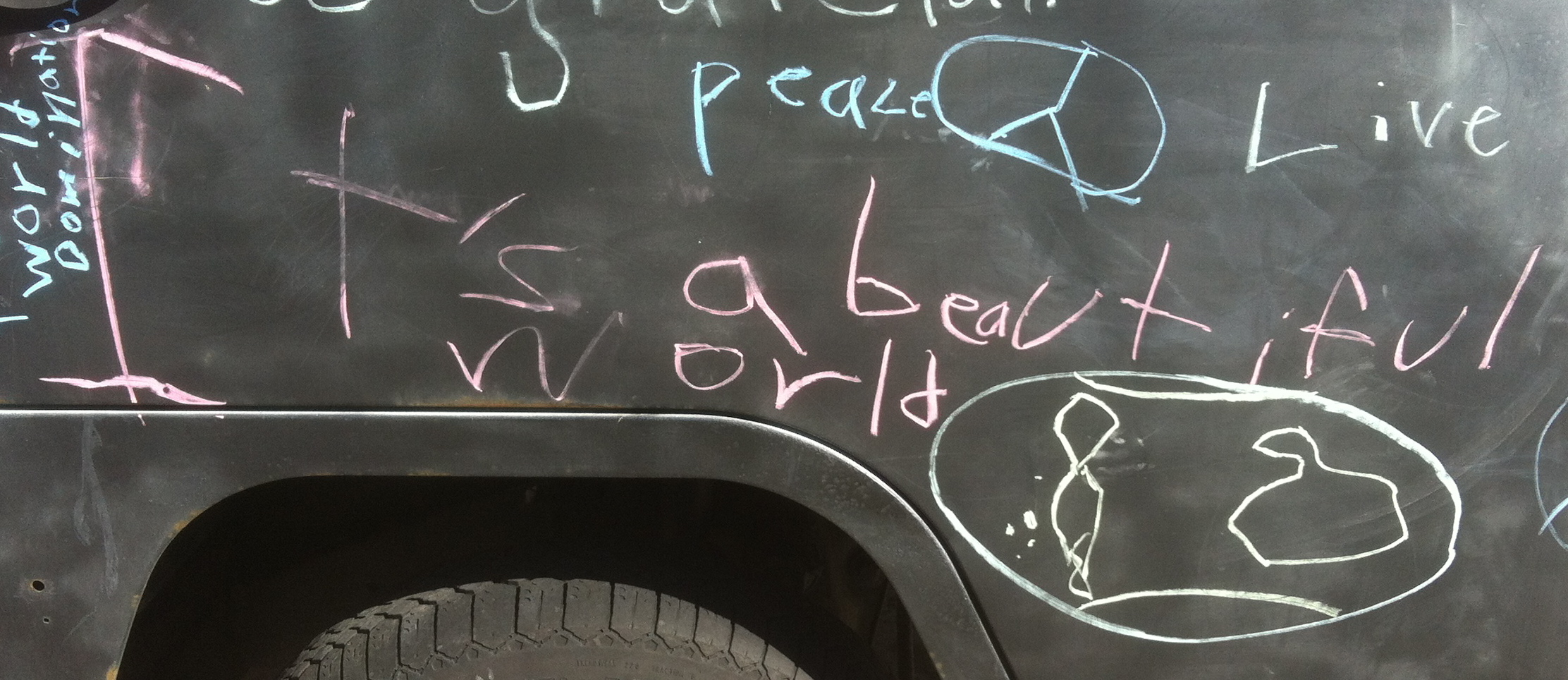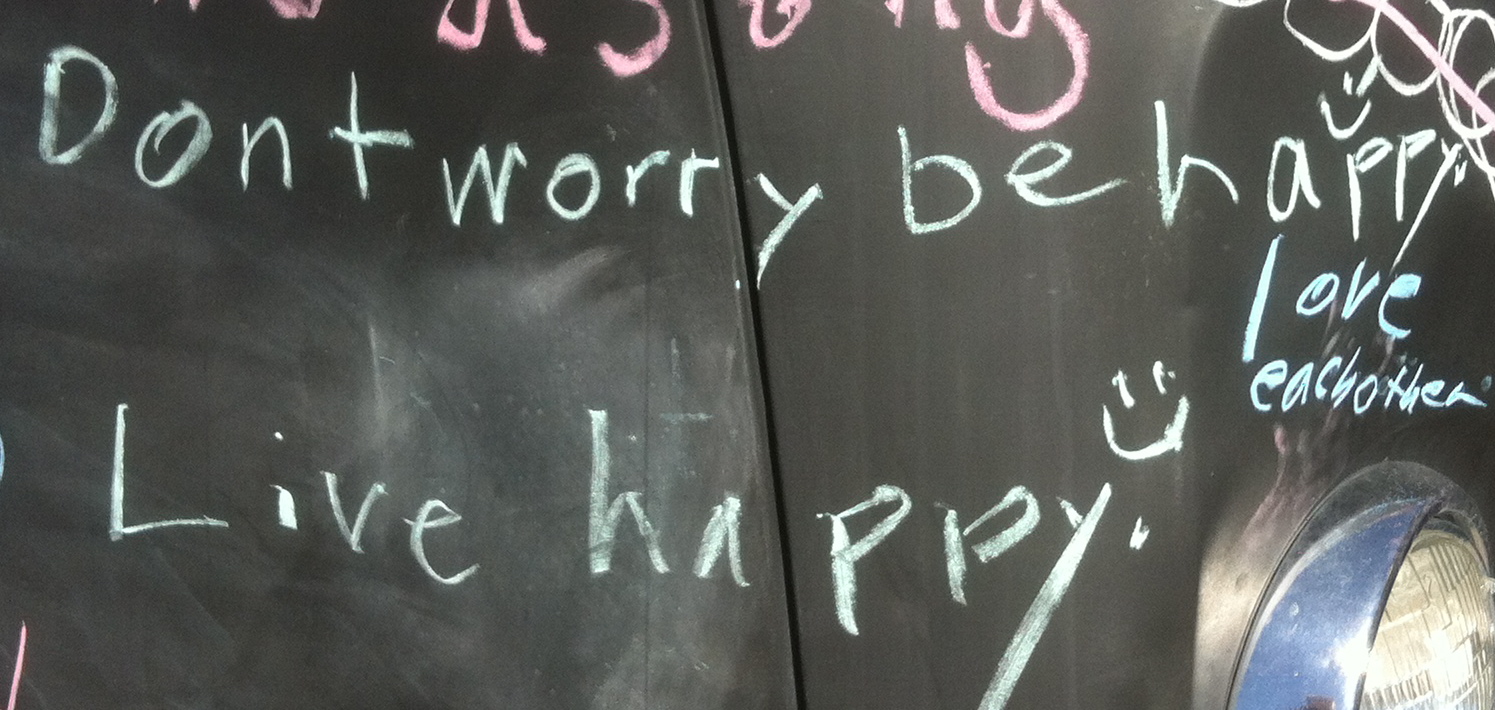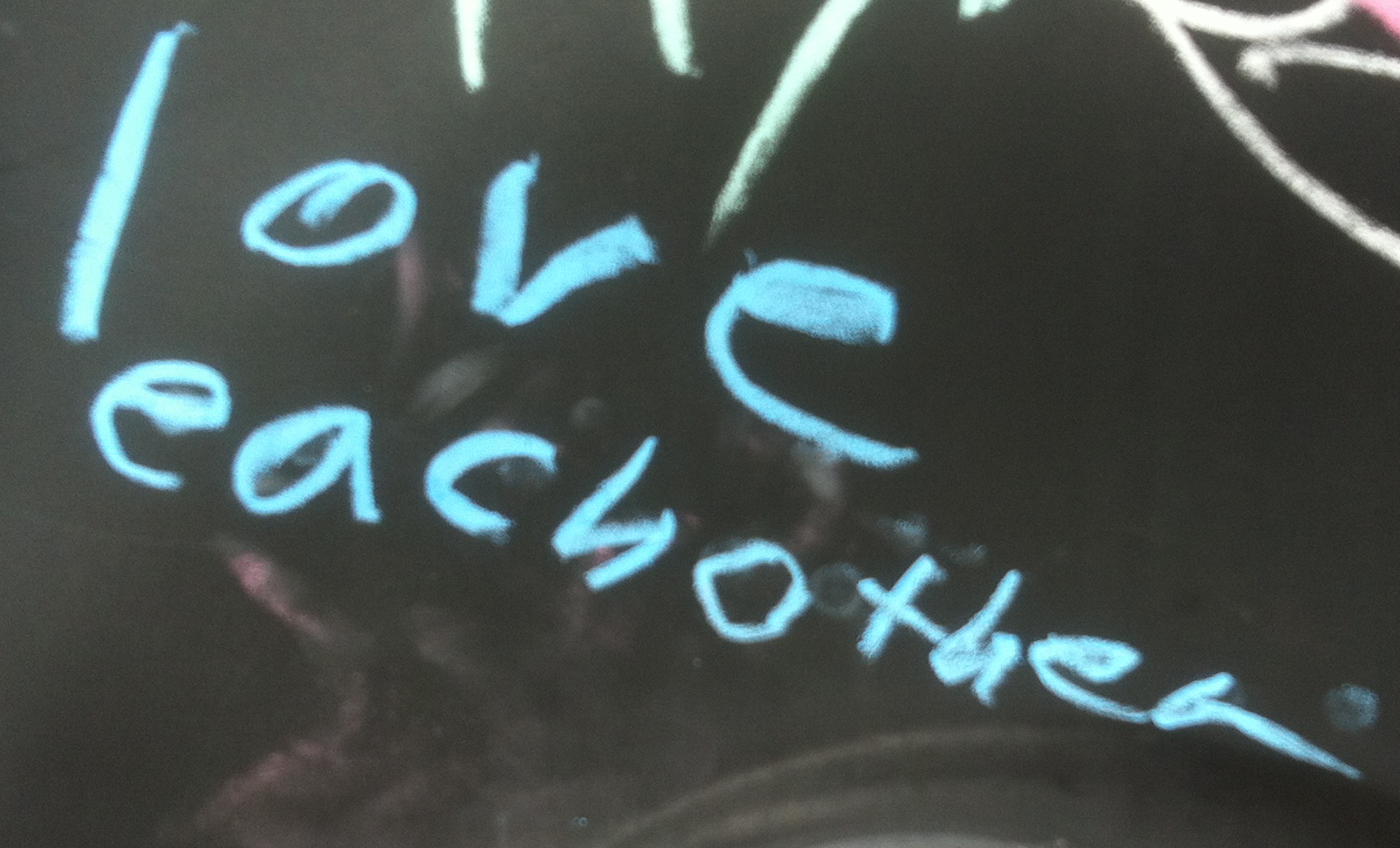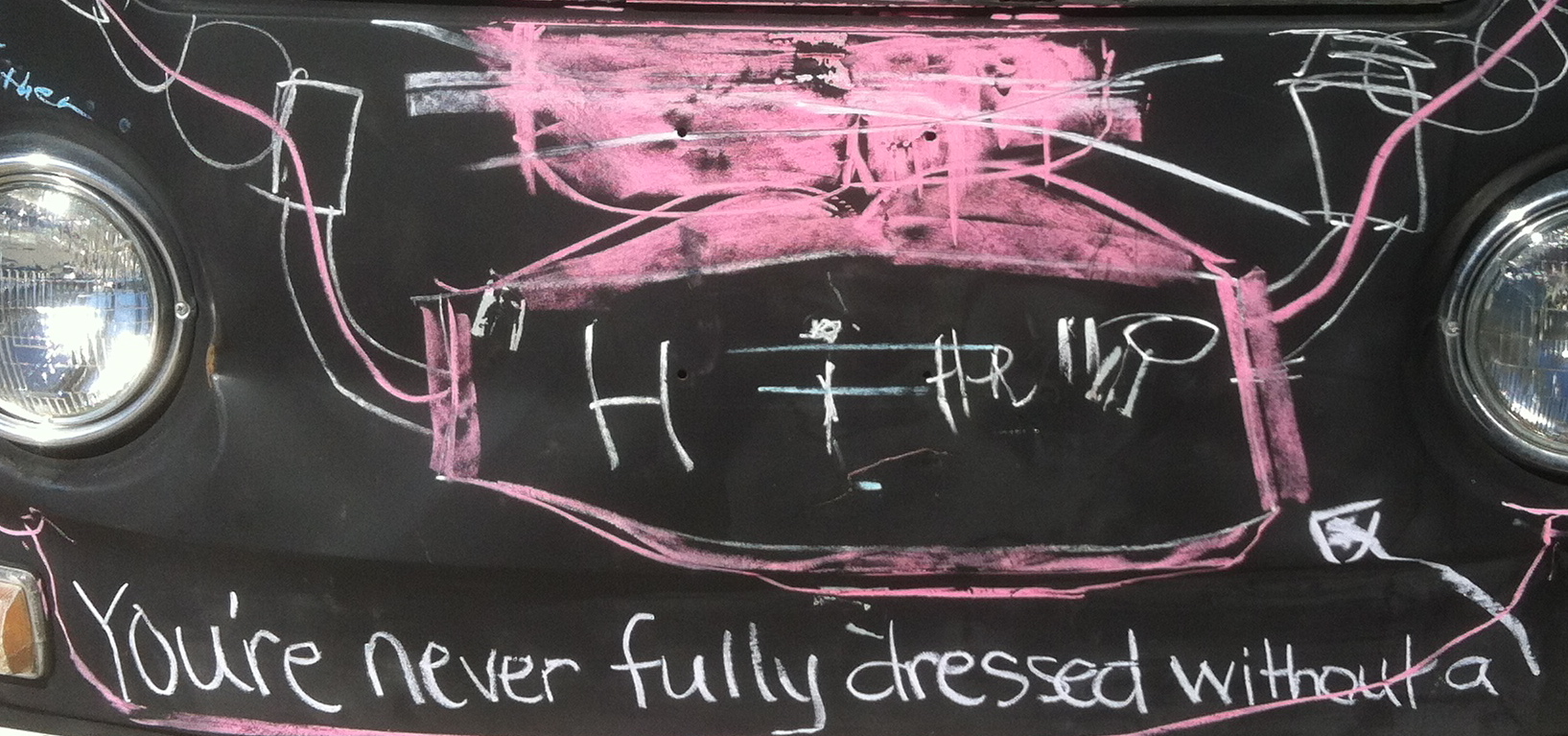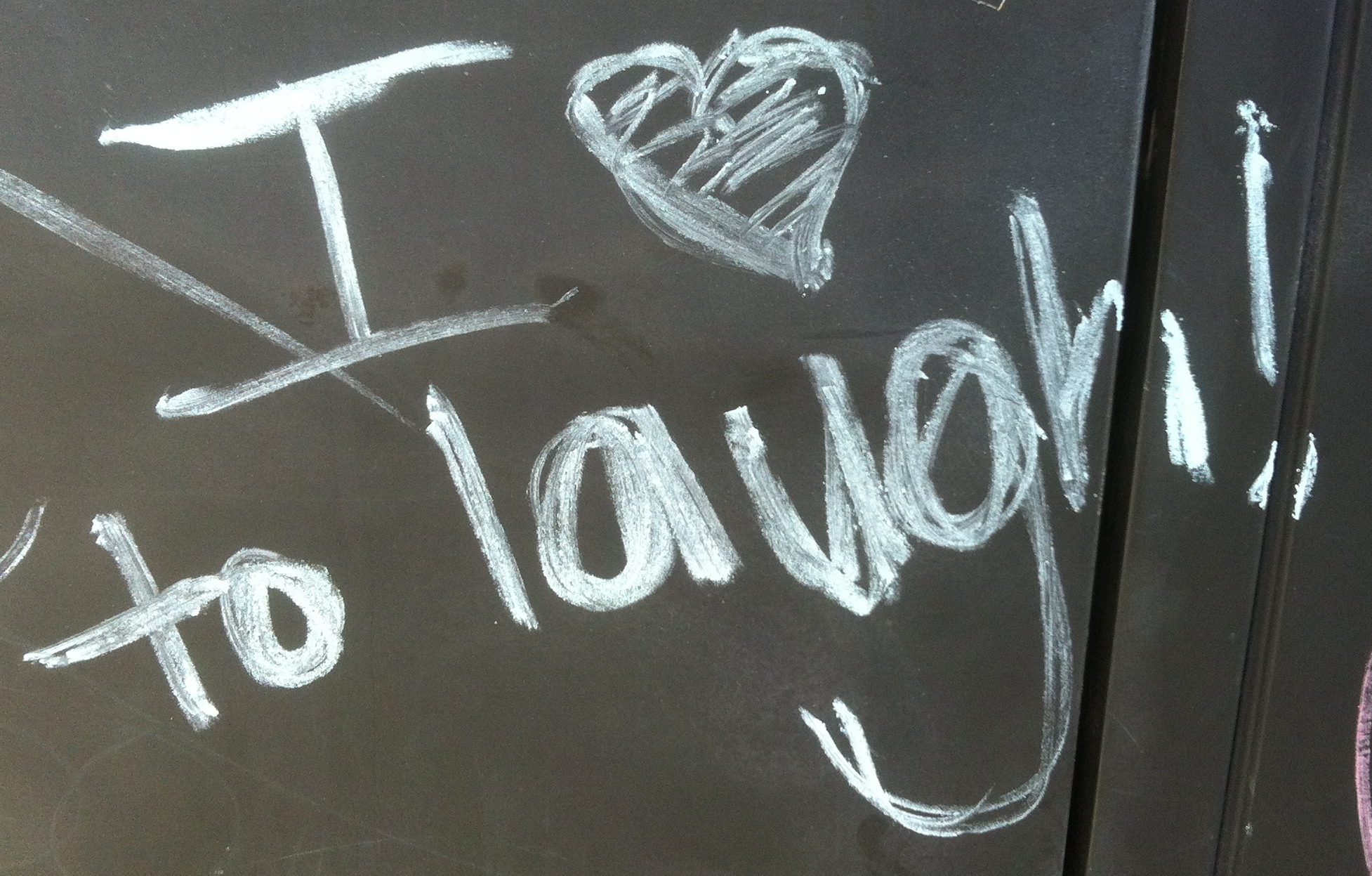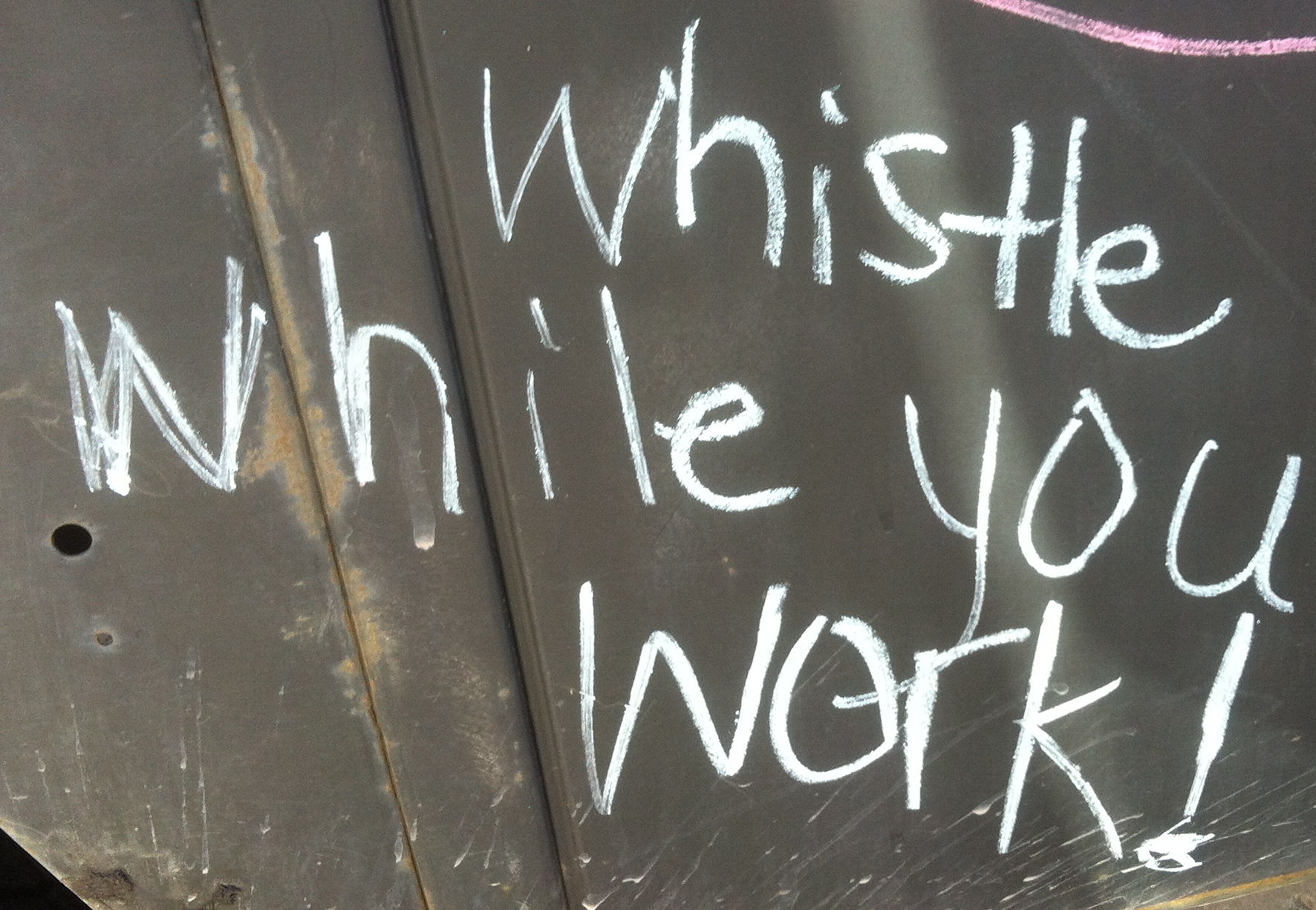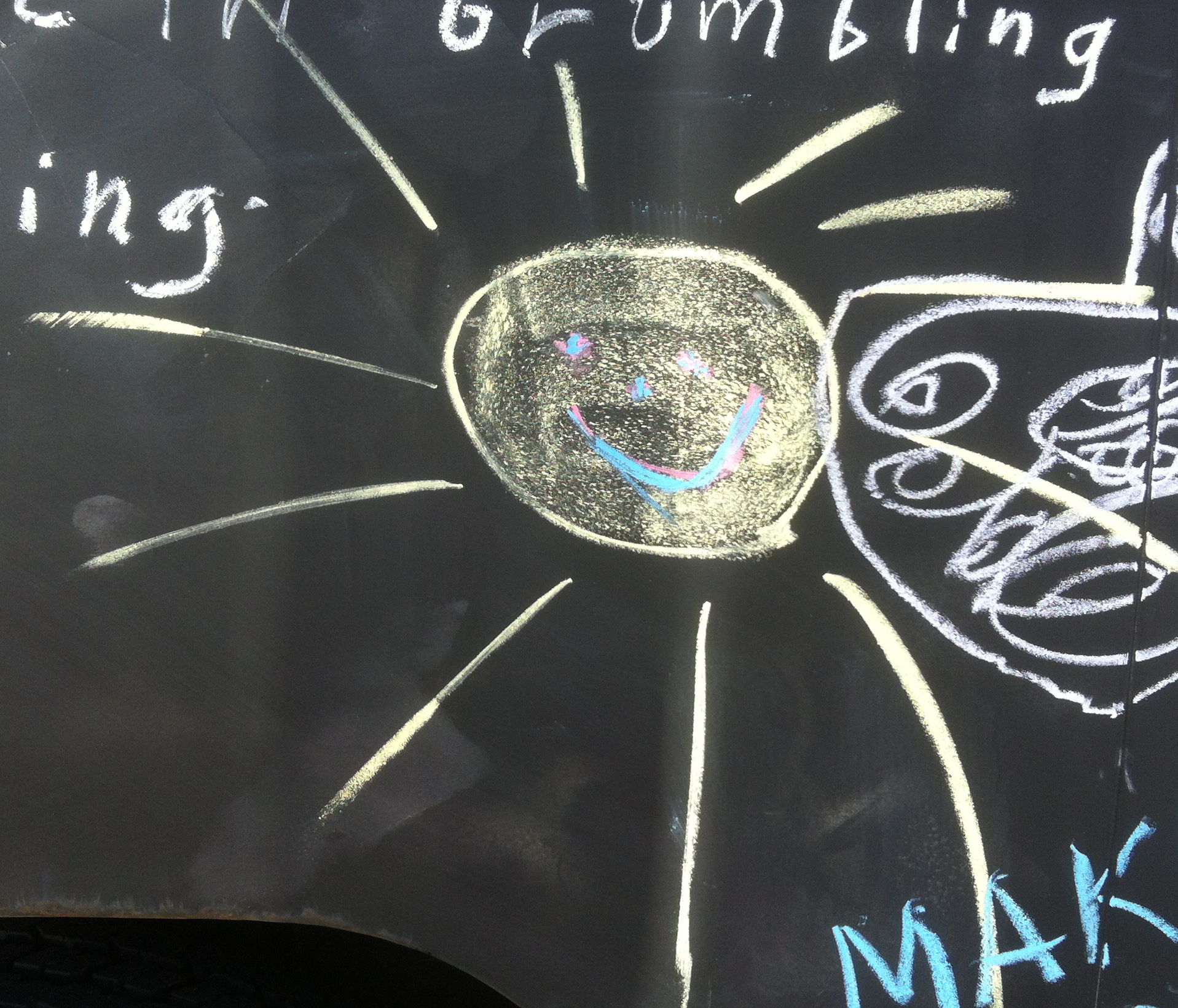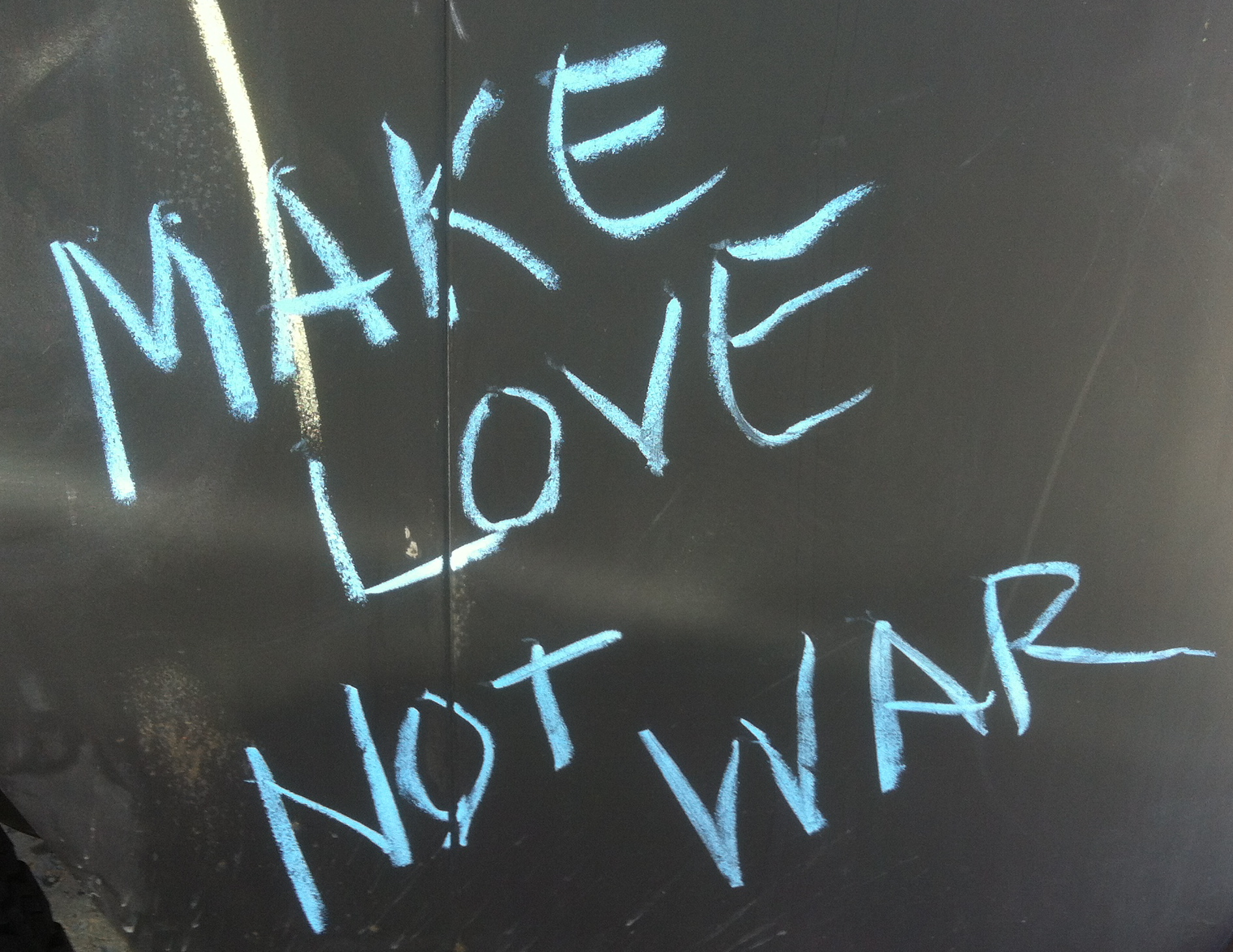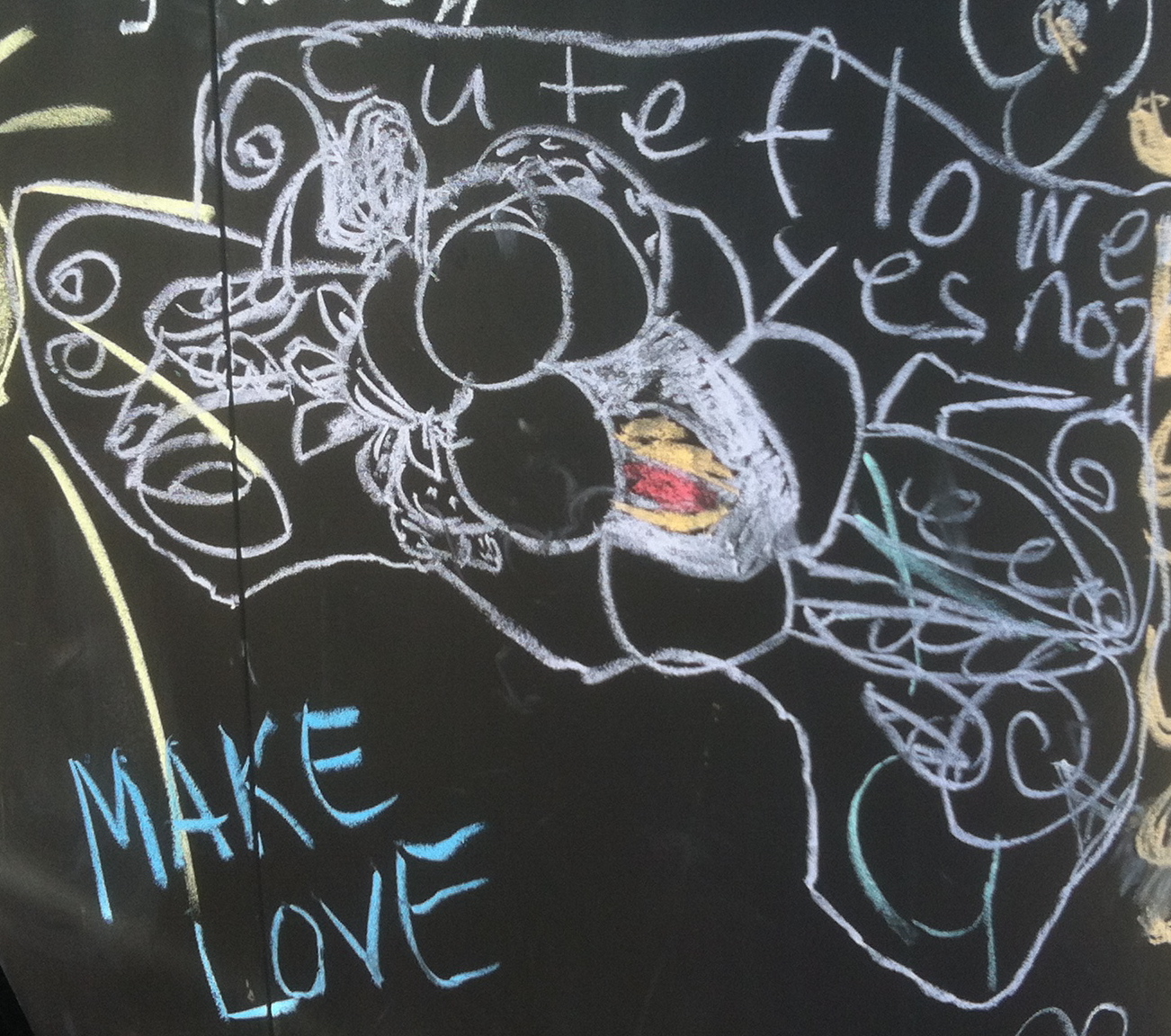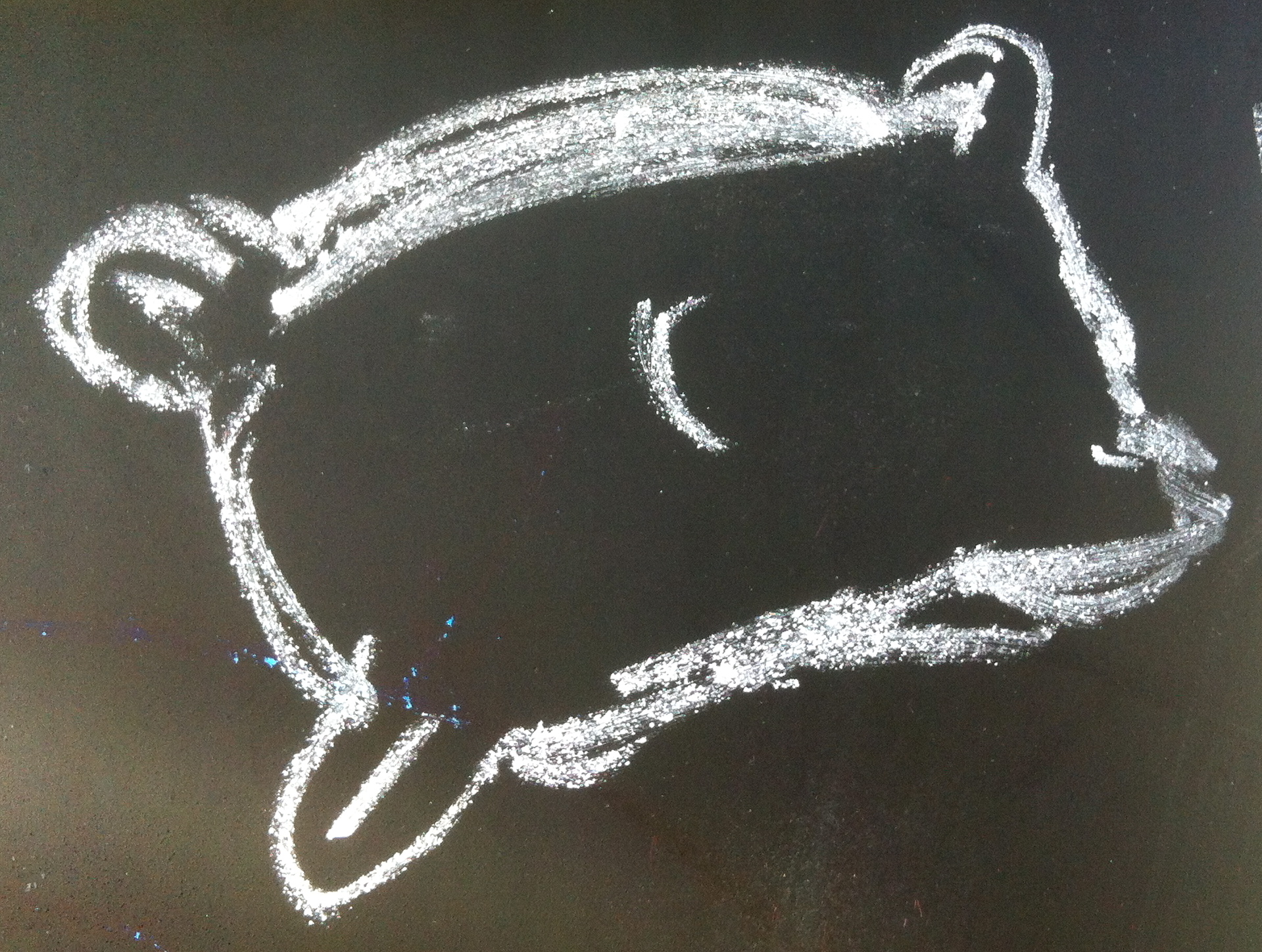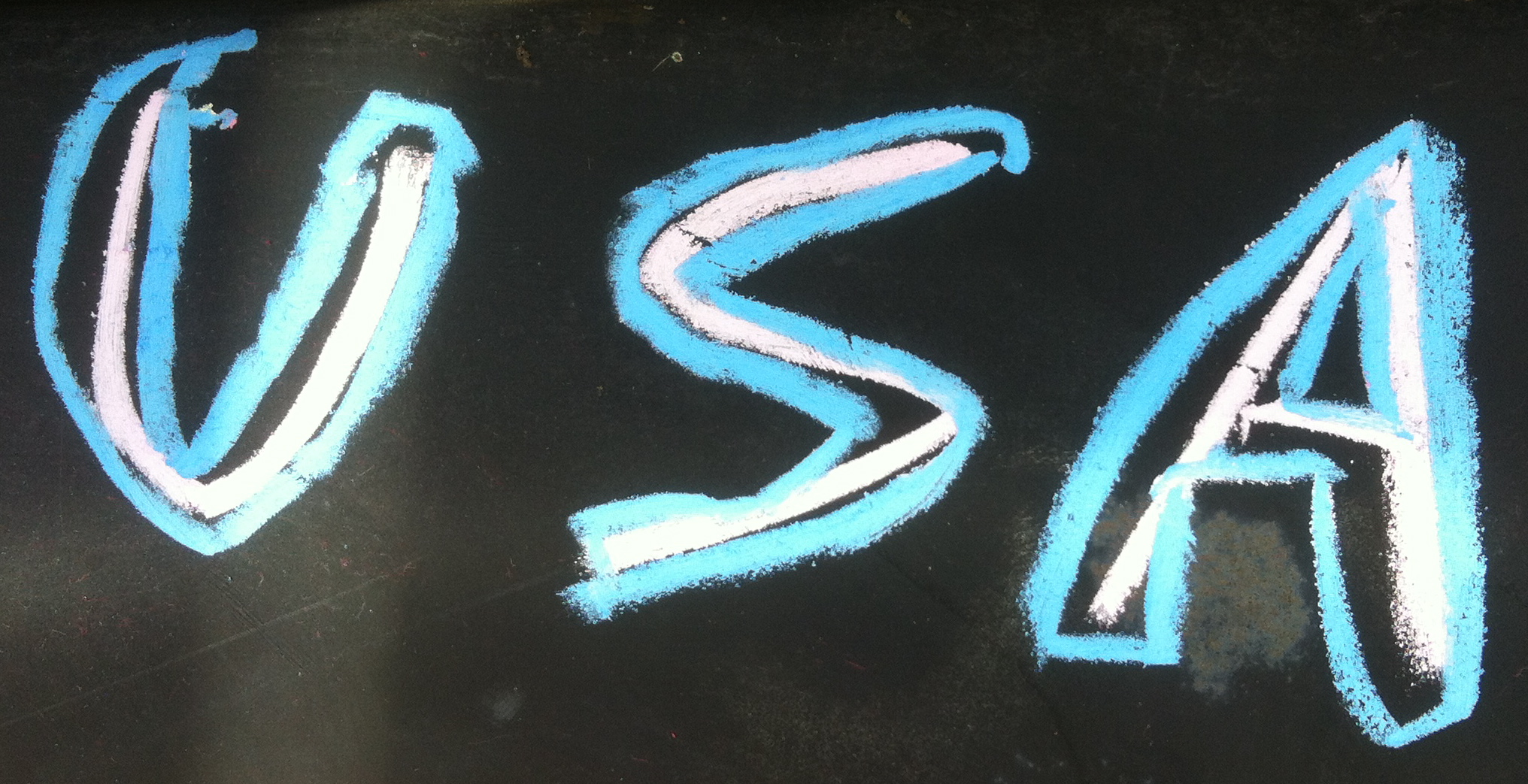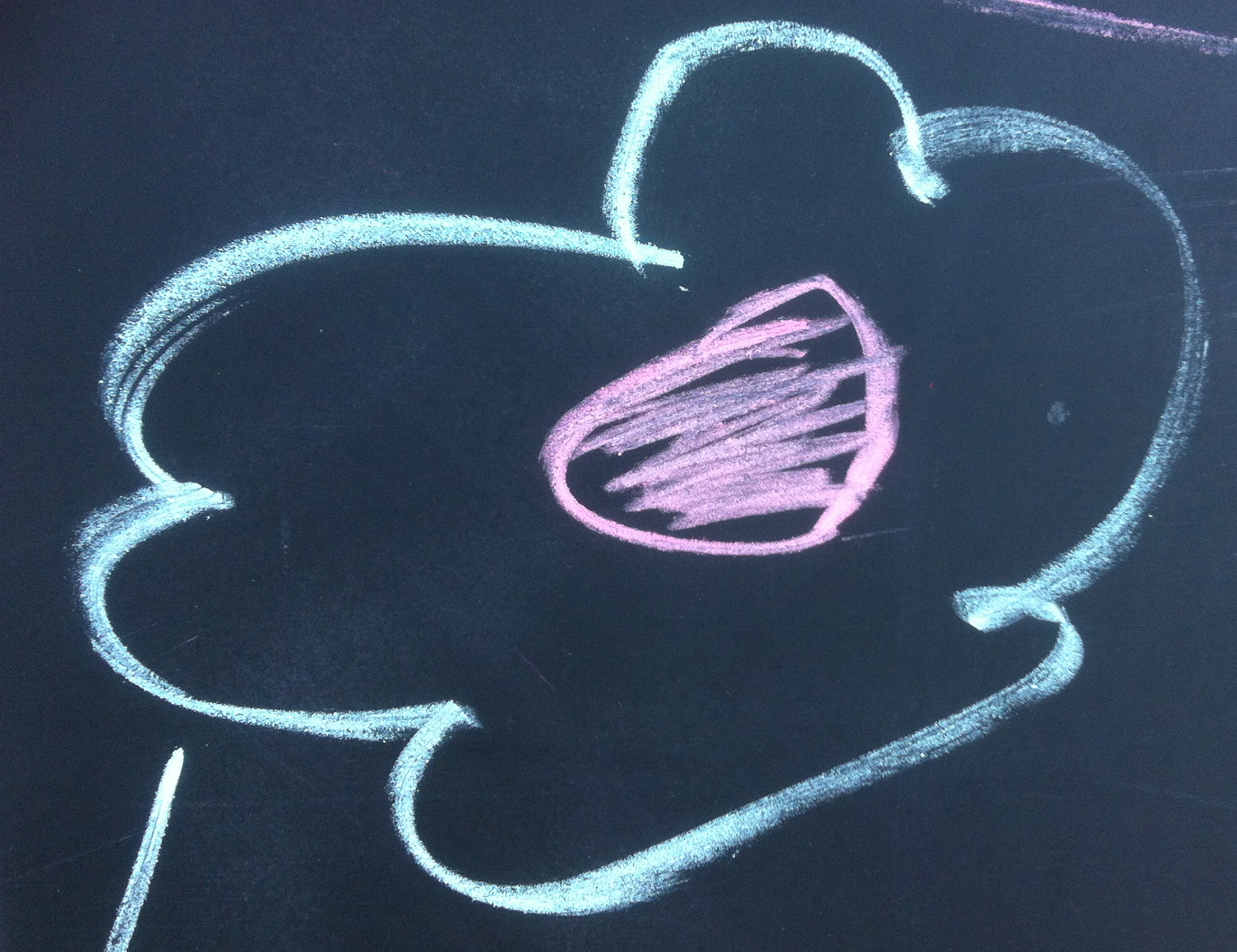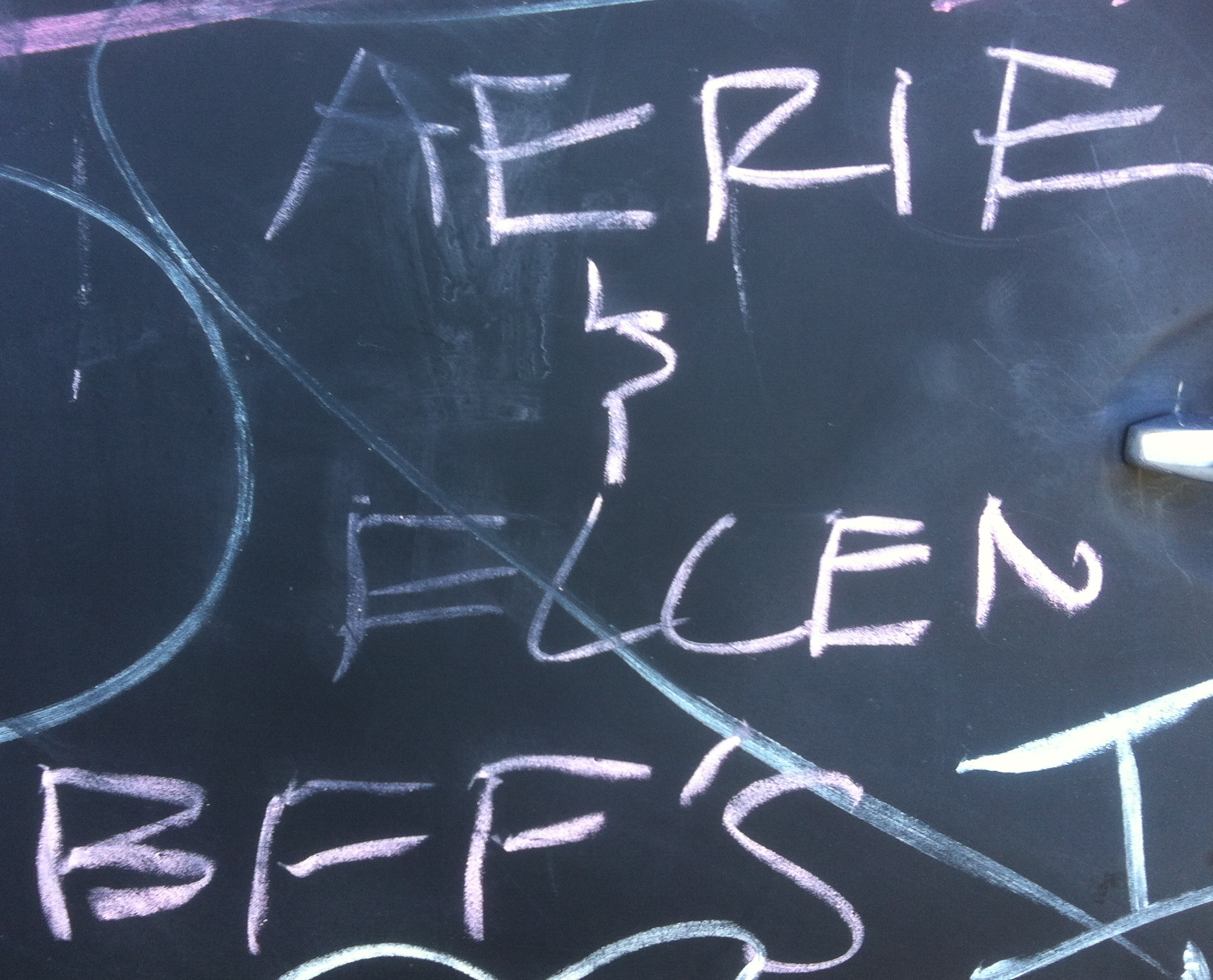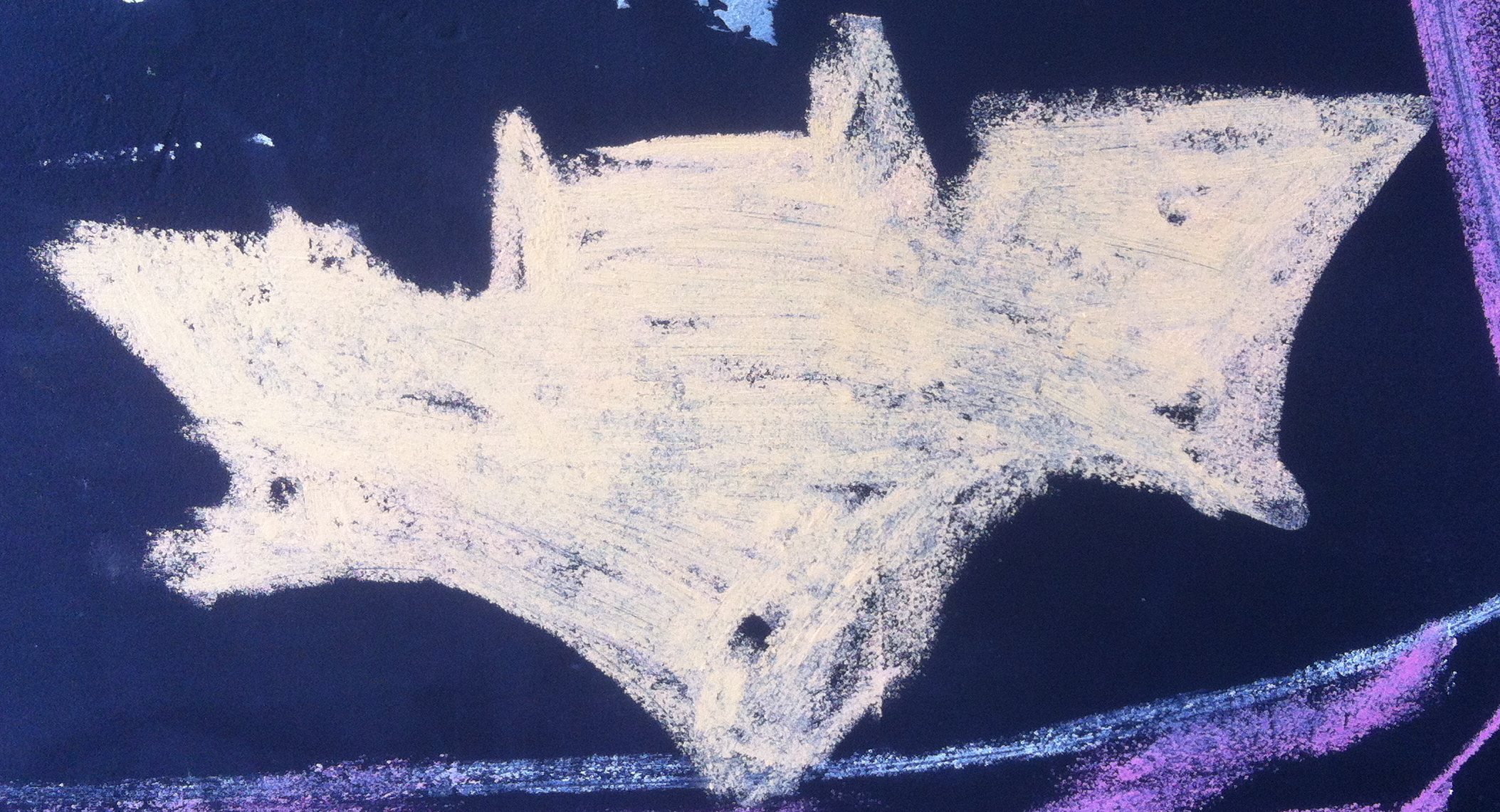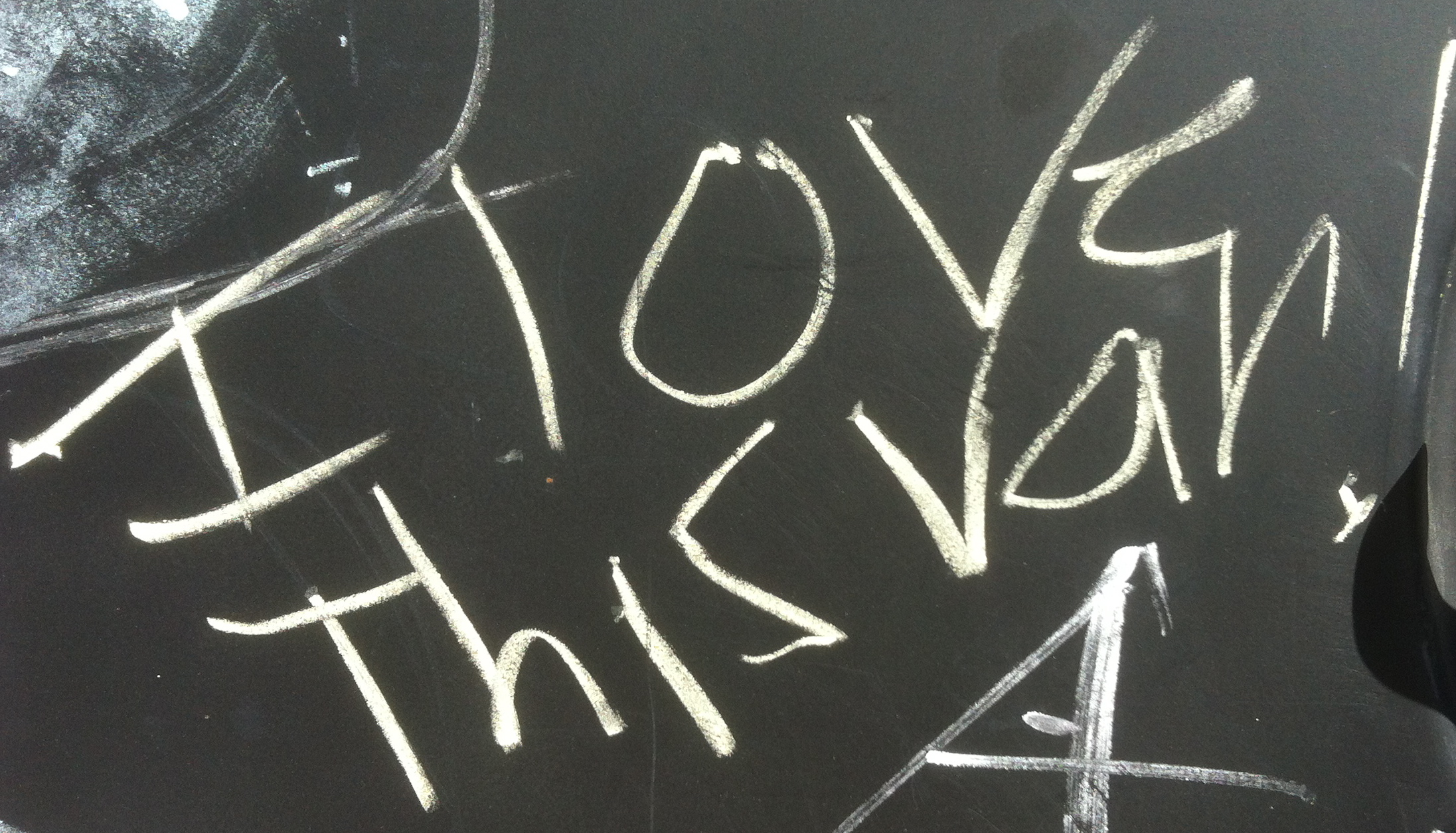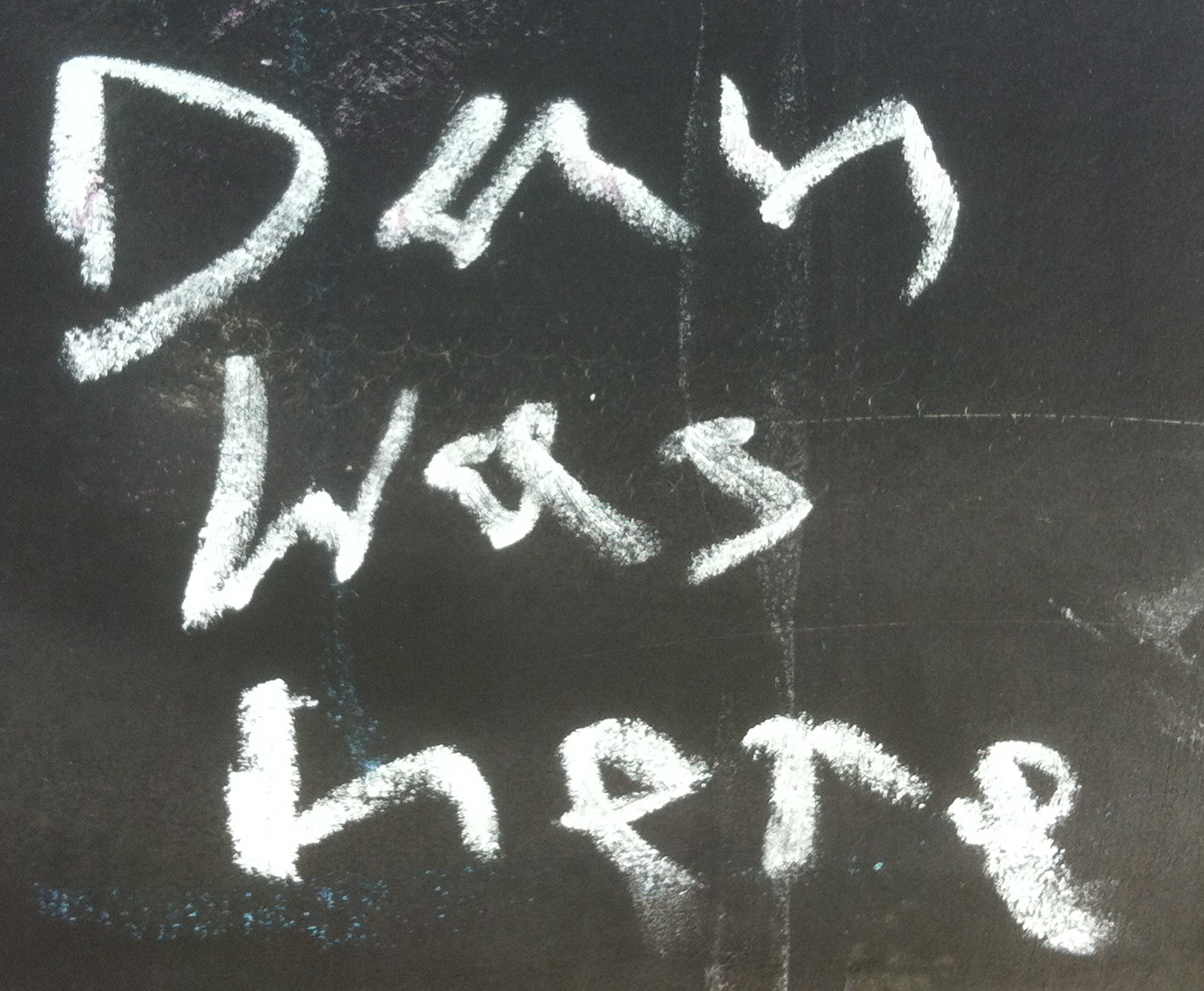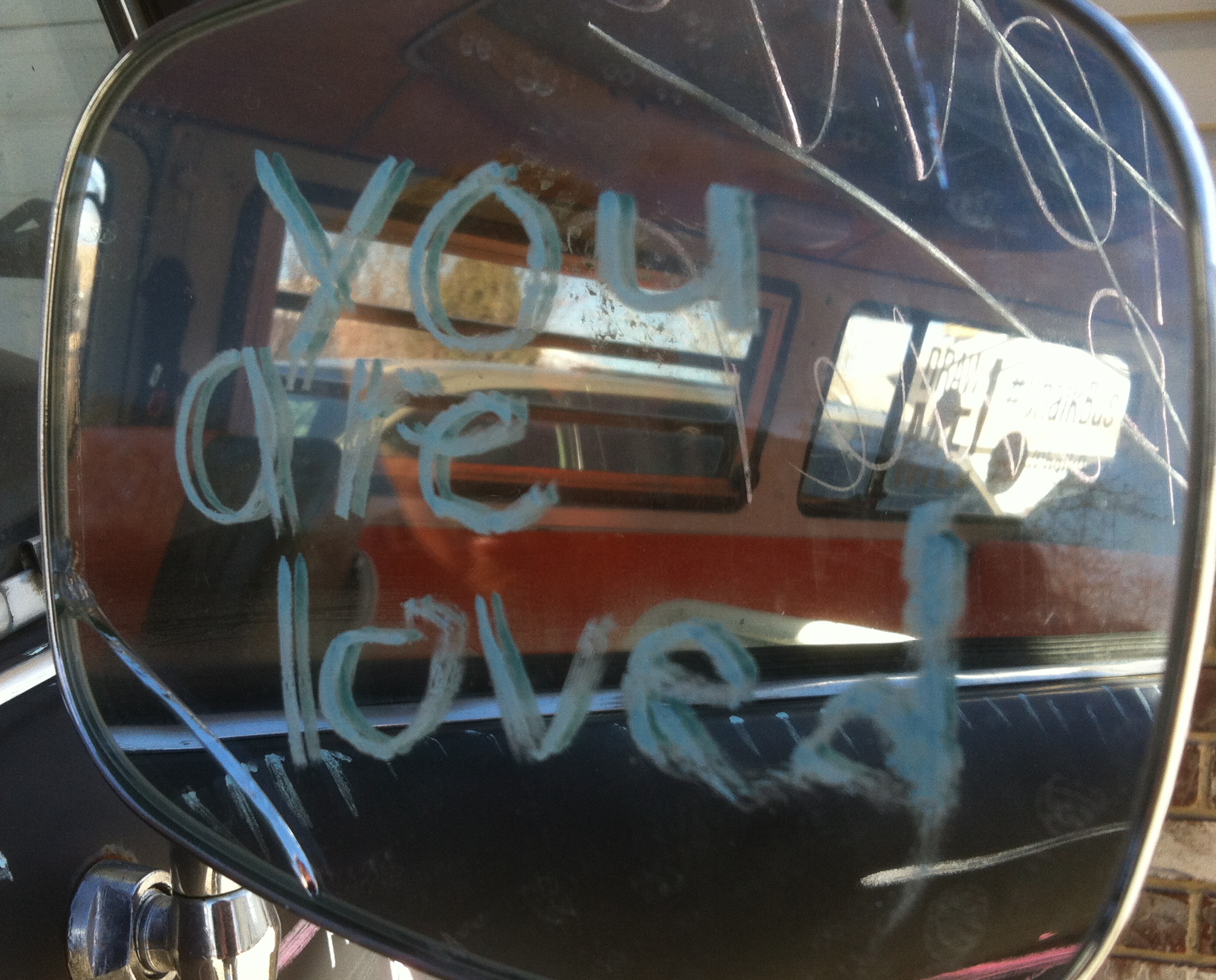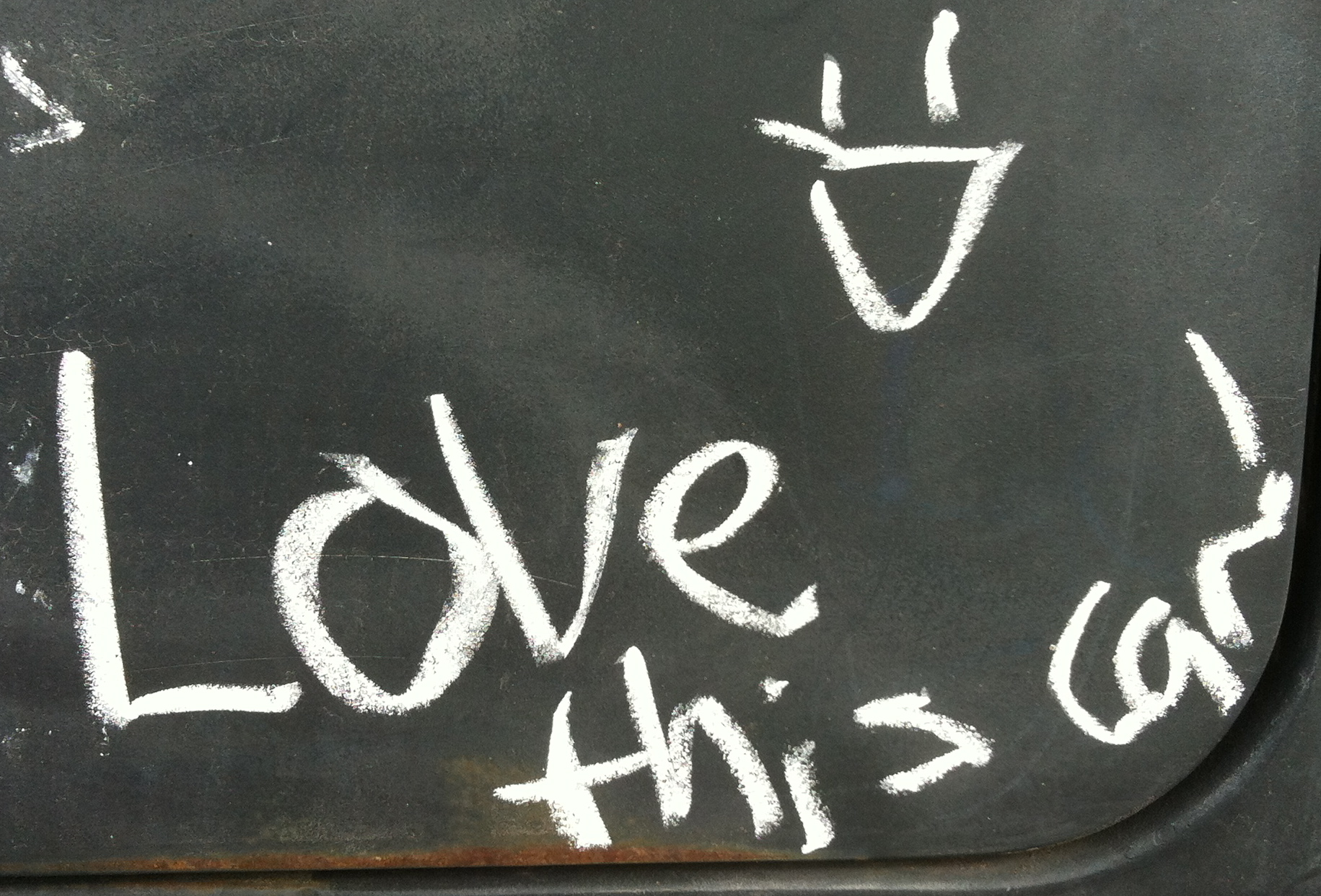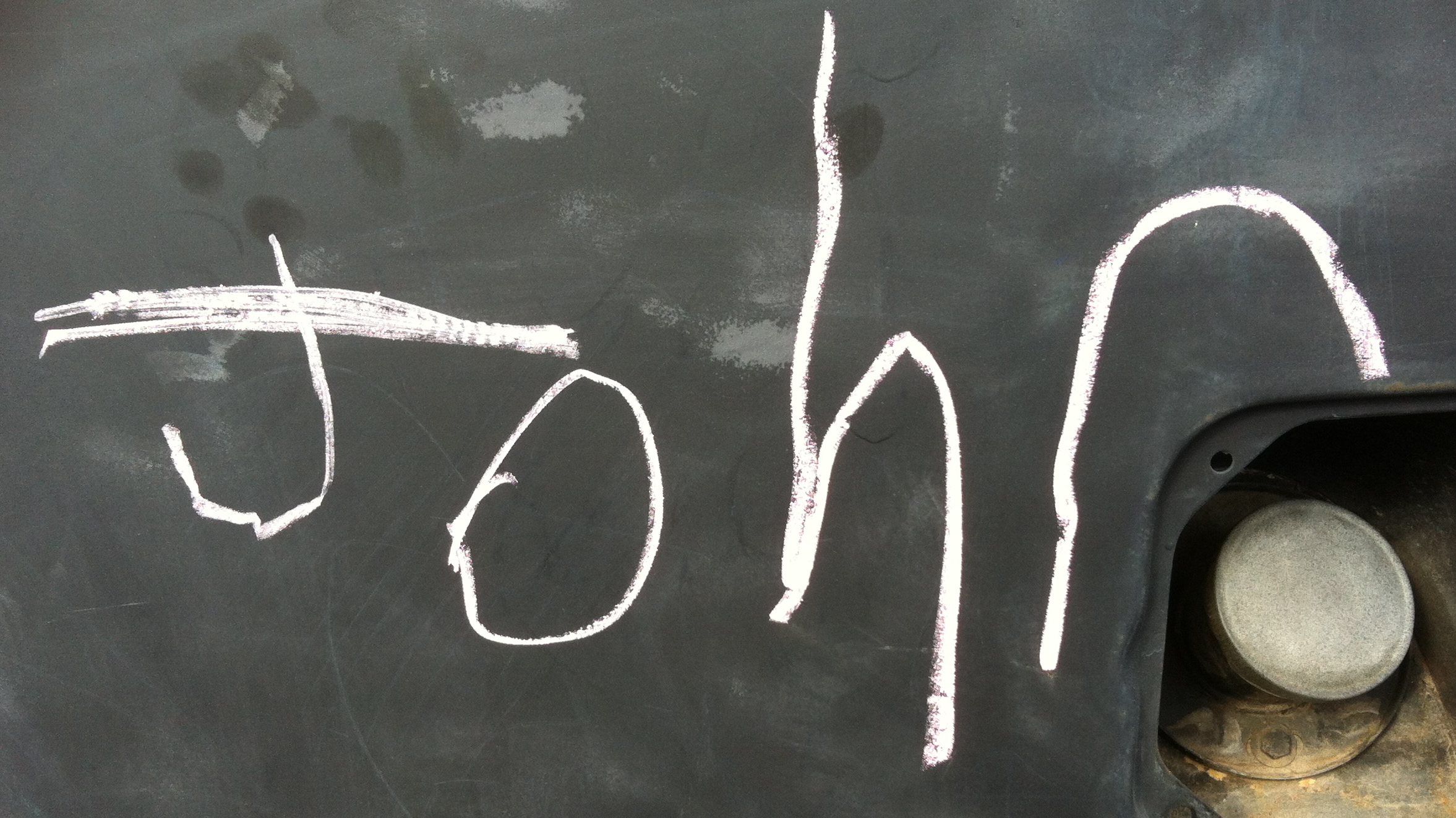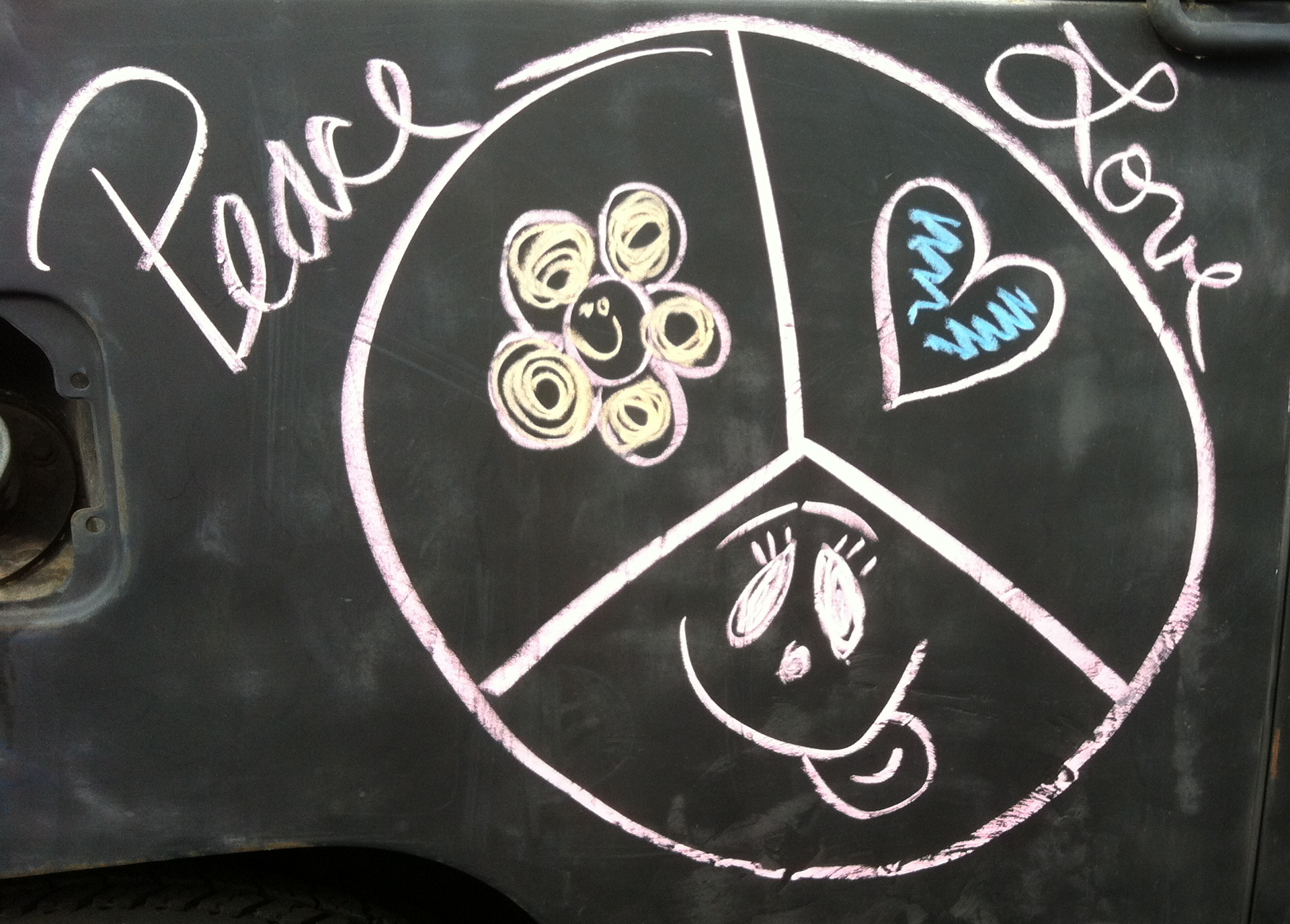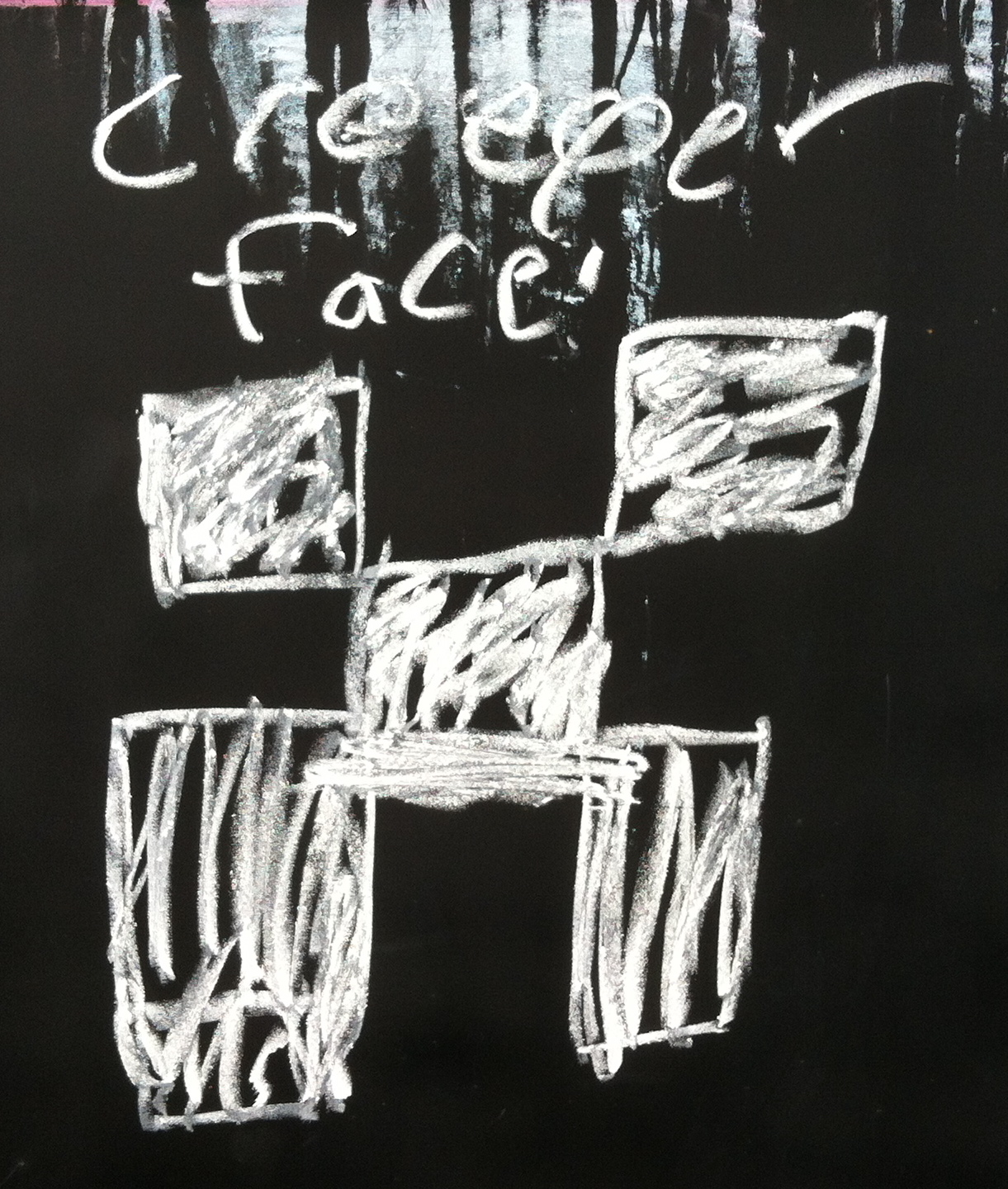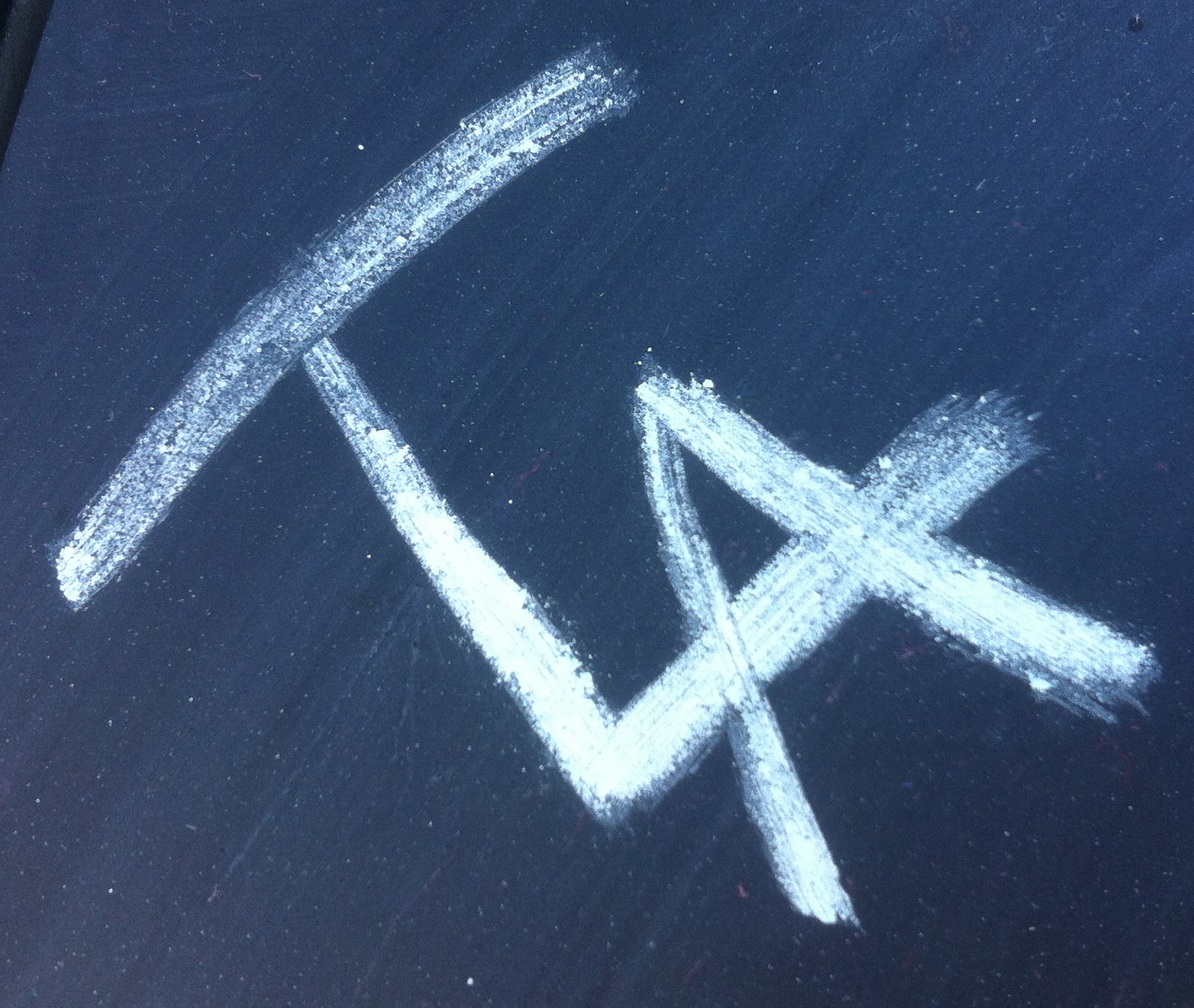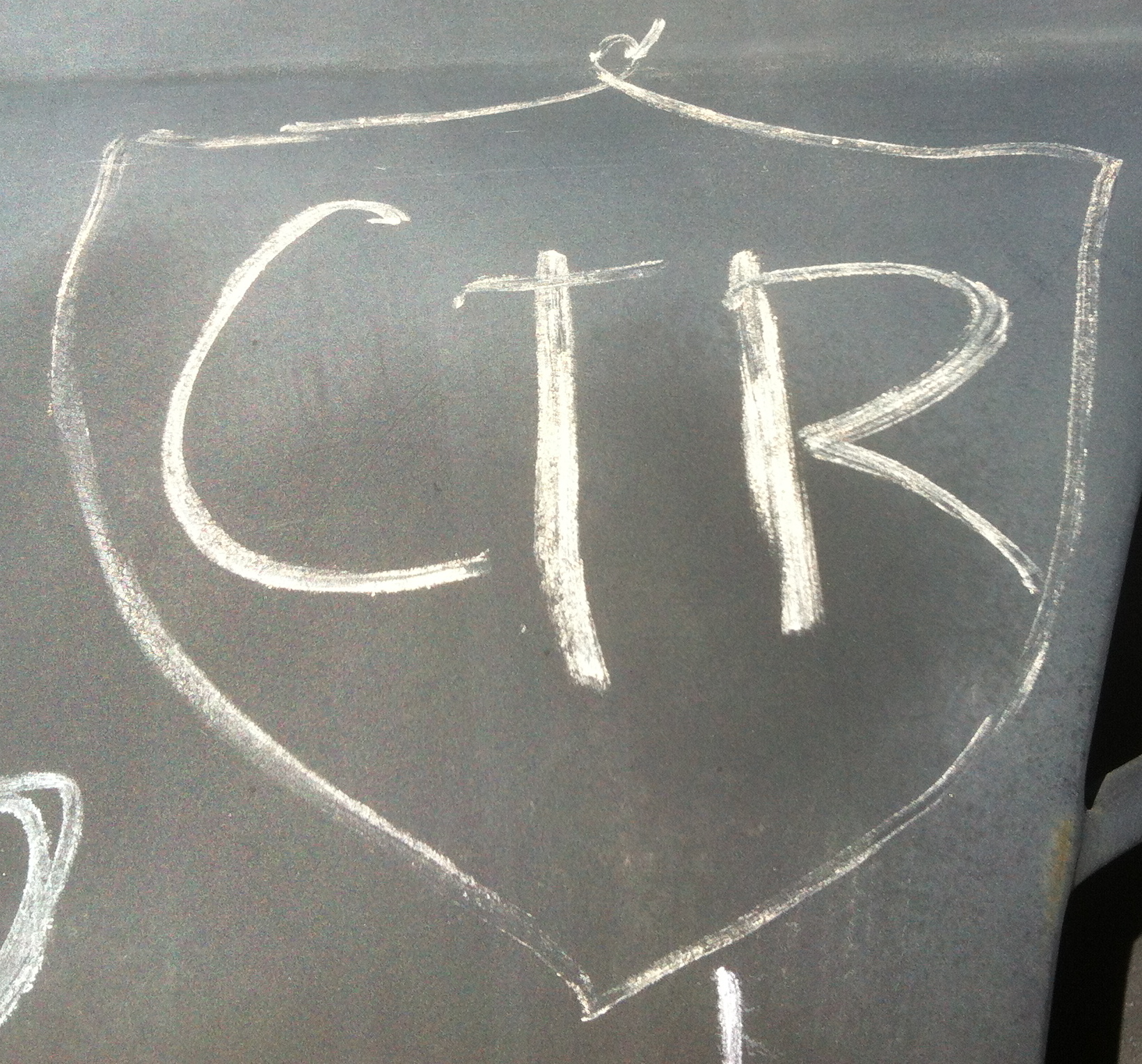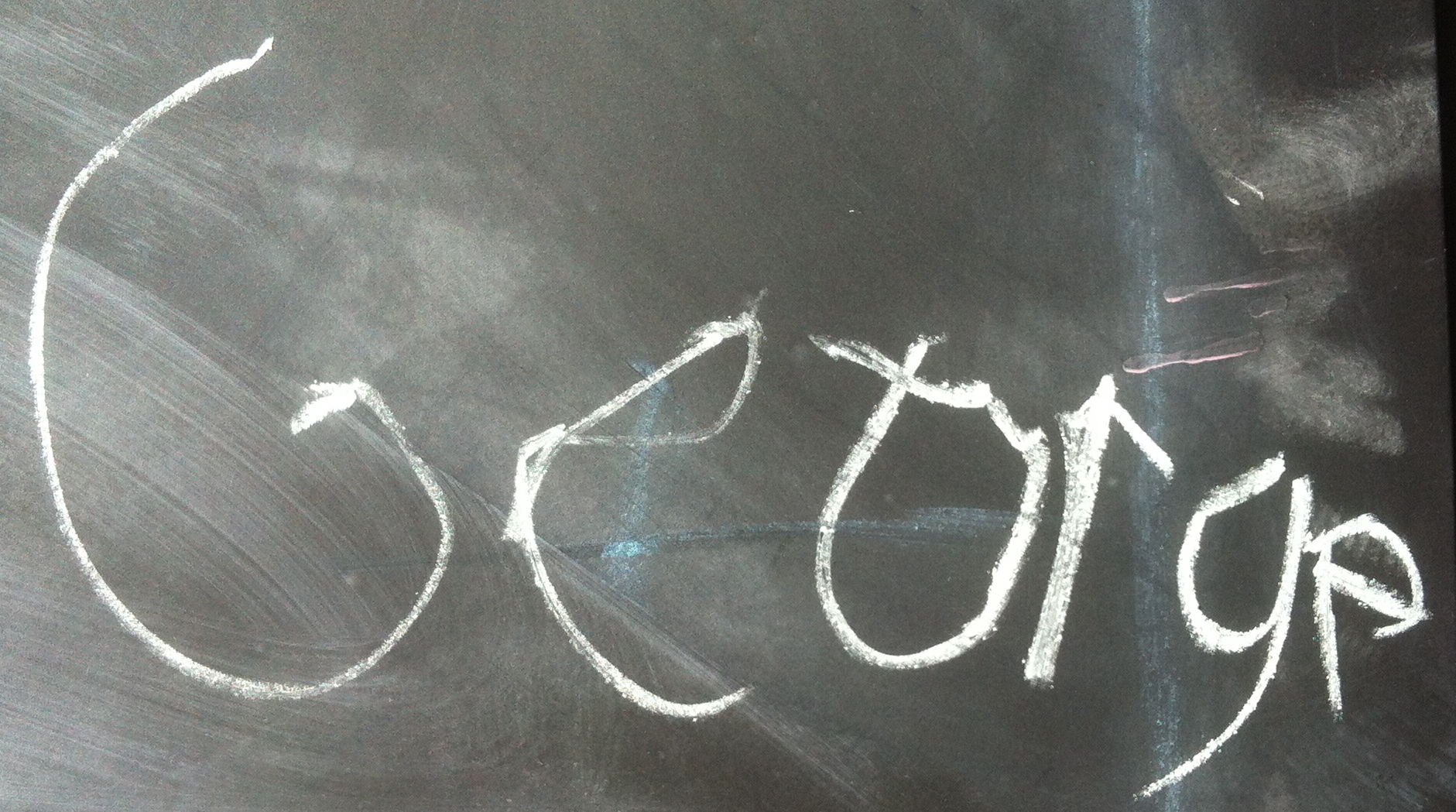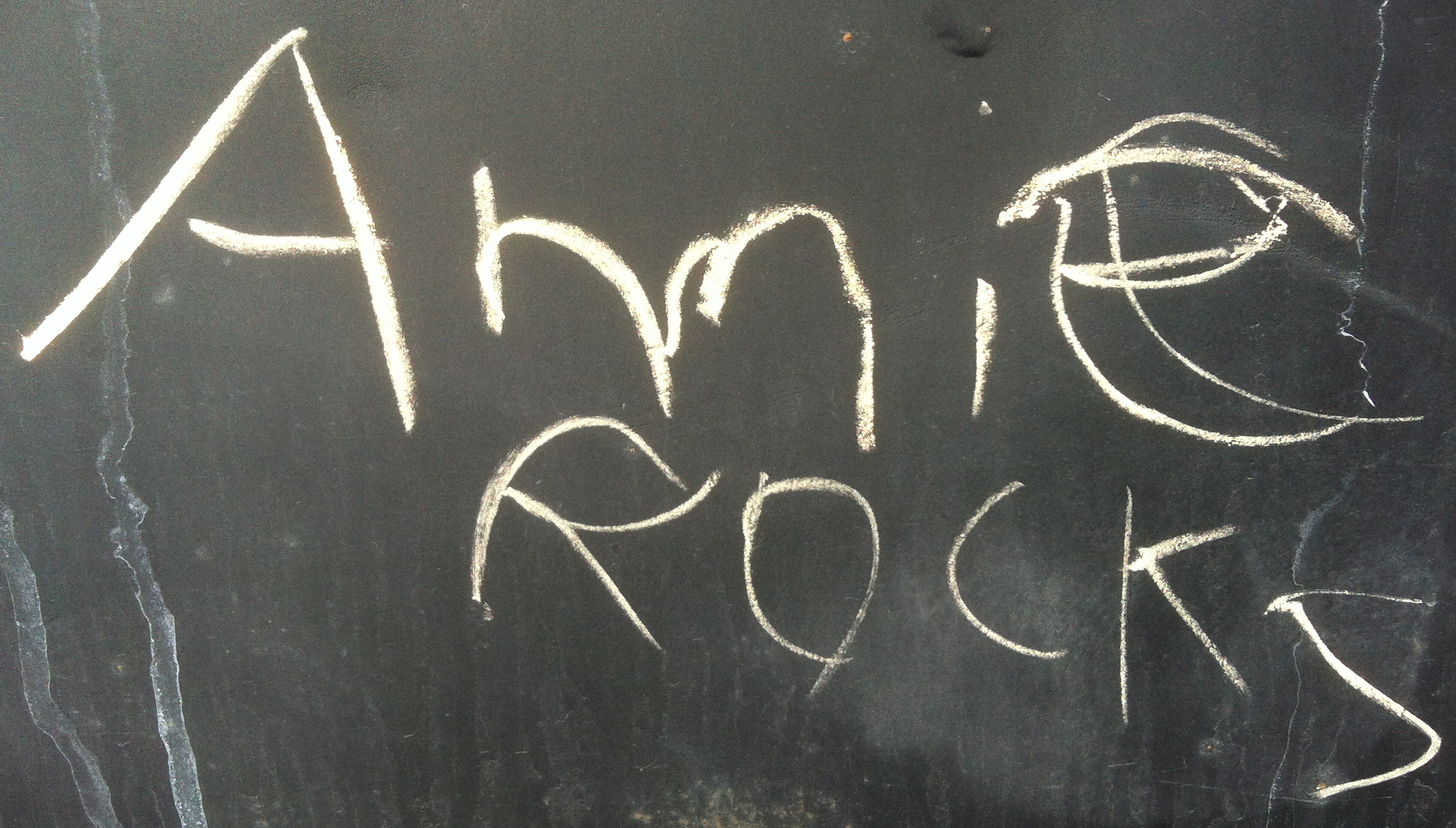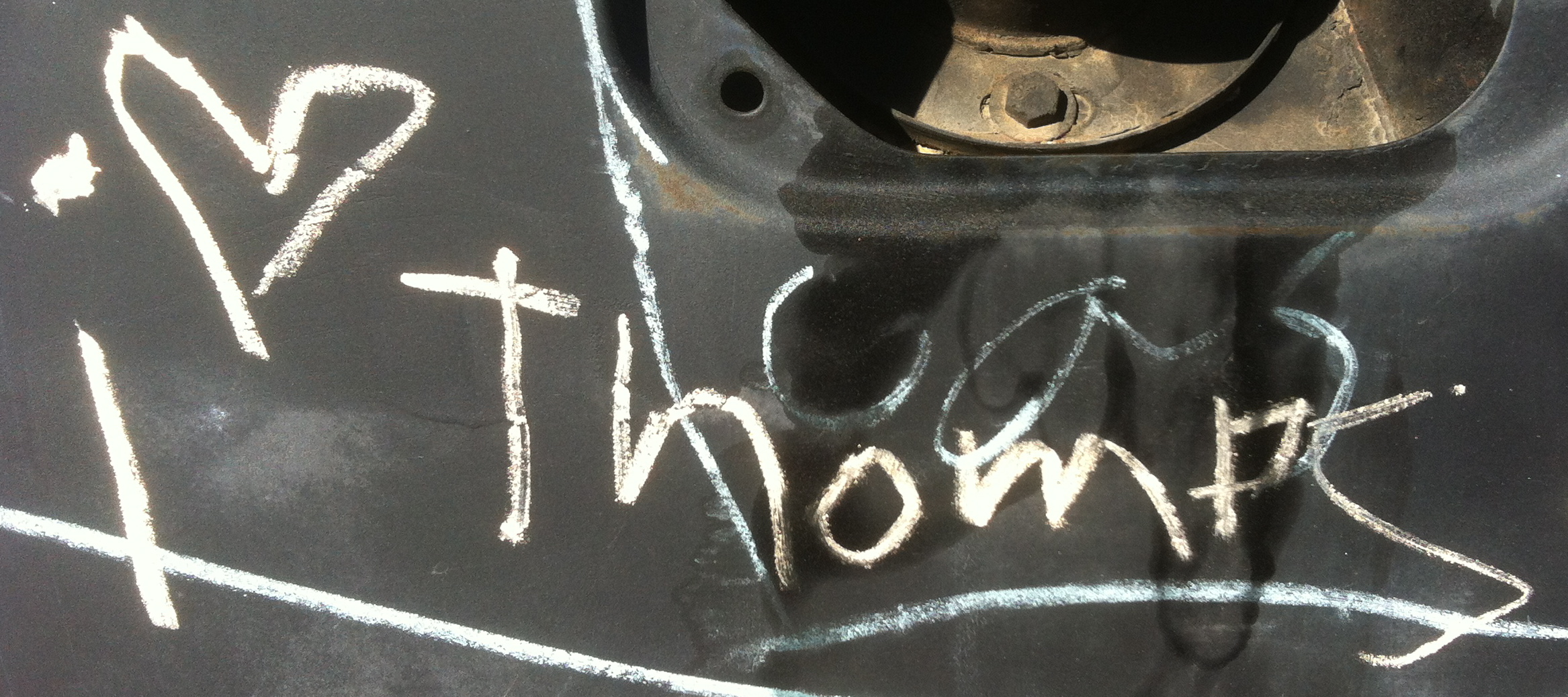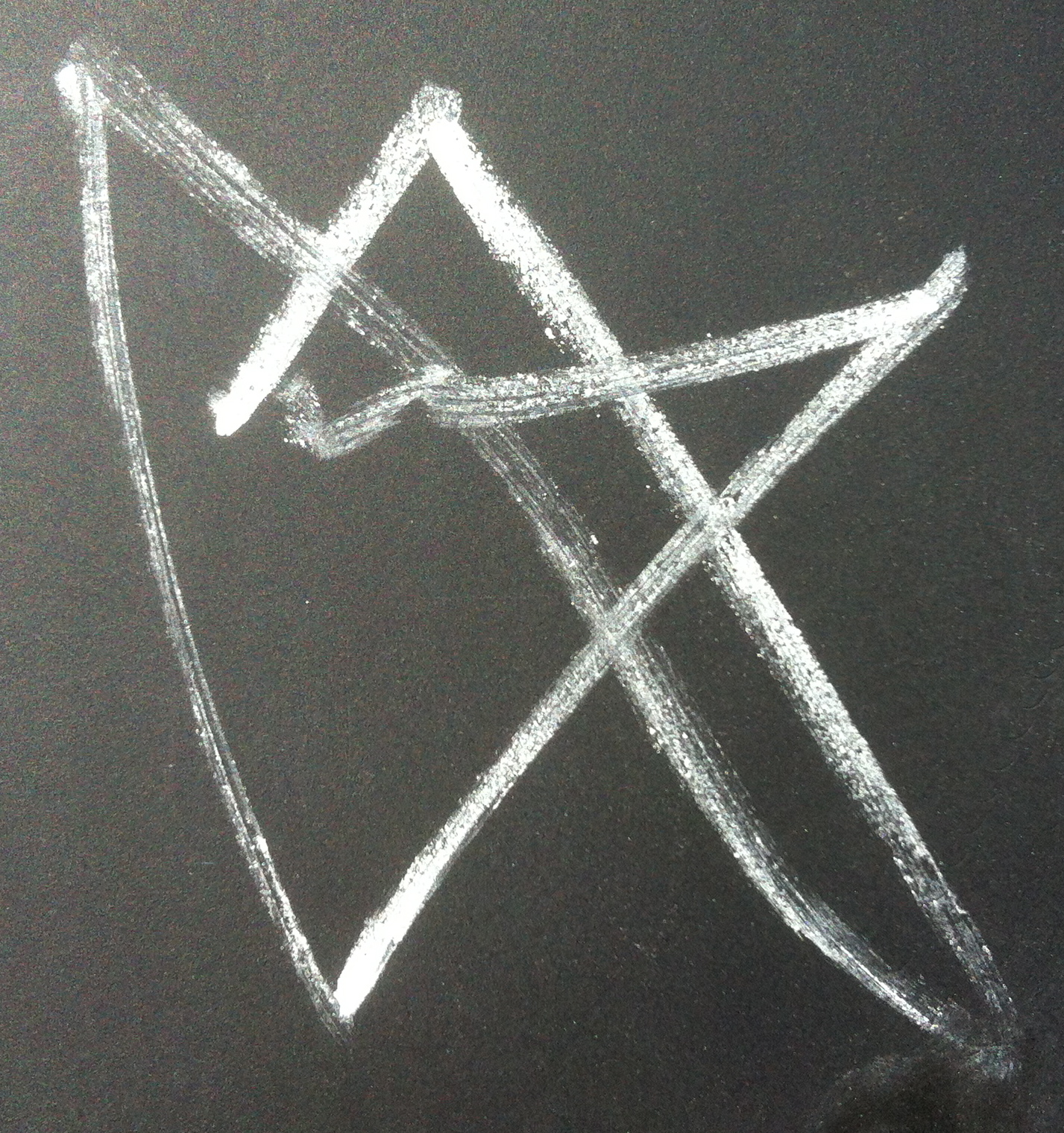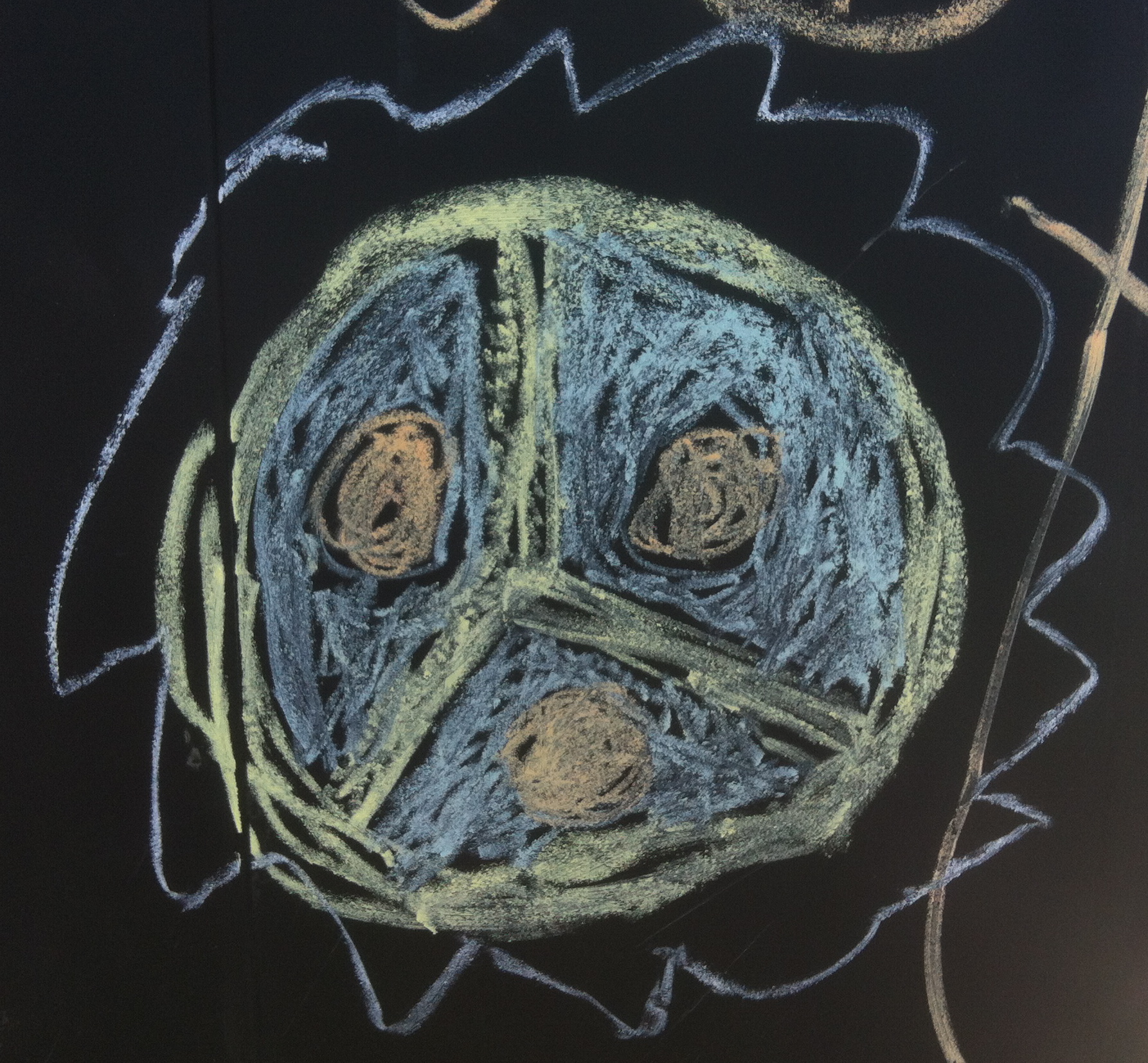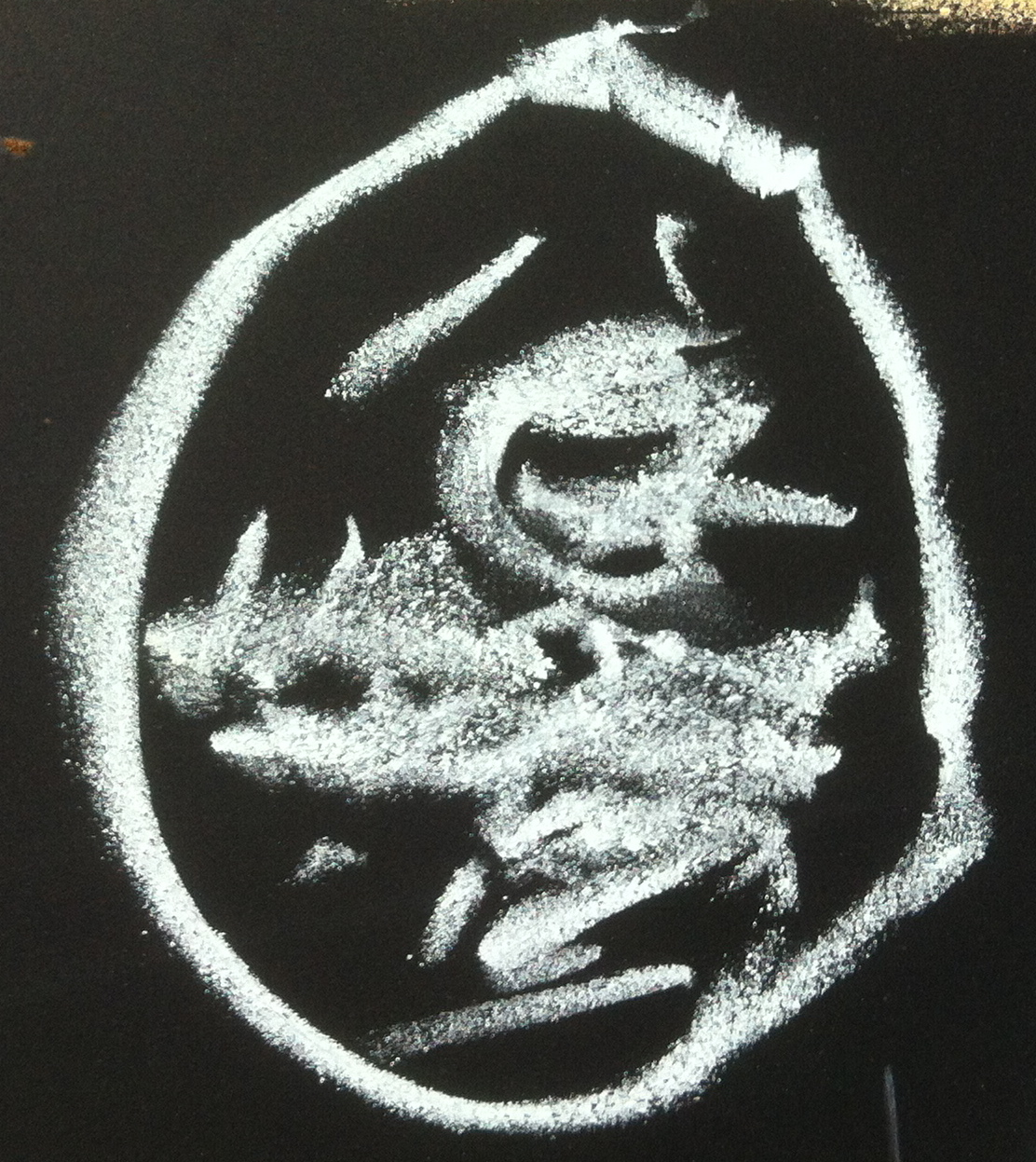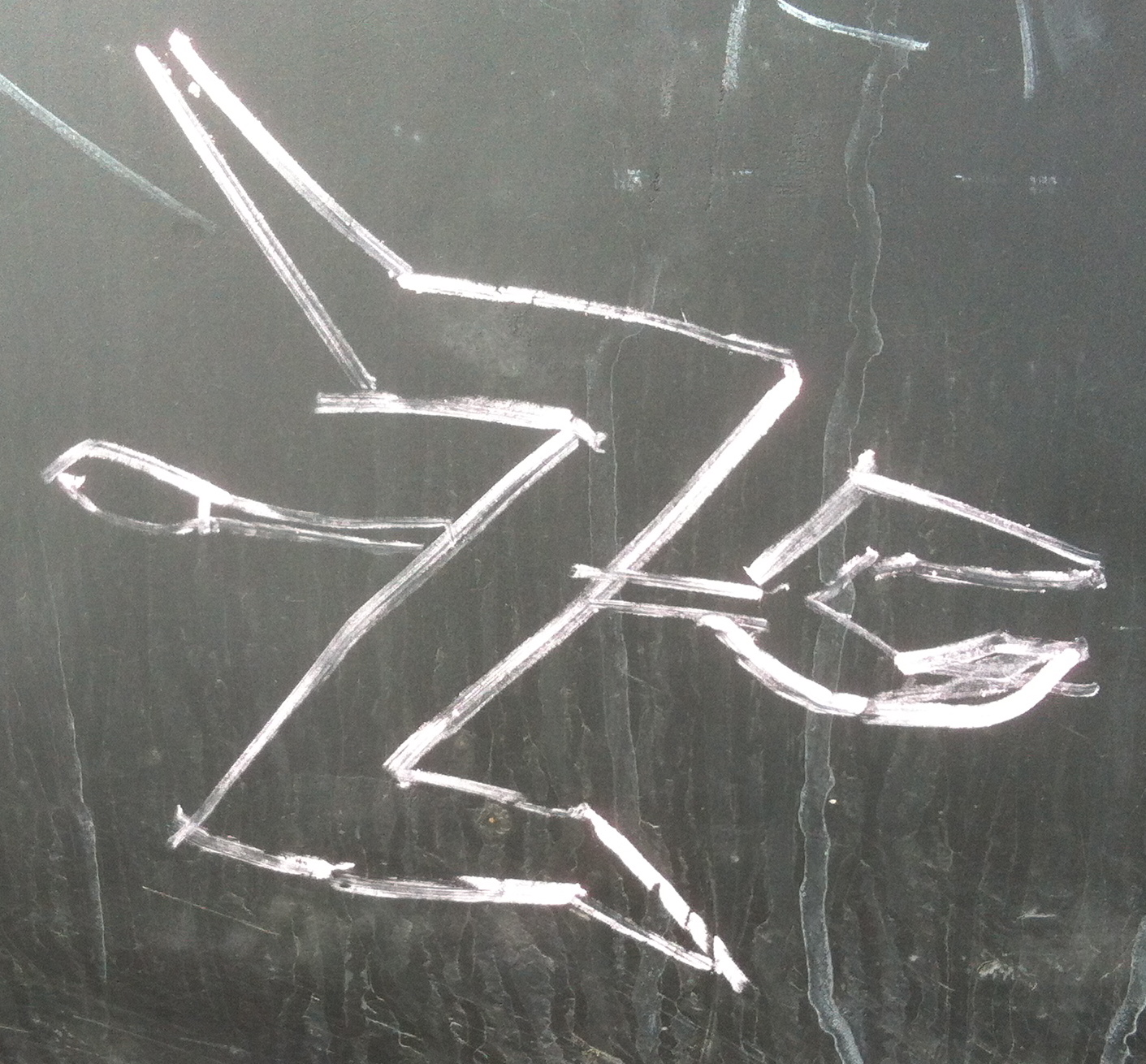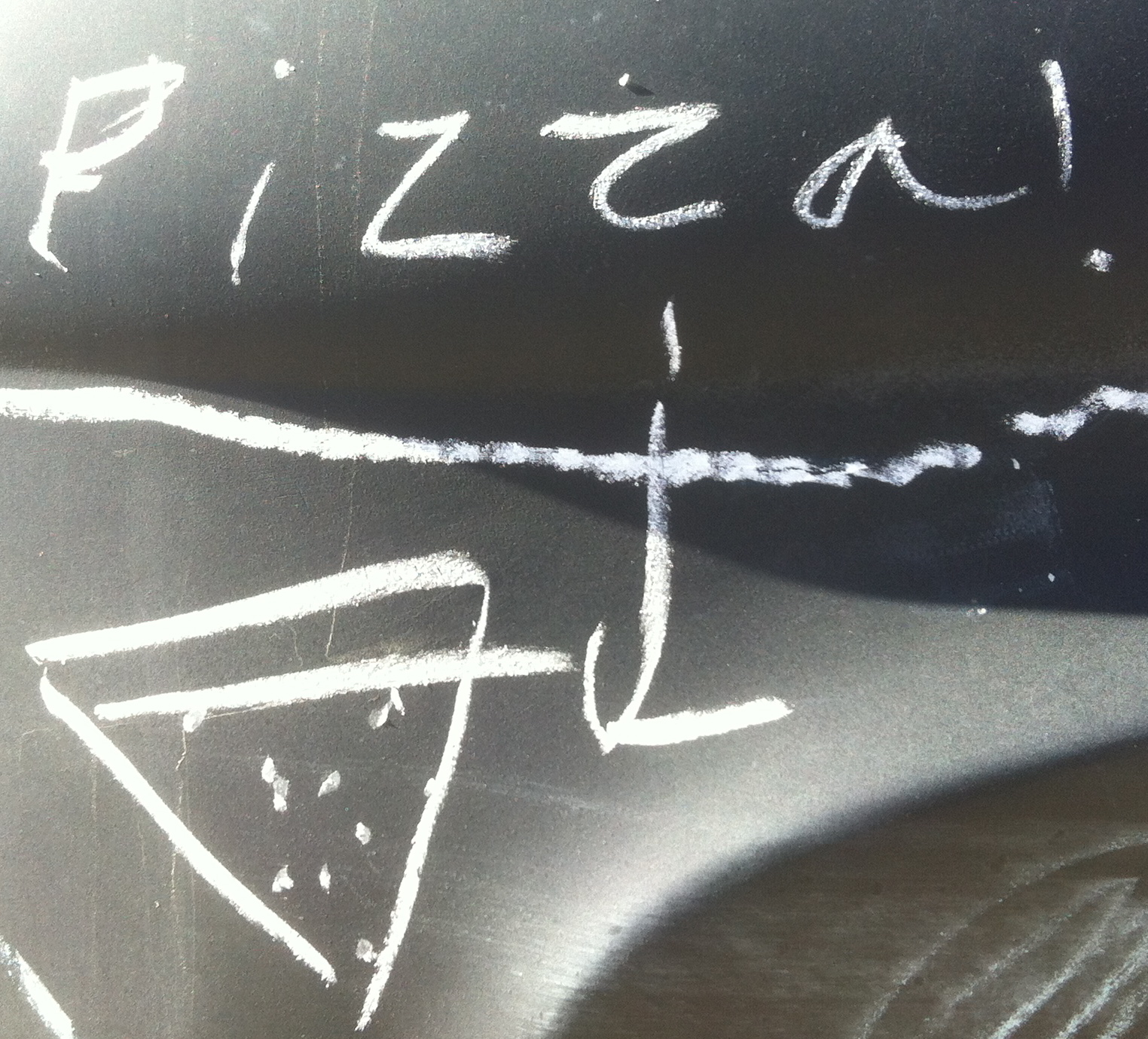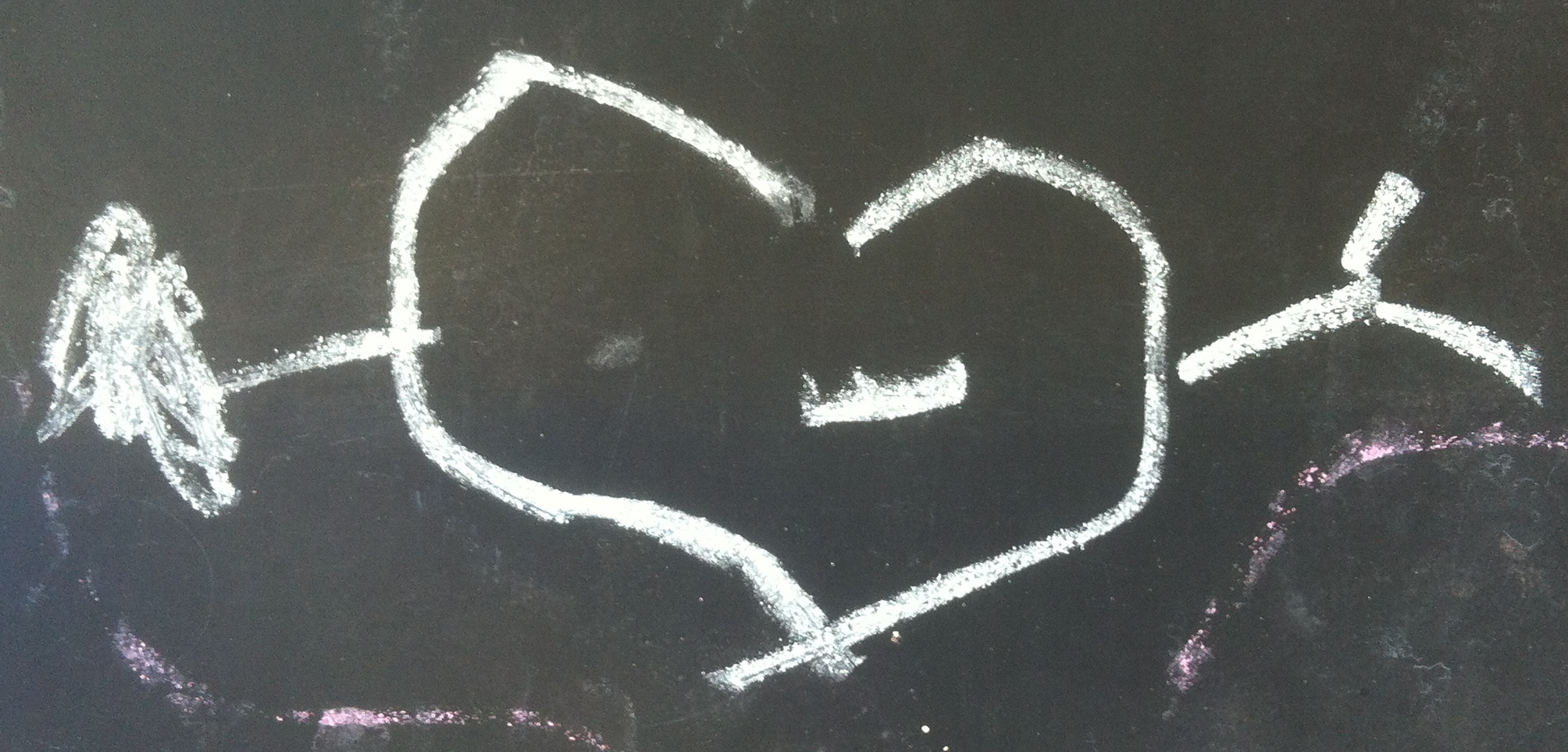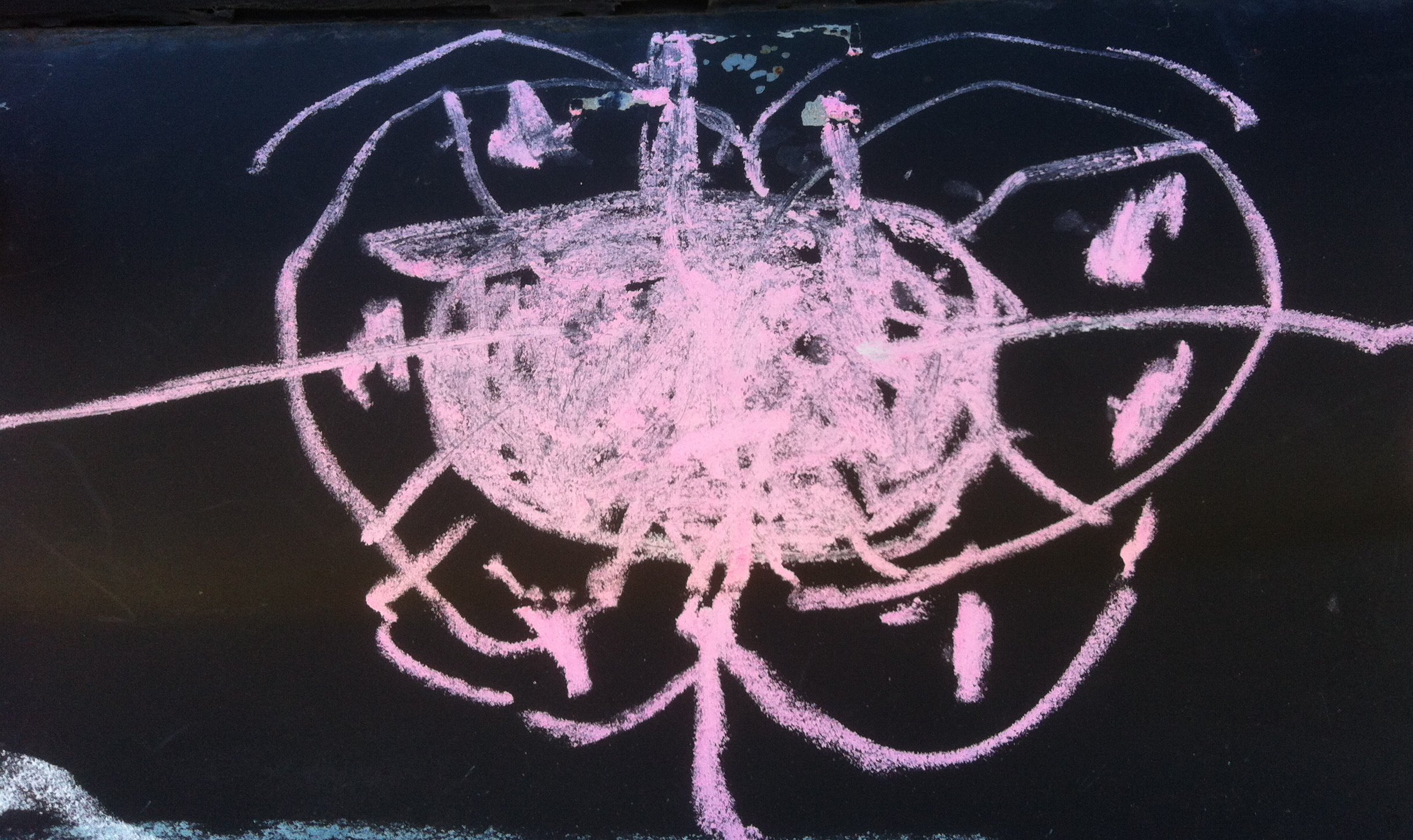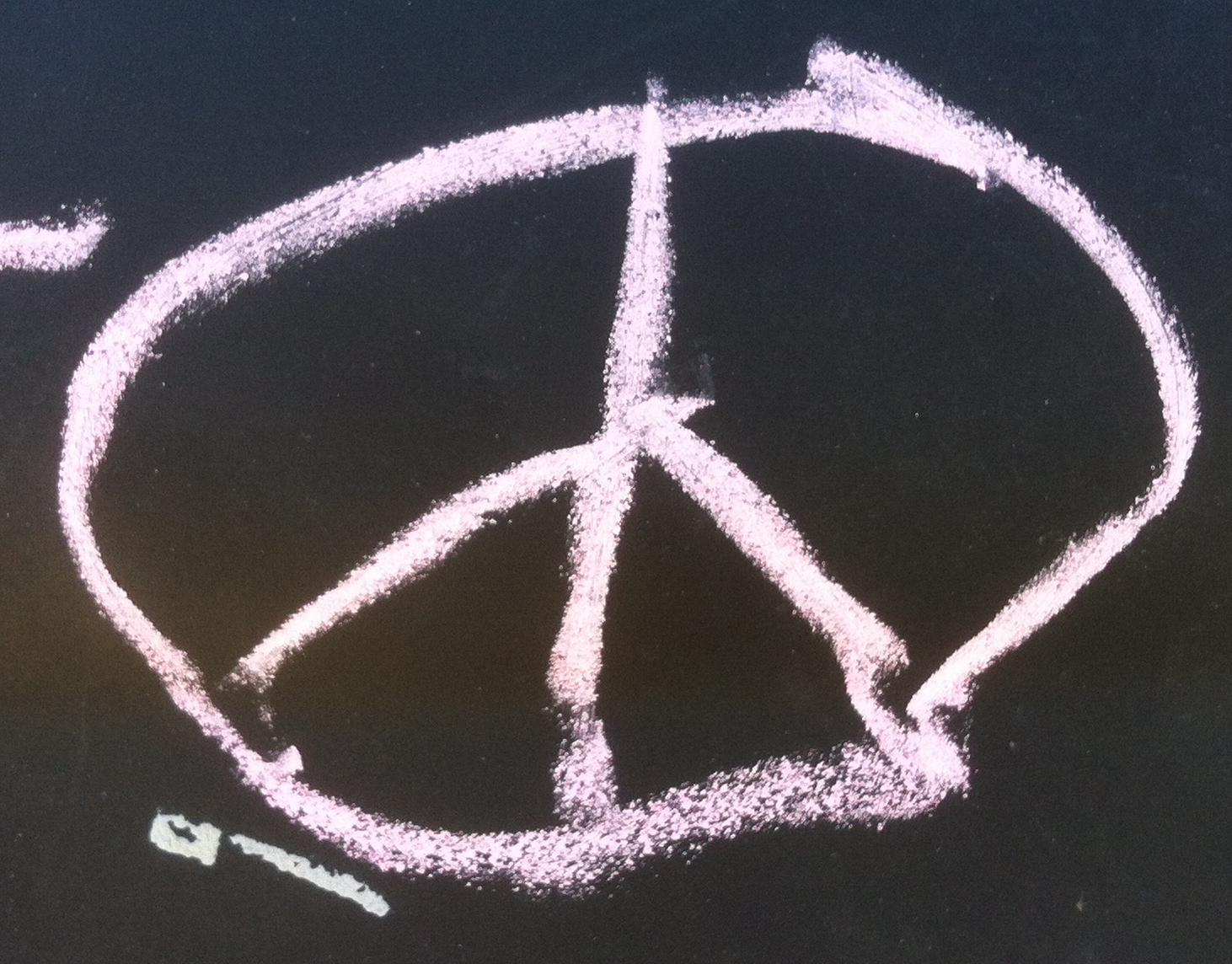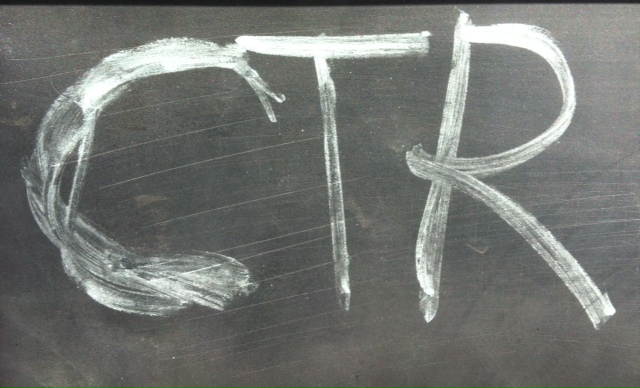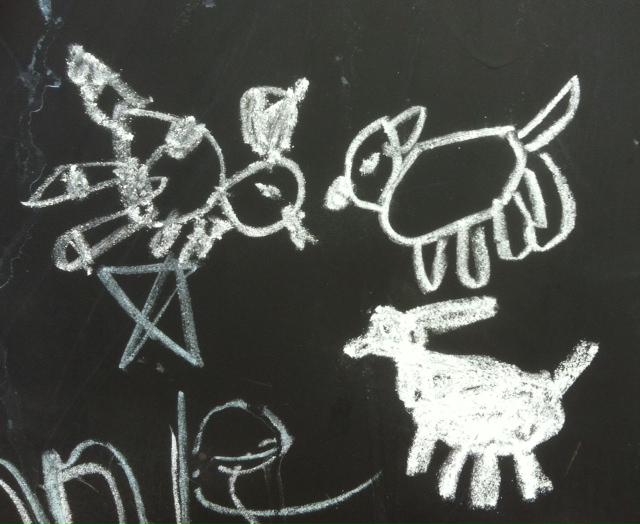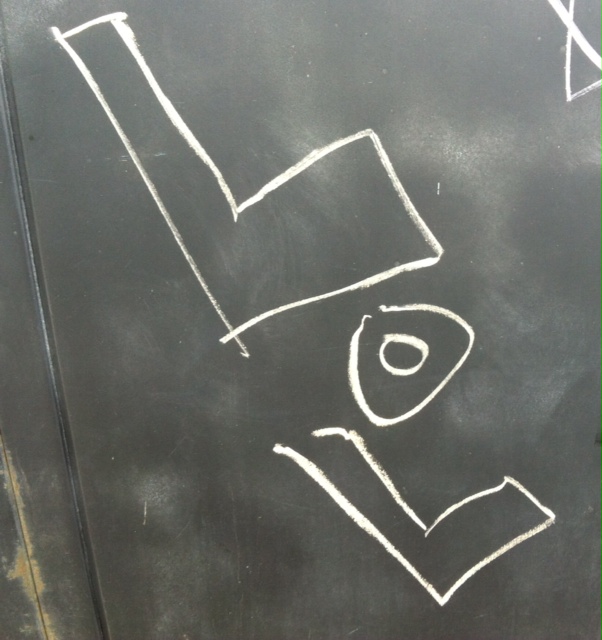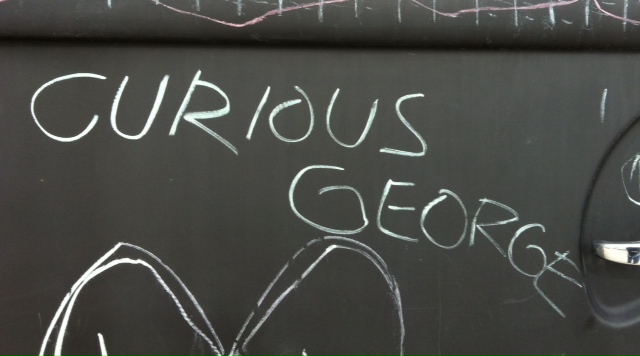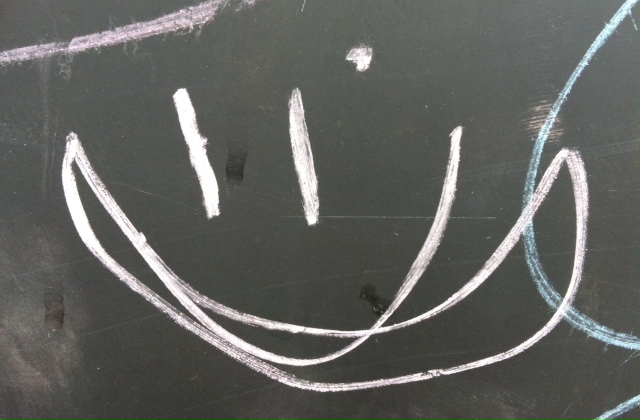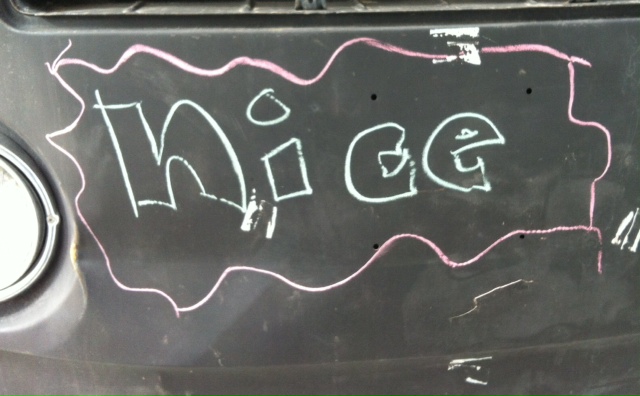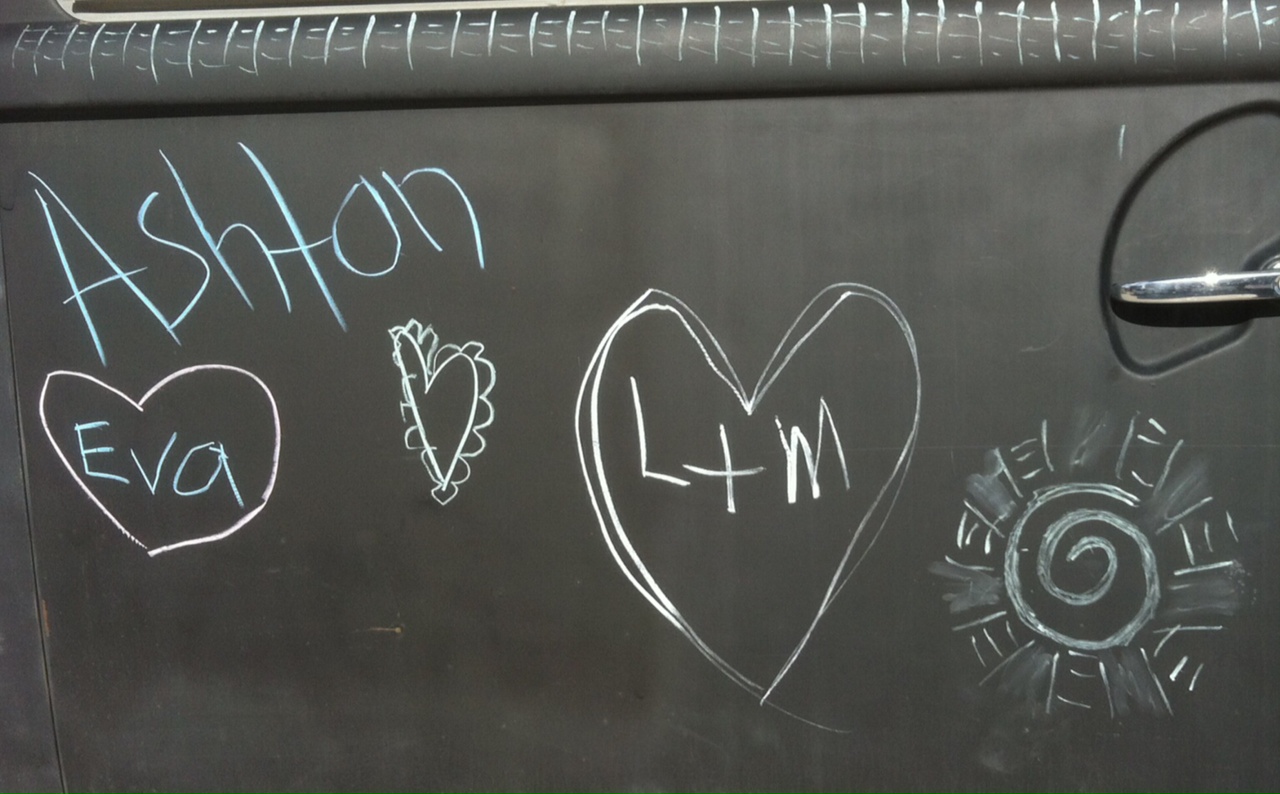 Be Cool, Spread the Word and Enter Our Monthly Drawing!
Tag your picture of your drawing and/or you with the #ChalkBus on Twitter or Instagram. At the end of every month I'll hold a drawing of all pics tagged "#ChalkBus." The winner will get their choice of a $20 Chili's gift card for Date Night, The Seven Principles for Making Marriage Work, by John Gottman or Parenting with Love & Logic, by Jim Fay and Foster Cline.
The #ChalkBus History
I've always been interested in guerrilla (or viral) marketing efforts for two reasons: 1. I started my biz with zero money, so free, cheap, creative, out-of-the-box was all I ever had access to and 2. It often tends to be more creative/original than big money marketing efforts. So a couple years ago in (2012) my youngest daughter was drawing cool stuff on the driveway with sidewalk chalk. I had been prepping the VW Bus body for a paint job, using a black, rust-converting primer. I called her over with her chalk and said, "Let's see if this works like a chalkboard." It did and the light went on. Then in 2014 I finally started the #ChalkBus.
This is what this particular model of bus, with the Westfalia camper package, looked like originally. This picture is from the VW catalog for that year: 1969. Mine was this exact same color and when I got it in college around 1993 (?) it still had all of the cabinetry, tables and seating. Unfortunately, that stuff is no longer as it got irreparably water-damaged. :-(
Pic of when we first got it.
Pic of it now.
MISC
#ChalkBus FAQ:
A bank teller asked me one day, "How did you come up with this idea?" I replied,
I'm just like this. Creativity and the unusual and "not normal" intrigue me.

I'm a people person. And a relationship therapist. And a speaker. I like how people interact. This draws (unintentional but good pun) a lot of interaction.

Guerrilla marketing history.

I like marketing, graphics, design.

I like attention.

I had the Bus. See #1.
A note on vintage license plate status and requirements: https://www.facebook.com/groups/761560360577852/1033287880071764/?comment_id=1033383936728825&notif_t=like
Stuff to add:
Thanks for the feedback on the ChalkBus. Glad you like it. It's really been a hoot. And I feel it totally captures the spirit of the VW thing in so many ways:
1. the old wildly painted hippy buses.. except this gets new and different art every day and is re-imagined over and over;
2. also the community engagement of it--it's truly "the people's car"--everyone feels they get to be a part of the ChalkBus--it's a hands on, "I can "own" a part of it just by personalizing it with my own art/thoughts"
3. The hippy "peace, love and happiness, baby" feel of it--which is a LOT of what people write on it: "peace", "I love so and so" "be happy" "I love this bus" and other happy messages. It's extremely rare for anyone to draw anything negative, offensive or crass on it. People seem to get it: It's a cool thing so be cool about it.
What people say about the ChalkBus:
I overhear people comment on the ChalkBus everywhere I go when they don't know I'm listening: "Awesome!" "No way! You can draw on it!" "Thats the coolest thing I've ever seen!" "This totally makes my day."
It also starts conversations all the time. People come up and ask what year it is, where the idea came from, tell me about a VW they or their family had growing up.
"I love the Chalkbus for it's very existence in being a vehicle that people can enjoy and touch and write on - how cool is that!!"
—The Pilch, fellow VW Bus enthusiast and owner of the yellow Magic Bus
Project Notes
Here's what I did on the inside:
Cheap vinyl from amazon stretched over foam and stapled onto OSB boards (the bench top on the right wasn't finished yet at the time of this pic) and panels;

L-shaped bench frames made from 2x2s

all interior paint is rattle can gloss white--going for the orange/white creamsicle look, that matches my MarriageEnvy branding of orange and white;

the bamboo flooring was from free scraps from my buddy's bathroom floor project;

the two VW emblems came with my bus originally in a box of spare parts which I hung onto all these years and finally used them for what I always wanted to do: speaker covers.
The outside:
The chalk paint is nothing other than Rustoleum Chalkboard spray paint you can get at Home Depot. I have to touch it up at least every 6 months as all the drawing on it wears the roughness of the chalkboard smooth, which you need the roughness to capture the chalk well.

The white is also just Rustoleum spray paint. This allows me quick touch-ups as needed.

It's all a rough paint job to say the least, but since it's such a hands on experience, to be honest I don't want to worry about constantly protecting a high end/expensive paint job. I just want the ChalkBus to be enjoyed by myself and others, which it is.
Holiday Decorations
The ChalkBus gets decked out for my two favorite holidays:
Others Get Into the Fun of the ChalkBus
MarriageEnvy.com
Creating GREATness in Relationships™ through 1. Marriage Mastery, 2. Parent Training, and 3. Self-Mastery.